How to Increase Online Store Sales with MobileMonkey Messaging Automation
MobileMonkey is a mutli-touch marketing tool that increases ecommerce sales throughout the customers' journey. Marketers and business owners use MobileMonkey to convert social media traffic to website traffic, , build lists, and send re-engagment campaigns with promotions and offers to an audience to generate more sales.
If increasing ecommerce sales is your most important goal in getting started with MobileMonkey, this guide will help you implement the tools in MobileMonkey to support this goal.
Step 1: Connect your business messaging channels to MobileMonkey.
You can connect MobileMonkey to one or all of these business messaging channels.
Step 2: Create chatbot autoresponders that convert Instagram and Facebook engagement to website traffic.
After you've connected your messaging channels to MobileMonkey, activate Chat Starters for those channels.
Add a series of content widgets to create a dialogue in the Chat Starter.
In order to drive traffic from messaging conversations to your website, use a text widget in the chat starter dialogue that includes a URL link to your website, product page or landing page.
Step 3: Create chat starters that capture leads by growing your email and SMS marketing list.
You can also design chat starters and conversations that grow your re-engagment lists including SMS and email.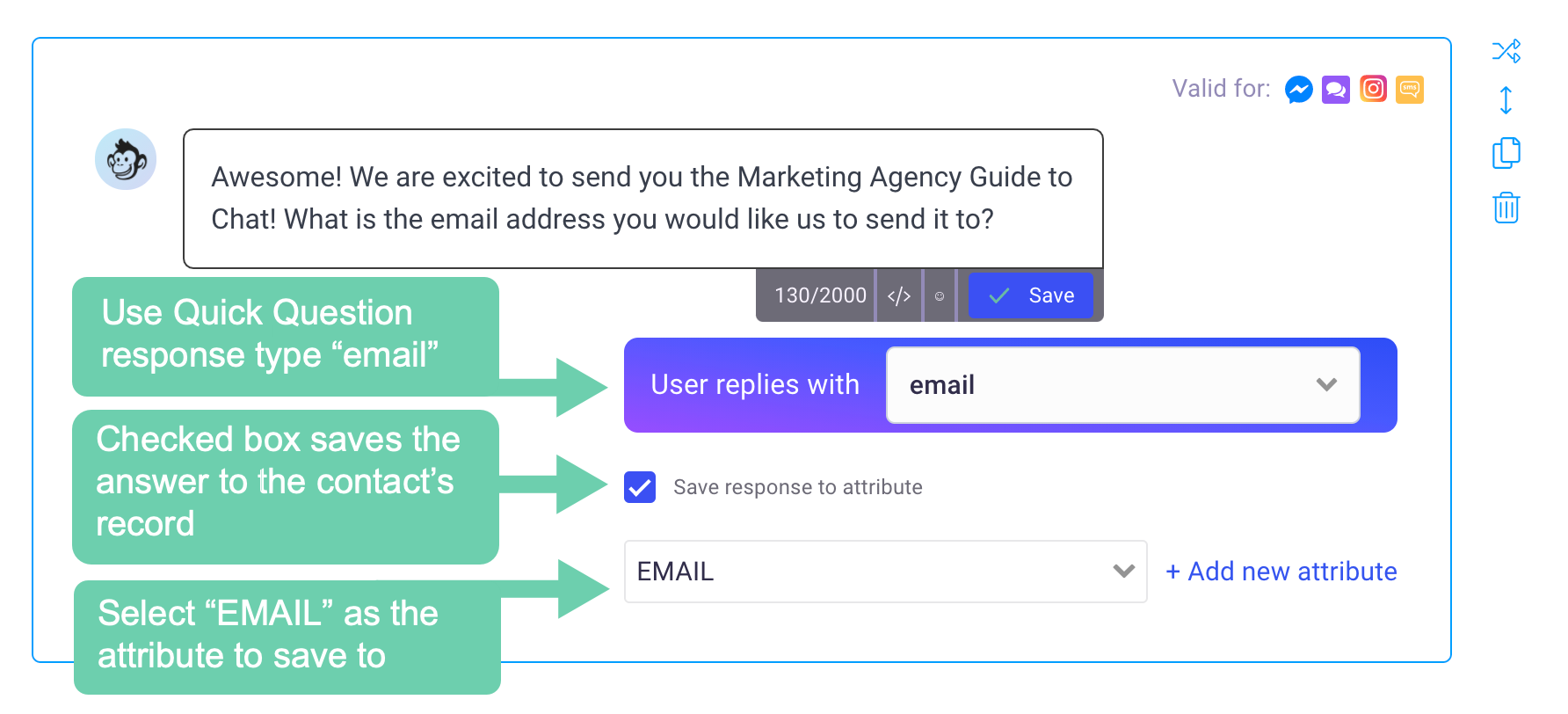 Make sure that this response saves to the contact's EMAIL attribute.
Collect phone numbers in conversations with the Opt-in Widget.
MobileMonkey's SMS opt-in widget is the best way to build an SMS list.
The opt-in widget can be added to a conversation happening in any connected MobileMonkey messaging channel including website chat, Facebook, and Instagram.
In this example, let's use our Facebook Page Welcomer to collect SMS opt-ins.

Add an opt-in widget.
The SMS Opt-in widget will do two things:

Confirm/retrieve the user's Phone Number
Request permission to send SMS messages
Customize the text in the opt-in widget.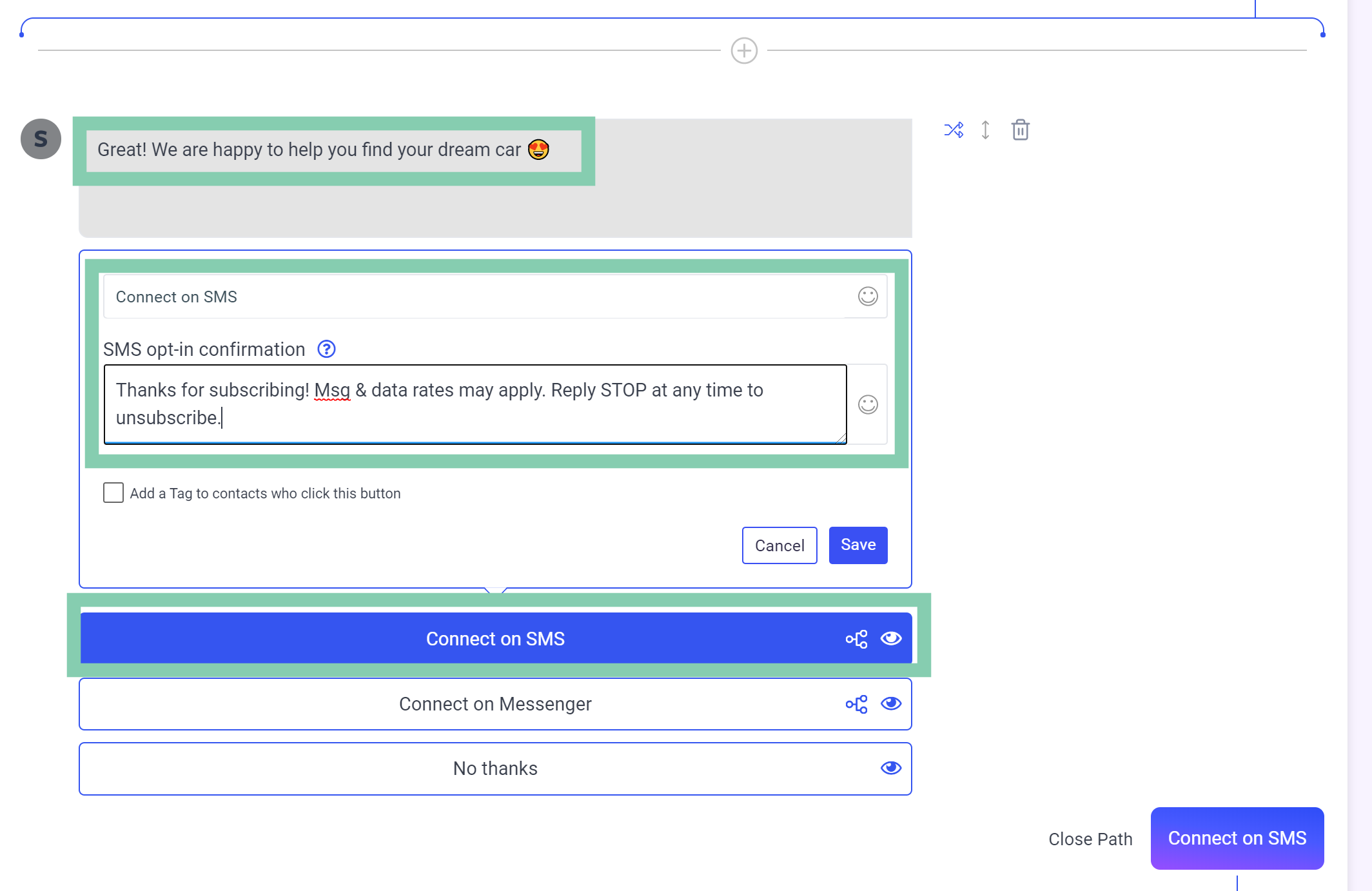 The SMS opt-in confirmation text is what will be sent to the lead's phone number after they provide it in the next step.
Customize your opt-in dialogue.
When a lead chooses to Connect on SMS, MobileMonkey will ask them for their phone number and for permission to send messages: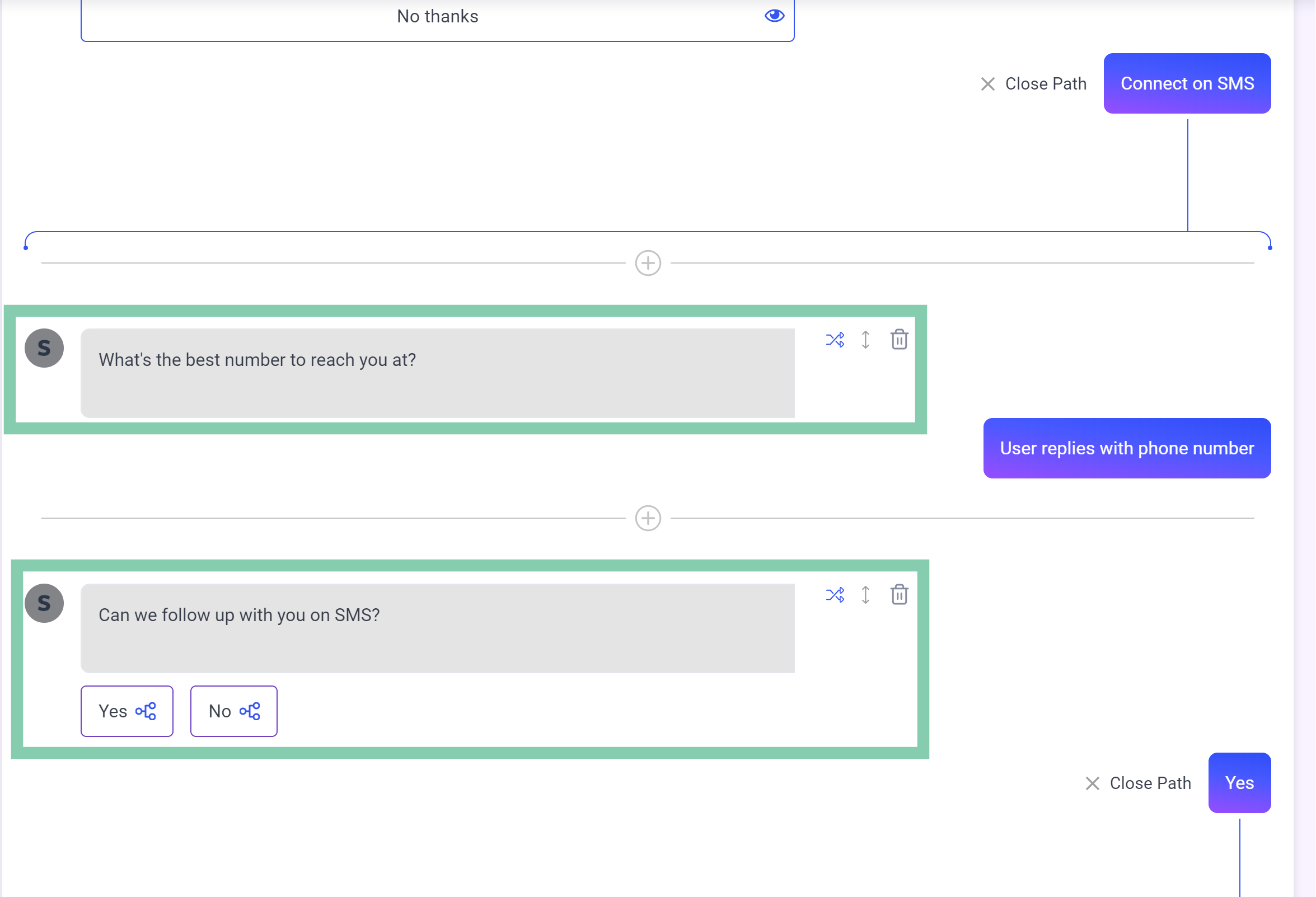 Customize your confirmation text
Lastly, we send one last message letting the lead know they'll receive a text from you.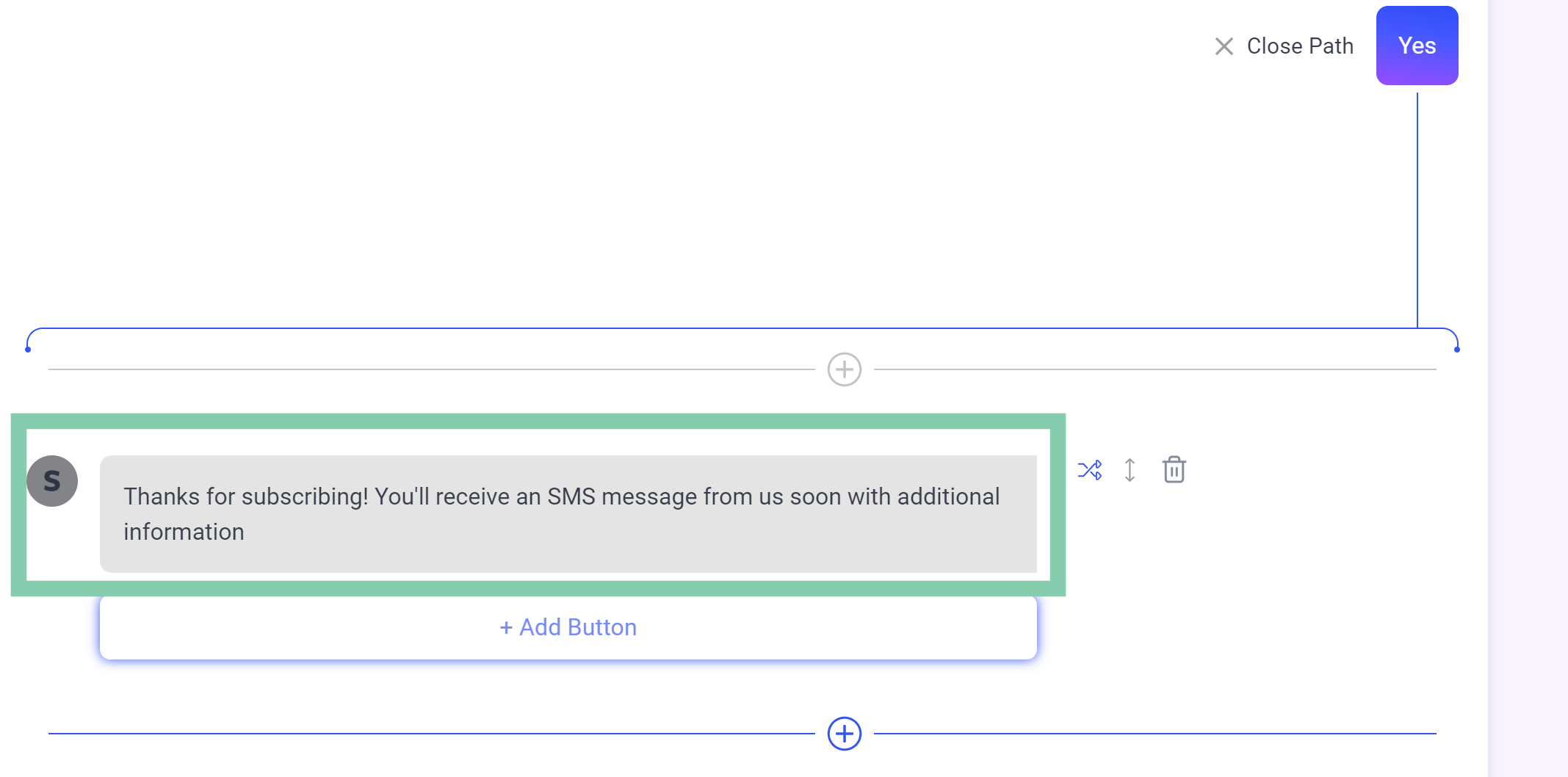 This conversation dialogue will grow your SMS list from any channel that you connect it to, including Instagram, Facebook Page and posts, Facebook Ads, and web chat.
Step 4: Automatically send contacts to your email marketing platform, CRM or Google Sheets to send email campaigns with offers and promos or to flag for your sales team for follow-up.
If you are an advanced plan MobileMonkey customer, you can automatically sync contacts with email addresses to an email marketing platform, CRM or Google Sheets using Zapier.
Go to Integrations and view MobileMonkey's pre-built Zapier templates — quick-launch templates for the app integrations most popular with MobileMonkey customers including:
Create a new row in Google Sheets when a MobileMonkey contact has an updated email attribute
Subscribe new MobileMonkey contacts to MailChimp when the email attribute is updated
Create new HubSpot contacts when a MobileMonkey contact has an updated email attribute
Click "Use this Zap" to launch a Zapier integration template and follow the provided steps.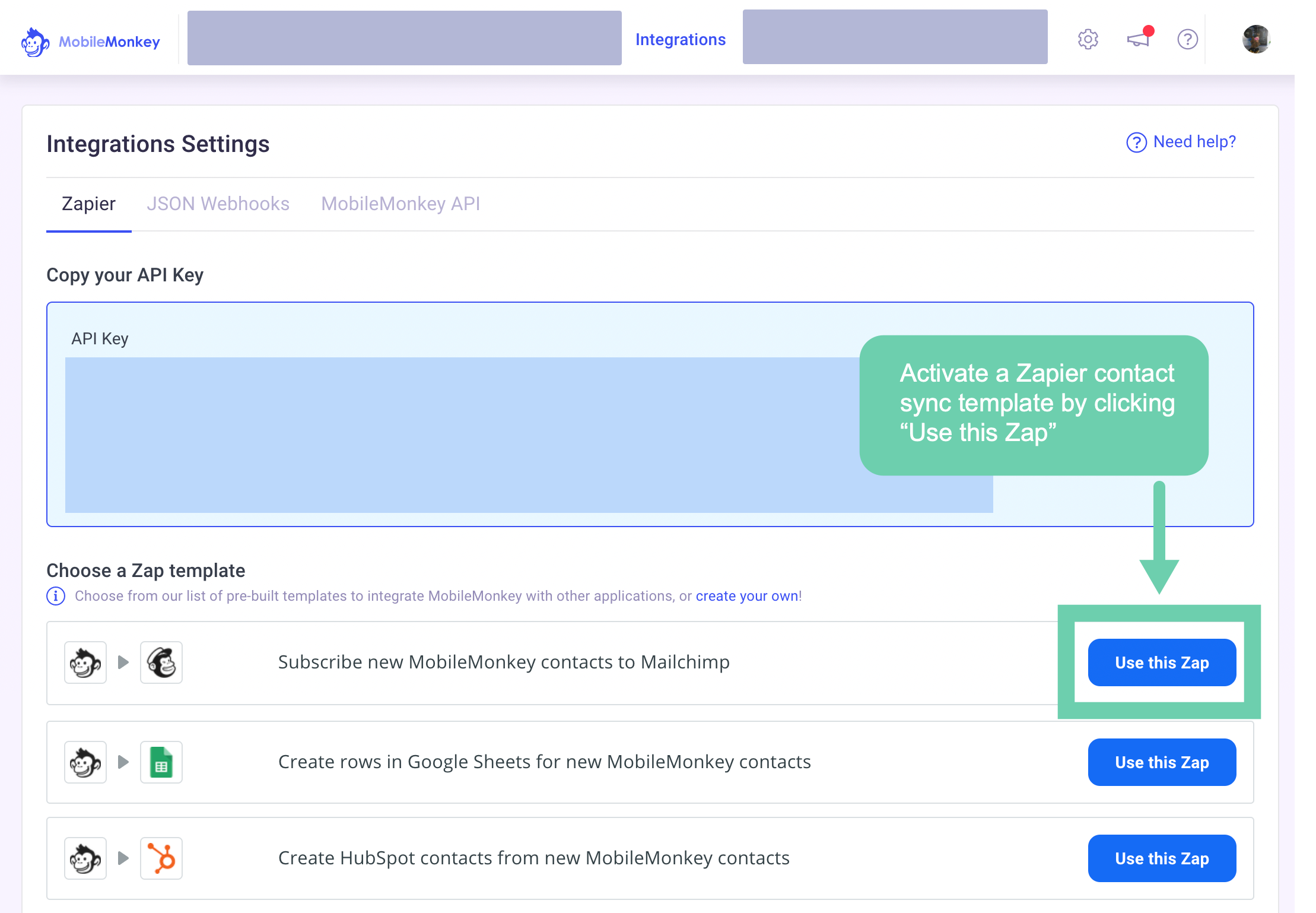 If this is your first time connecting MobileMonkey to Zapier, you will need to connect your MobileMonkey API key to Zapier following these steps.
Find and copy your MobileMonkey API key within Integrations: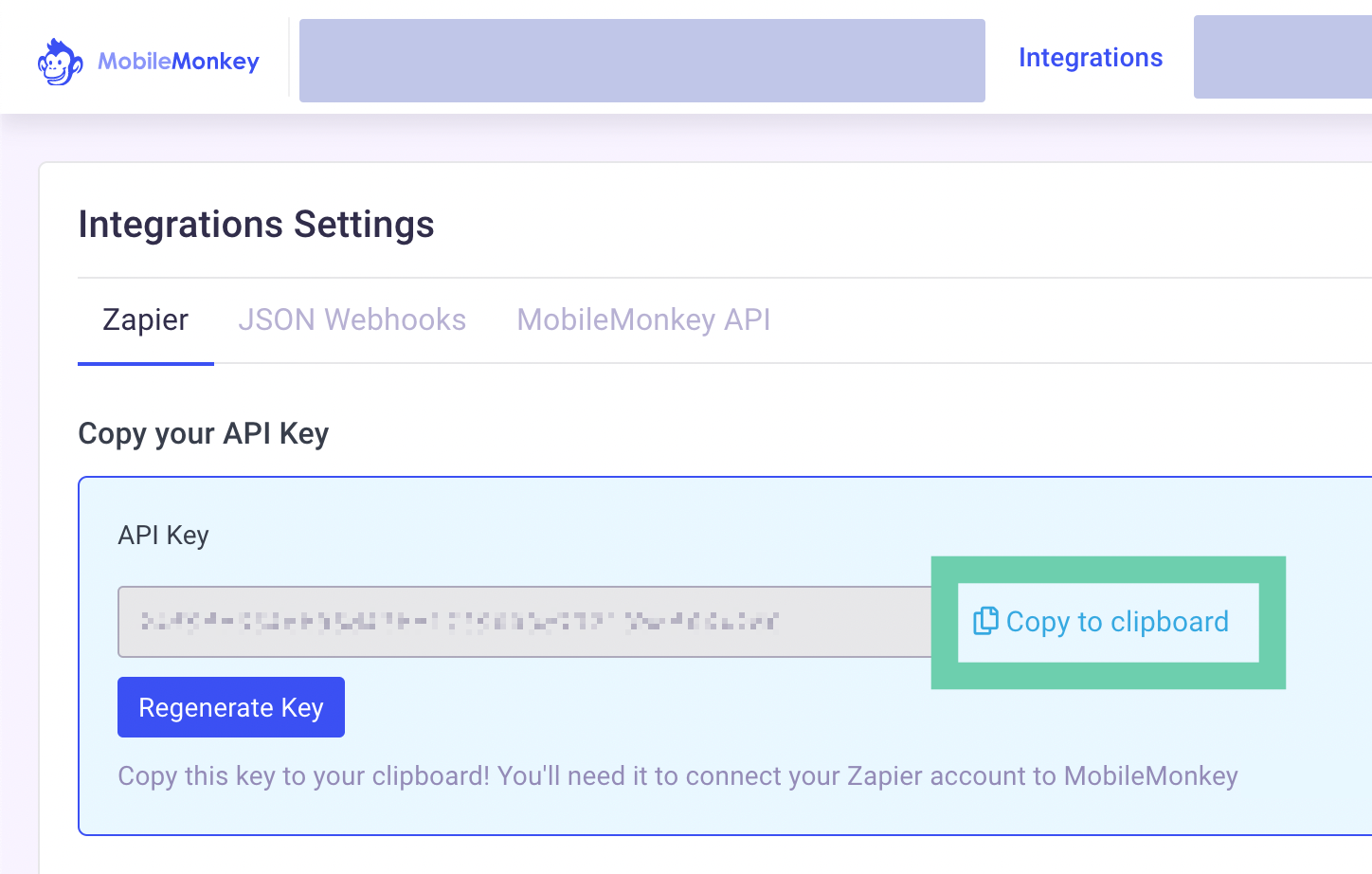 If a pre-built Zapier template for your intended application sync does not exist within MobileMonkey, log into Zapier to send MobileMonkey contacts to any of tens of thousands of available business applications.
Step 5: Re-engage with leads with timely sales and promotions.
With your lead lists growing you will want to send outgoing messages to your contacts via SMS or Messenger blasts.
SMS and Facebook Messenger blasts are sent using the same tools however there are different guidelines to be aware of for each messaging channel.
What is the difference between re-engaging in SMS vs. Messenger?
The guidelines for sending messages to opt-in contacts in SMS are much less stringent than the guidelines for sending outgoing messages to Messenger contacts.
Acquaint yourself with Facebook Messenger marketing rules to understand what circumstances Facebook allows for blasting contacts.
SMS tools are available to MobileMonkey users in the U.S. and Canada.
Now let's send a promotional message to leads using the SMS leads as an example.
Tips for success:
Be respectful! Remember these a people's personal numbers they've trusted you with.
Provide value. Don't just blast people links to your website, always make sure there is a good reason to send a text.
Be short and sweet! SMS isn't email or even Facebook Messenger. Short messages and quick back-and-forth will feel very natural to your leads and customers.
To send a mass message to SMS leads go to Chat Blaster > Create Chat Blaster.

Make sure SMS is selected

In the Audience step, choose any audience containing SMS Contacts.
MobileMonkey will only send SMS blasts to SMS Contacts within the chosen audience

Create your dialogue.
There's no need to get fancy. Check out this example: ask if the user is still interested in buying a car. If they are, notify yourself or a team member to join the conversation and follow up with them personally.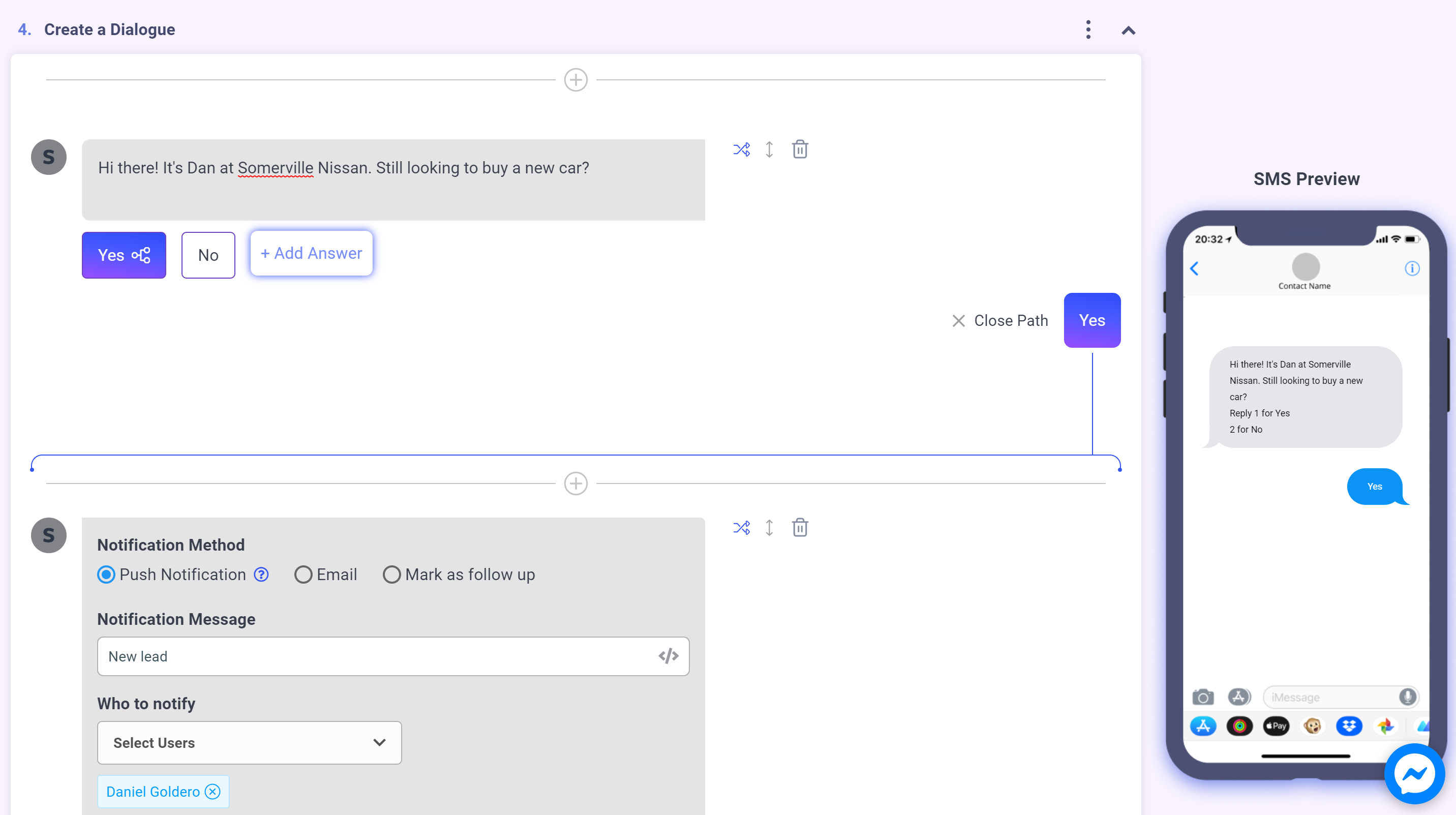 Next Steps for Increasing Sales in MobileMonkey
Do you have questions about any of these steps for growing lists and message contacts to increase sales?
MobileMonkey is here to help. Start chatting with us when logged into MobileMonkey or send an email to support@mobilemonkey.com.
Do you want to know what makes an awesome text message blast? Read our quick guide to sending engaging text messages here.
---
---