MobileMonkey Push Notifications
When a conversation requires your attention, MobileMonkey will send push notifications in the desktop app and/or the mobile app, as long as you enable notifications on those devices.
When will I get notified?
If notifications are enabled, you will get notified when:
A contact sends a new message
A conversation requires follow up (i.e. when the user sent a message that your bot doesn't know how to answer, including cases when the default dialogue was triggered)
The notification widget was triggered for my user account
You were assigned to a conversation by another team member.
Where will I receive push notifications?
We will send push notifications to our mobile app (Mobile Monkey Chat app, available in the Android & Apple app stores) and in the web app (using browser notifications). At this time we will NOT support notifications on mobile web (i.e. when you use MobileMoney web app on a mobile browser).
Where do I set my notification preferences?
You can set your notification preferences in your Notification Settings (Go to My Account > "Notification Settings" on the left hand menu). You can enable/disable each type of notification, for each of the pages that you have access to in each company. Keep in mind that push notifications must be allowed in the mobile app and desktop browser in order for notifications to be sent successfully.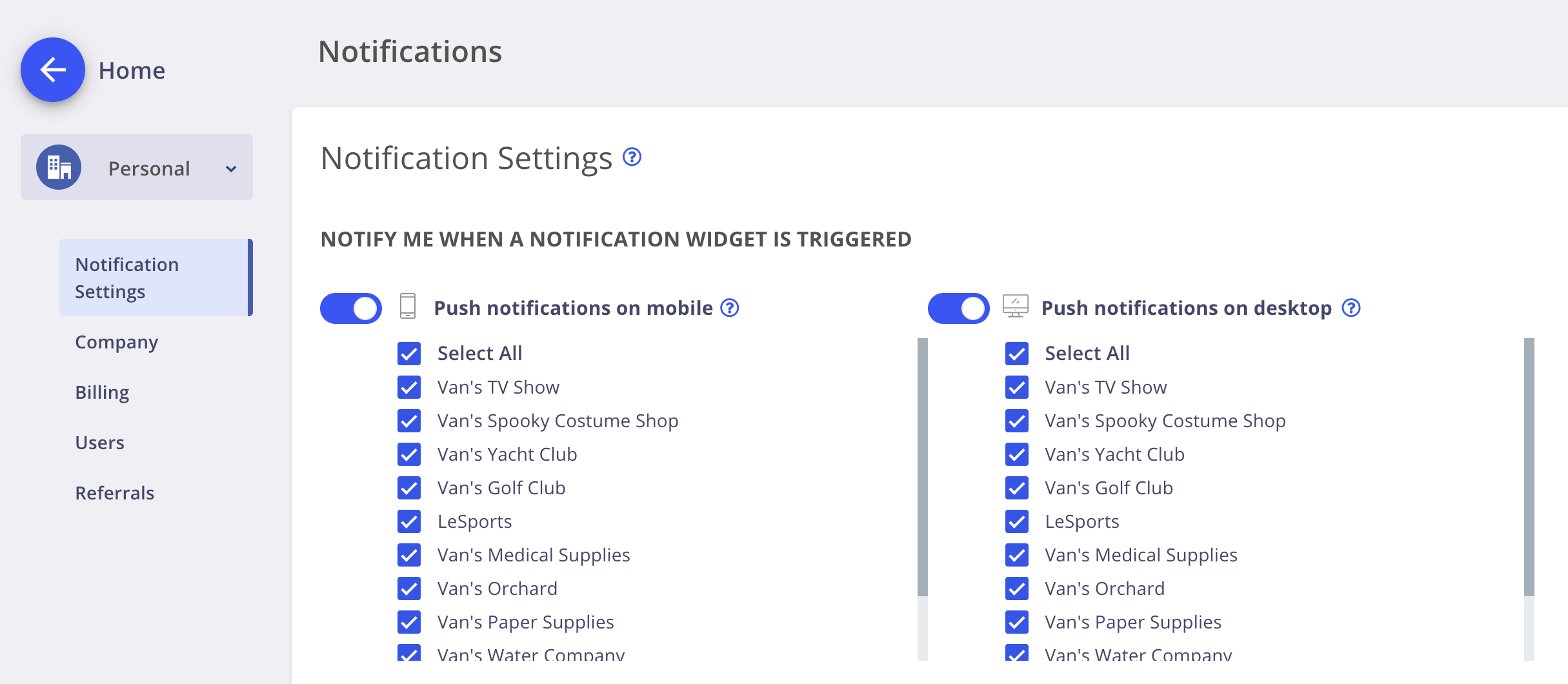 Why am I not getting mobile notifications even though I have it turned on in my user profile?
To receive push notifications on mobile:
Turn on notifications for each notification type in your mobile app. Note that this will set the notification preference ONLY for the company you are on, so you need to check per company to be sure:

Make sure that notifications permissions are enabled for you device. For iOS devices, we will ask for permission to send notifications. Please enable permissions for push notifications when asked by the app, or set it manually in your app settings. For Android devices, notifications permissions should be turned on automatically, but we recommend that you check in your app settings in case it was turned off my mistake.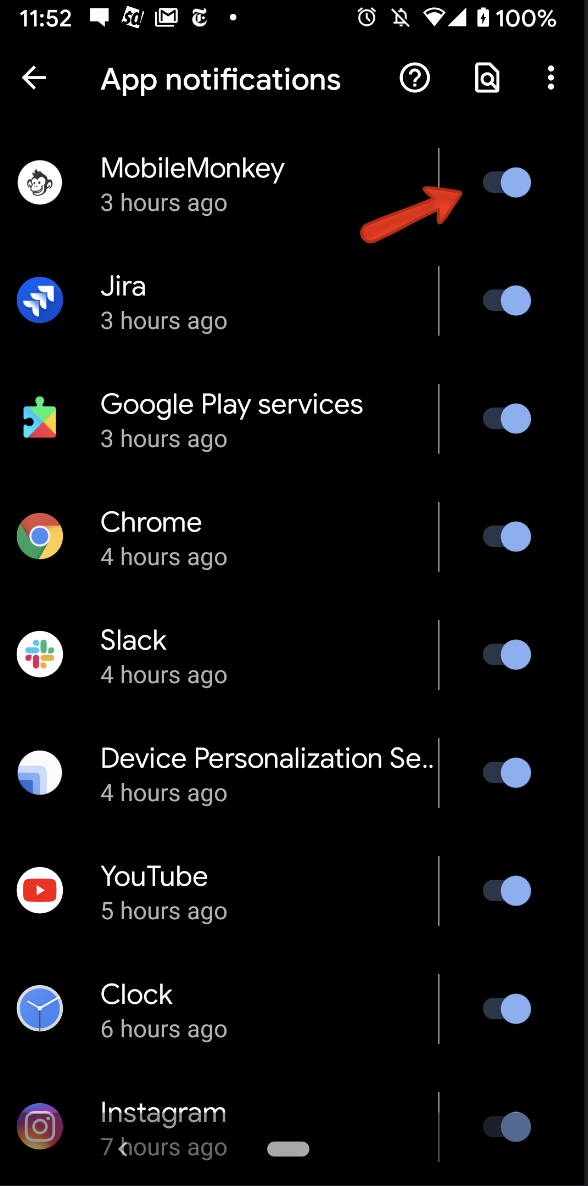 If you still don't receive notifications on your mobile app after following these steps, try logging out of the app, then logging back in. If that doesn't work, contact our support team at support@mobilemonkey.com.
Why am I not getting desktop notifications even though I have it turned on in my user profile?
To receive notifications on desktop:
1. Make sure that notifications are turned on on your computer

On Windows, go to the task bar & search for "Notifications & actions. In this section make sure "Get notifications from apps & other pages" is turned on

Then, scroll down to the section labeled "Get notifications from these senders" and make sure that Google Chrome is turned on.

On a Mac, make sure you don't have "Do Not Disturb" Mode turned on

NOTE for Mac/Safari users: To make sure you hear a sound when a notification is sent in Safari, go to your Mac Settings (the Apple icon at the to left hand corner) > System Preferences > Safari & make sure you have "Play sound for notifications" checked

Make sure that your browser supports push notifications (most standard browsers such as Chrome, Firefox, and Safari do) AND that you have enabled MobileMonkey push notifications in your browser.

To enabled notifications in your browser, open up app.mobilemonkey.com & go to you account settings page (Click on "My Account" in the lefthand menu > My Account). Scroll down to the Notification Settings section. From here, click on " Enable notifications for this browser".

We will show a popup to ask for push notification permissions. Click "Yes" on this popup, then "Allow" on the second popup.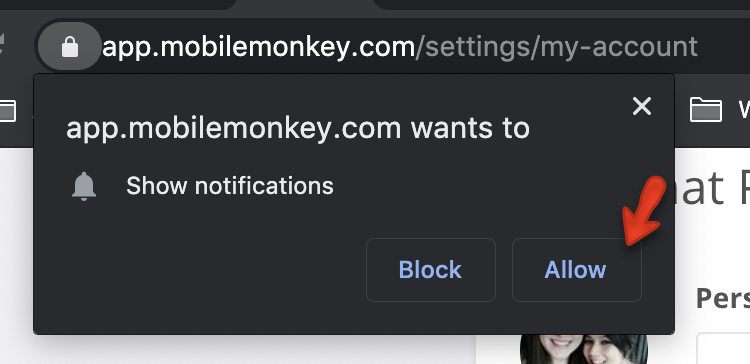 IMPORTANT NOTE: If your browser is actively blocking notifications from MobileMonkey you will need to unblock it manually. We will show an alert in your User Profile when this is the case. Check out this help doc for instructions on unblocking notification permissions.
---
---