How to Build an Email List
MobileMonkey is an effective and integrated tool for building a list of leads and customers that you can re-engage through email via chat conversations happening in live chat, text, and direct messaging.
If building your email list is your most important goal in getting started with MobileMonkey, this guide will help you implement the tools in MobileMonkey to support this goal.
Step 1: Decide which messaging channels you want to connect to MobileMonkey and then connect them.
You can connect MobileMonkey to one or all of these business messaging channels.
Step 2: Create chat starters that generate email opt-ins.
After you've connected your messaging channels to MobileMonkey, activate Chat Starters for those channels.
Add a series of content widgets to create a dialogue in the Chat Starter.
If your goal of these conversations is ultimately to collect an email address in order to grow your email re-engagement and lead list, ask for an email address using the Quick Question Widget and the response option "User replies with email."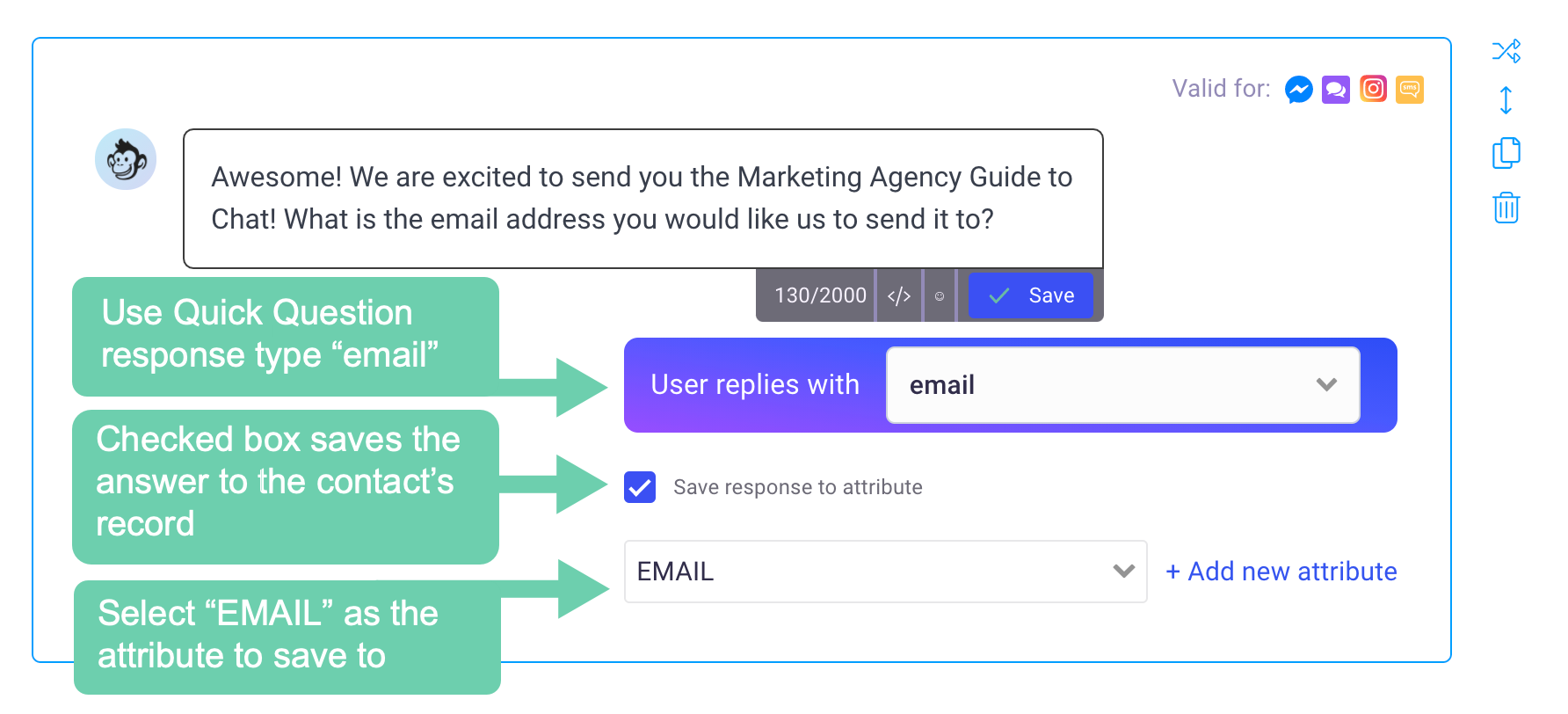 Make sure that this response saves to the contact's EMAIL attribute.
As a rule of thumb, to generate email addresses via chat conversations you must incentivize the email opt-in. Offer value to the person chatting with your business, such as a discount, gift or exclusive knowledge in exchange for their email address.
If you plan to manually export contacts with email addresses move to step 3.
If you subscribe to Unicorn or Team plan and want to automatically sync contacts with email addresses to another business application go to step 4.
Step 3: Create an audience of contacts with email addresses and export the audience.
To view the contacts from MobileMonkey that have provided an email address, go to Leads and click "+ New audience."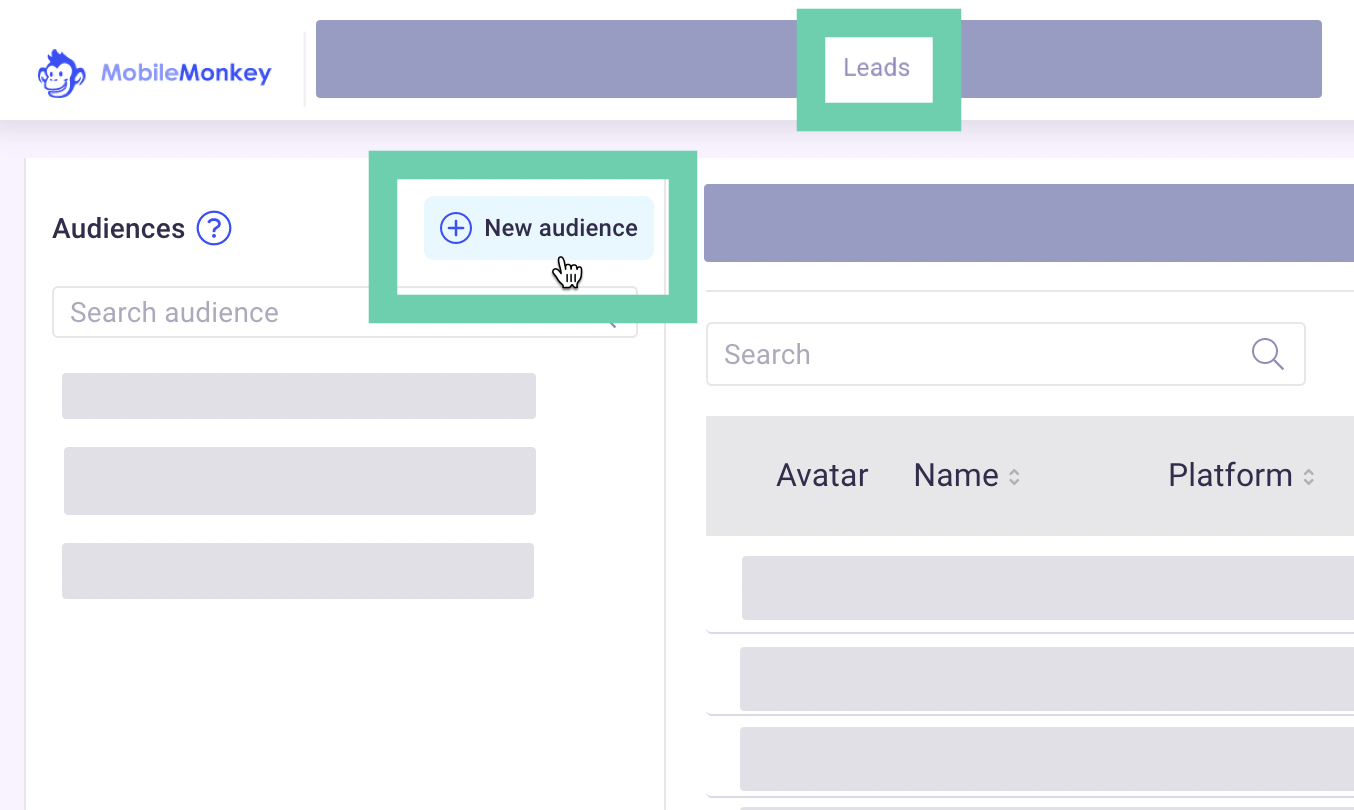 Click the pencil to edit and customize this audience name.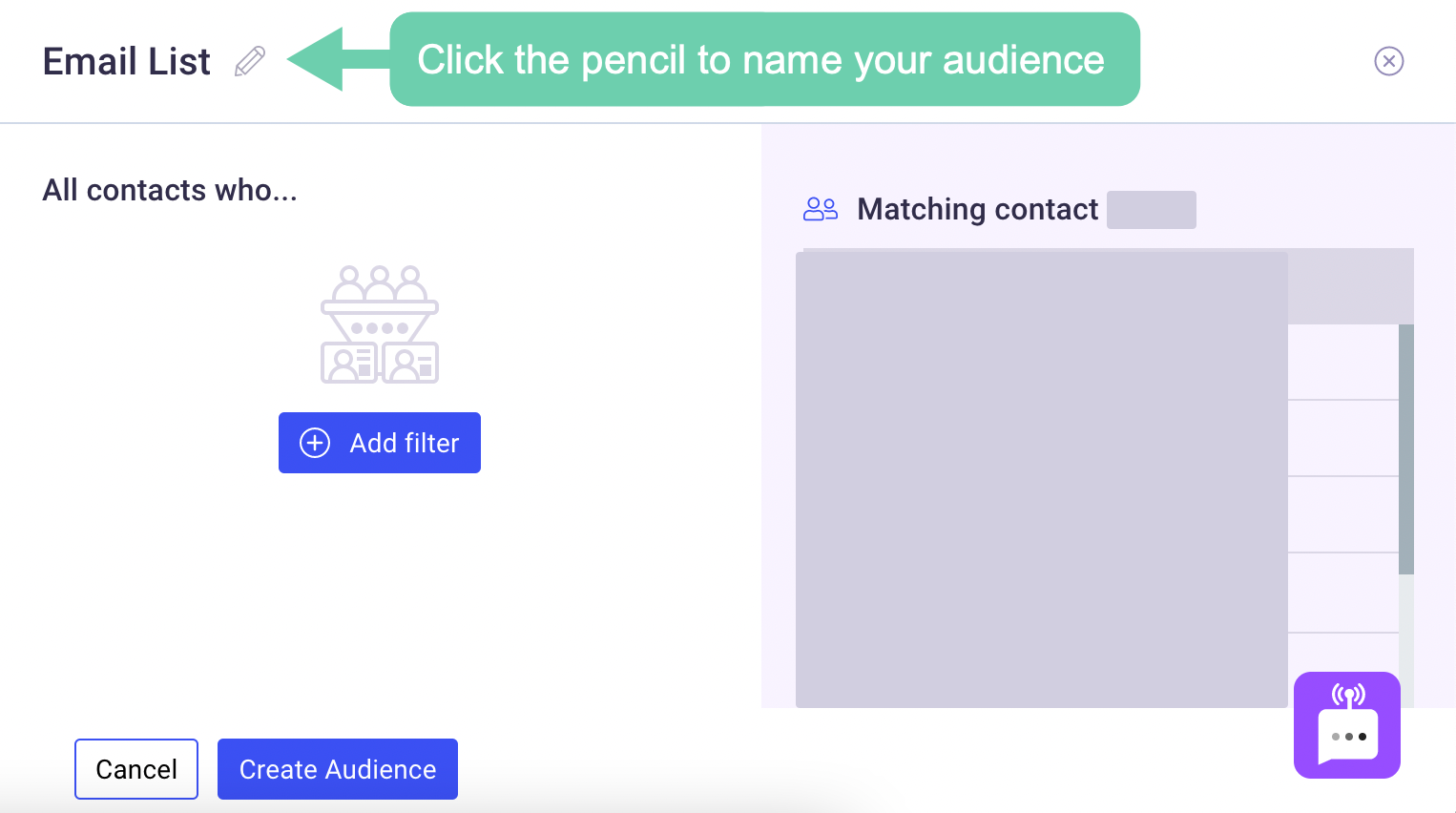 Click "+ Add filter" and choose to filter by attribute.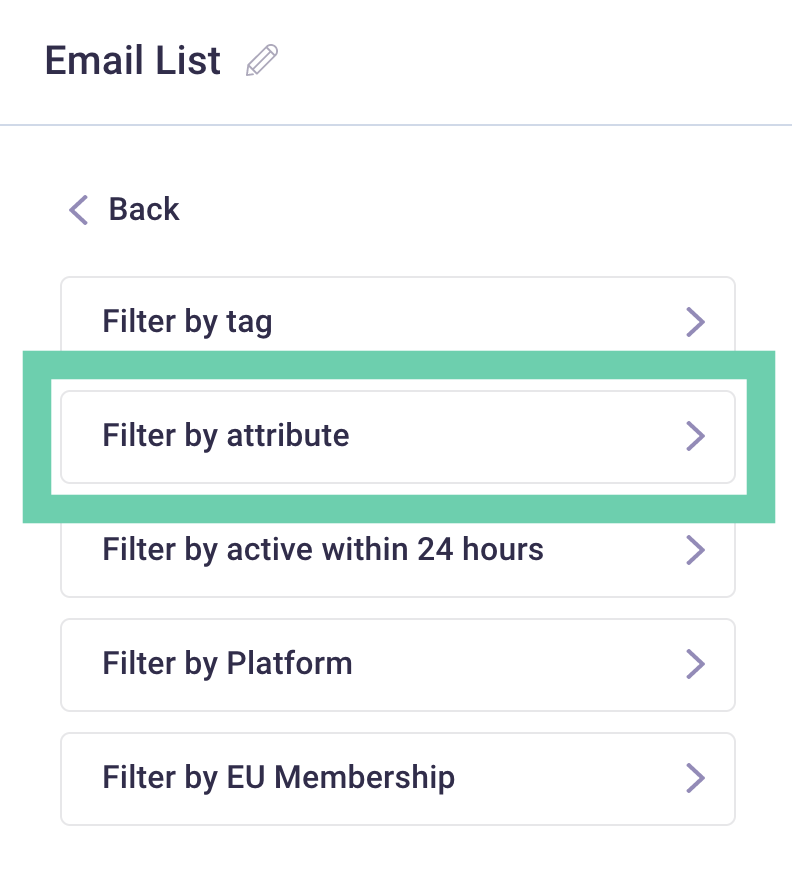 Next, add the following to create an audience of contacts that have provided their email address:
Attribute: EMAIL
Operator: Not equal
Value: <blank>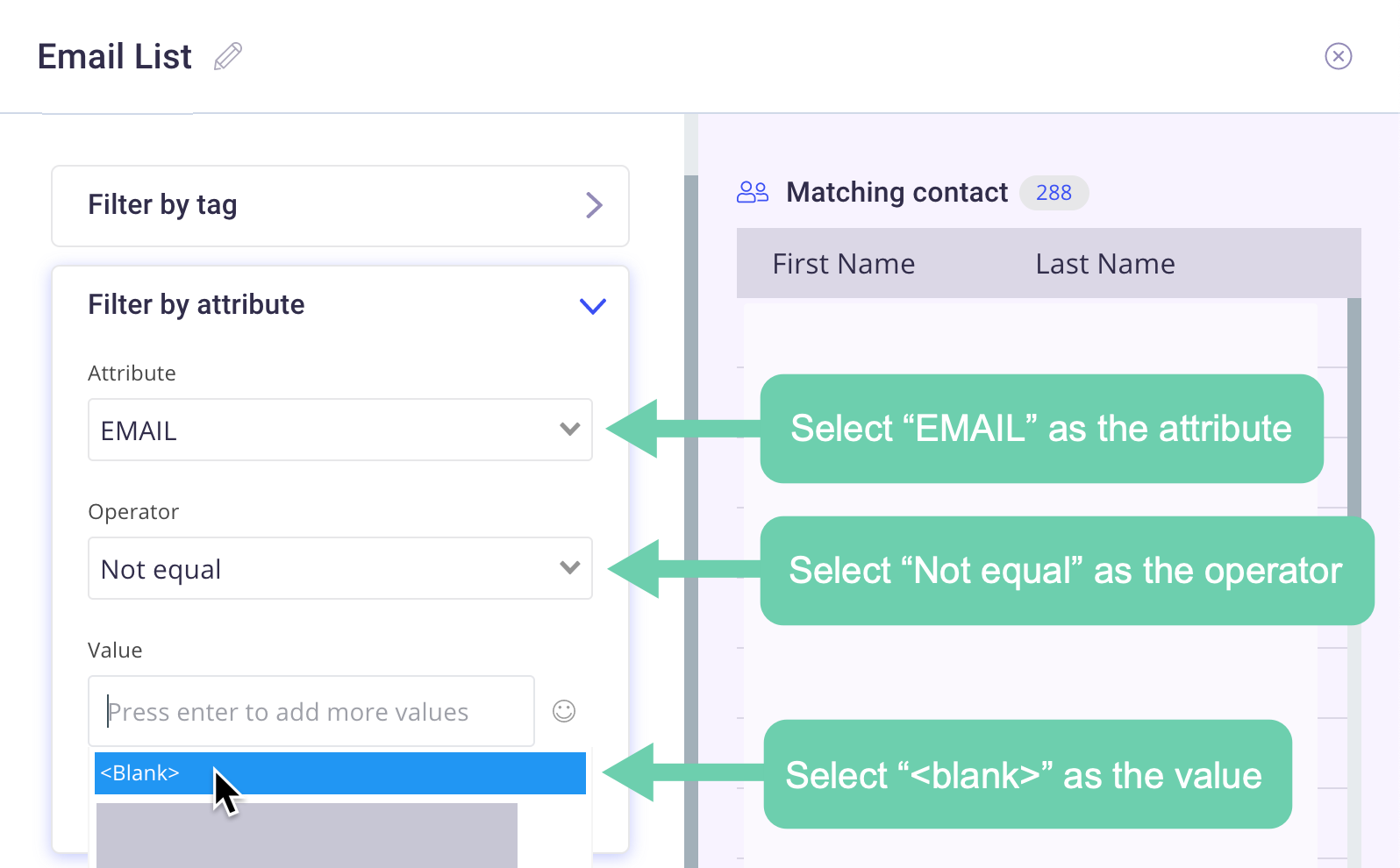 Click "Create Audience" to save the audience.
To export this audience, click the icon with the arrow above the list of contacts.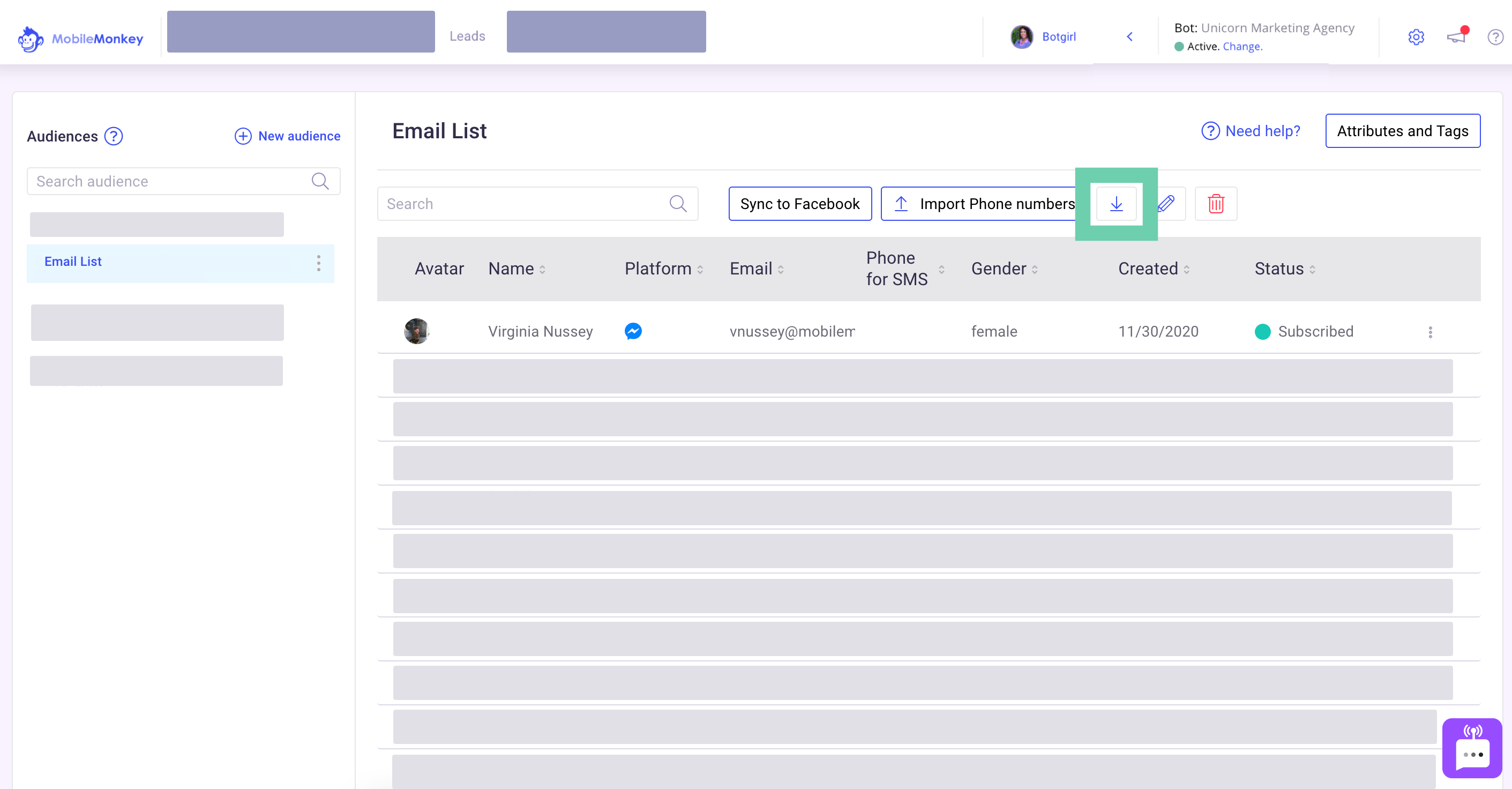 A .CSV file will download to your selected location containing all contacts in this audience.
Step 4: Automatically send contacts with email addresses to your email marketing platform, CRM or Google Sheets.
If you subscribe to MobileMonkey Unicorn or Team plan, you can automatically sync contacts with email addresses to an email marketing platform, CRM or Google Sheets using Zapier.
Go to Integrations and view MobileMonkey's pre-built Zapier templates — quick-launch templates for the app integrations most popular with MobileMonkey customers including:
Create a new row in Google Sheets when a MobileMonkey contact has an updated email attribute
Subscribe new MobileMonkey contacts to MailChimp when the email attribute is updated
Create new HubSpot contacts when a MobileMonkey contact has an updated email attribute
Click "Use this Zap" to launch a Zapier integration template and follow the provided steps.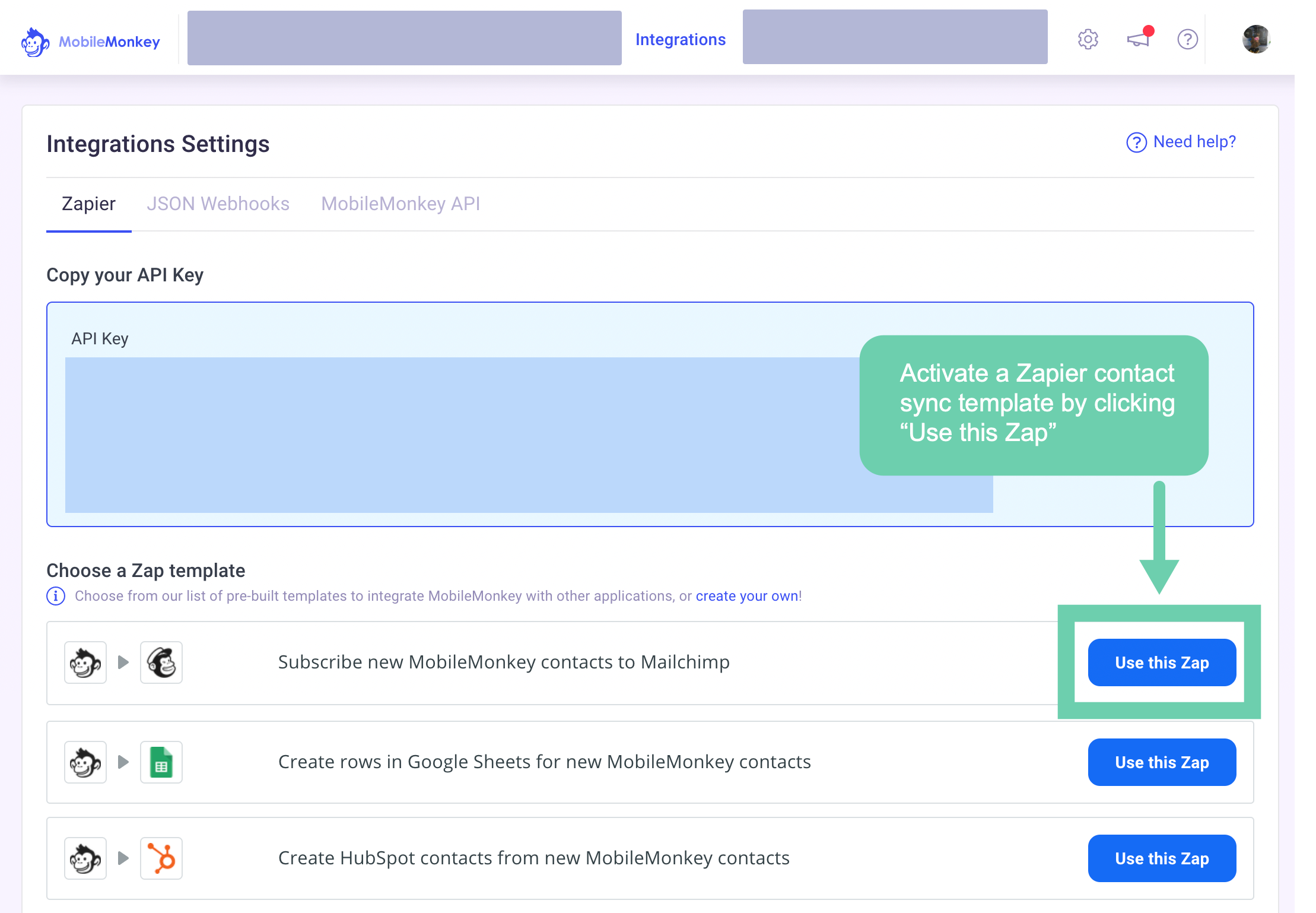 If this is your first time connecting MobileMonkey to Zapier, you will need to connect your MobileMonkey API key to Zapier following these steps.
Find and copy your MobileMonkey API key within Integrations: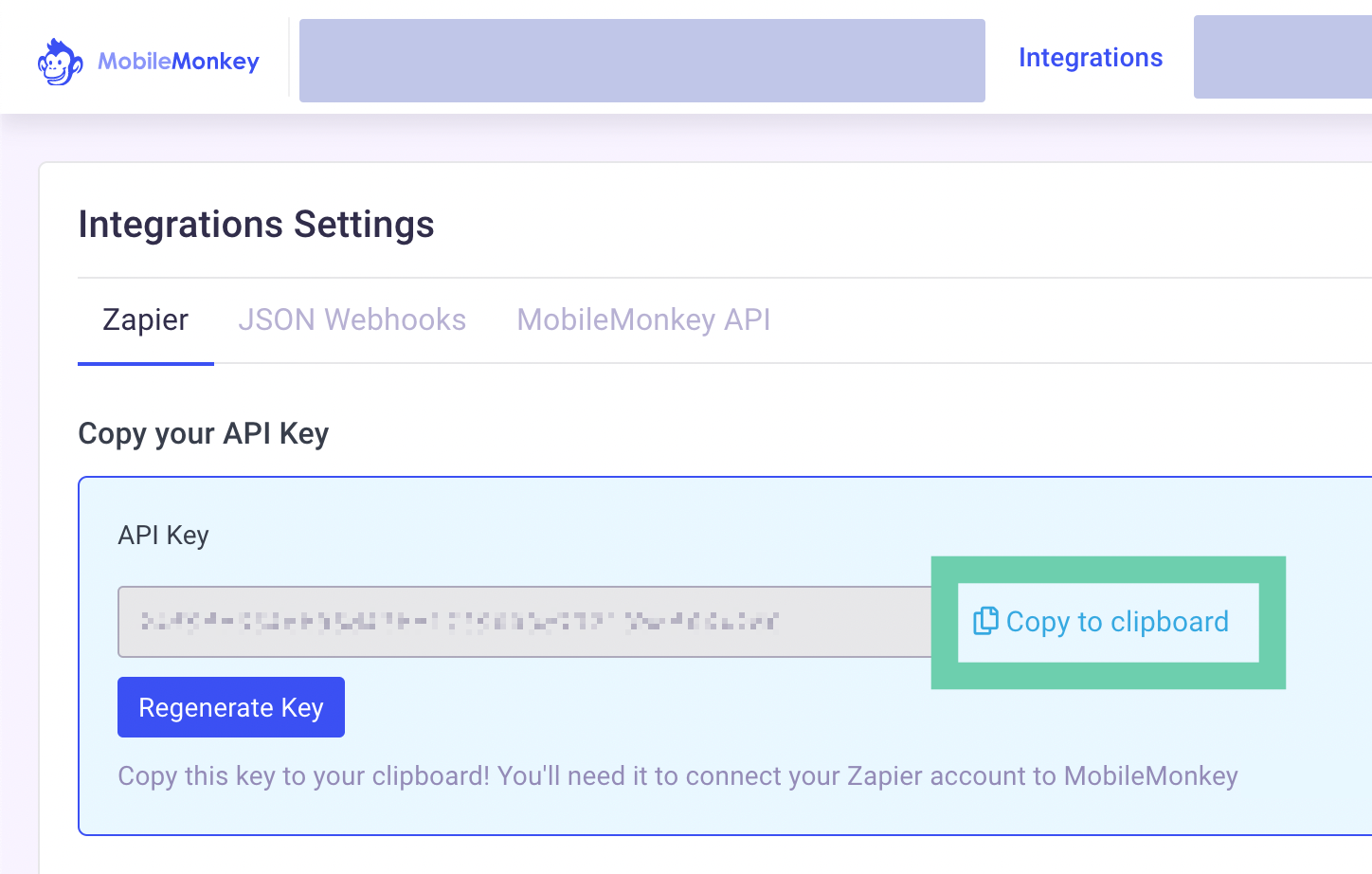 If a pre-built Zapier template for your intended application sync does not exist within MobileMonkey, log into Zapier to send MobileMonkey contacts to any of tens of thousands of available business applications.
Pro Strategies for Building an Email List
Some offers work better than others when it comes to building an email list and incentivizing the email opt-in.
Watch this lesson to learn more about strategies that you can use to build an email list using messaging and MobileMonkey.
Next Steps for Email List Building in MobileMonkey
Do you have questions about any of these steps for building an email re-engagement list via your business's messaging channels?
MobileMonkey is here to help. Start chatting with us when logged into MobileMonkey or send an email to support@mobilemonkey.com.
---
---