Creating a New Messenger Ad in MobileMonkey
This article outlines the steps for creating a new Ad in directly in MobileMonkey. If you want to connect a MobileMonkey dialogue to existing ads already running in Ads Manager, check
this help article
.
Select Click-to-Messenger Ads as an Input trigger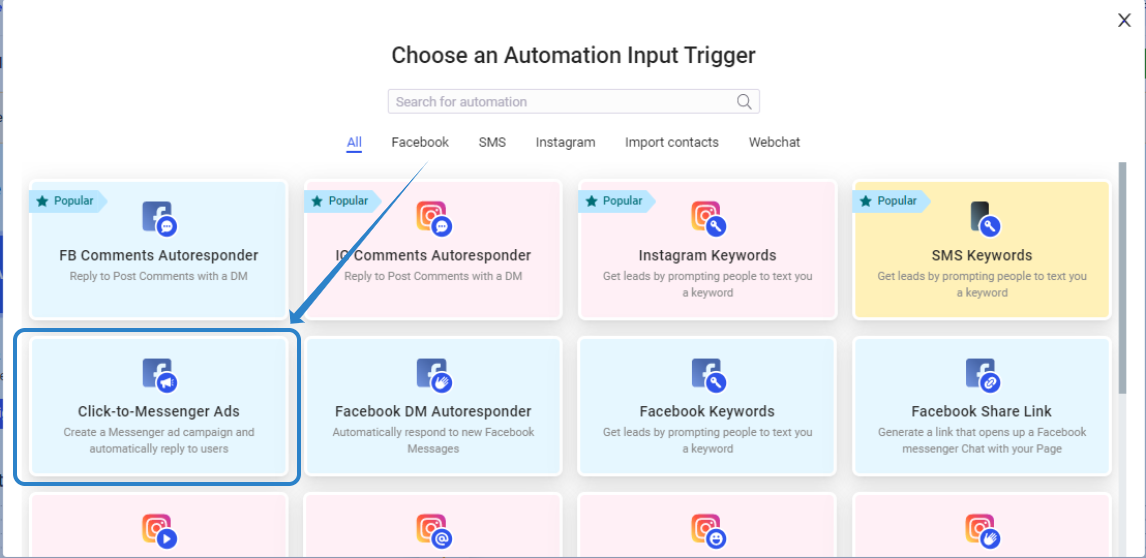 Select create ad directly in MobileMonkey

Fill out all of the steps in the ad creation

Select your Ad account

Set up your Campaign

To set a budget on your campaign, turn on Campaign Budget Optimization
If your ads are in 1 of Facebook's special ad categories, tick the checkbox for "I'm creating a campaign for ads in Special Ad Category". Note that targeting on ads with special ad categories will be restricted. Read more about Facebook's policy for special ad categories here.

Set up your Ad Set

Here you can select a pre-existing ad set to clone or create a new ad set from scratch.
If you have a campaign budget set, you won't able able to set a budget at the ad set level
Currency for bids & budgets will match whatever you set in your ad account.

Set up your Ad

Here you can choose to clone an ad that you have running in Ads Manager OR you can create an ad from scratch. Note that we only support cloning and creating single image/videos ads. If you wish to run a carousel ad, please create your ad in Ads Manager instead

Set up your dialogue

A dialogue is a collection of messages that the bot will send when the user clicks on the ad and engages with your page. Note that the first message in the dialogue cannot be deleted since it is an opt-in question, as required by Facebook.

You can test your dialogue by clicking on the "test my bot" link in the section header.

After you are done with all the setup, click on "Activate ad" to publish the Ad on Ads Manager.
---
---