Get Started with Click-to-Messenger Ads in MobileMonkey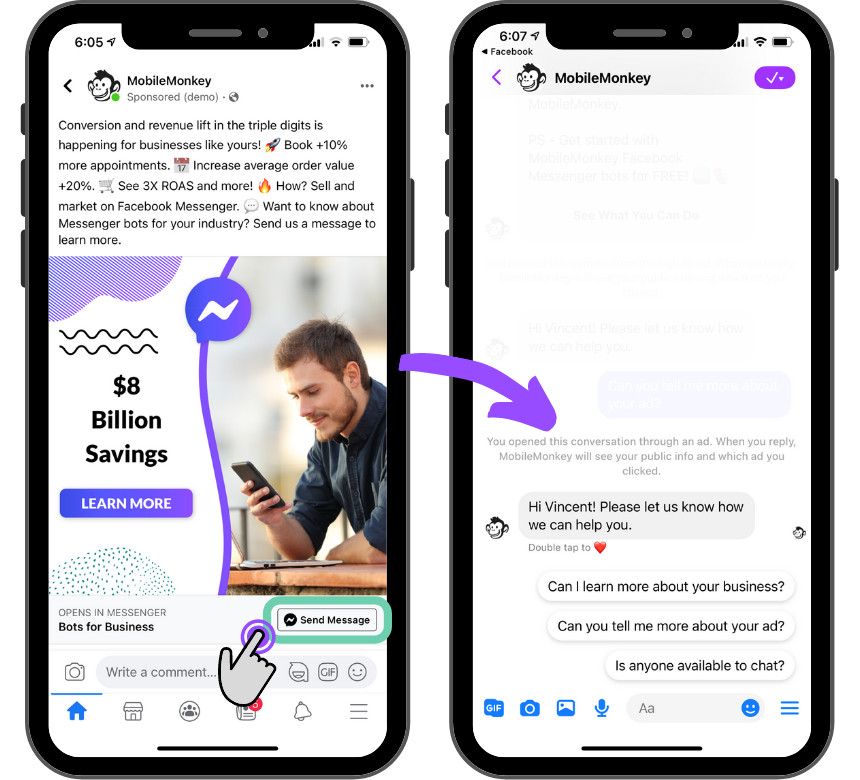 Click-to-Messenger ads are a special ad type that allows advertisers to generate leads on their Messenger account. They are shown like other FB ads on a user's newsfeed, but once the user clicks on the ad, they get directed to Messenger instead of a website. Once on Messenger, the user will receive a message from the advertiser's page. If they respond to the message, they will become a subscriber of the page.
In this guide, we will walk you through the steps of setting up a Click-to-Messenger ad with MobileMonkey.
PREREQUISITE
Click-to-Messenger is a Startup feature, so make sure you upgrade your account first. Want to try it out first? If you're on a free account you can test out 1 ad before upgrading to Startup!
Step 1: Set up your ad account on Facebook
Already have an ad account set up? That's great - you can skip this Step. Otherwise follow this guide to set up your first ad account!
Step 2: Create your Ad in Ads Manager or Create an Ad directly in MobileMonkey.
Use this guide to Create a New Ad in Ads Manager and Sync to Click-to-Messenger Ads in MobileMonkey.
Use this guide to Create a New Messenger Ad in MobileMonkey
Not sure what bid to set? Check out this help article.
Need help on your targeting strategy? Check out this helpdoc for some guidelines.
Step 3: Test your Ad in Ads Manager
It is very important to check that everything is in place before the Ad goes Live. Use this guide to test the Ad you created and make sure that the conversation flow is correct.
---
---