Marketing automation for agencies is a key differentiator to impressing clients, winning new business, and scaling your agency.
In fact, 79% of top-performing agency leaders reported using marketing automation tools for 3-years or more.
There are many marketing functions that can be automated, such as sending automated messages, lead scoring/qualifying, or publishing content on social media.
But digital marketing agency life isn't easy. Everything has a hard deadline. Clients demand unreasonable results. Your competition is constantly trying to underbid you. And your team wants catered lunches at least once a week.
Meanwhile, you still need to market your agency to bring in new business and keep your current clients happy.
Luckily, there are ways you can accomplish both revenue and client growth.
The answer: Use marketing automation software to save time, reduce overhead, and increase marketing ROI for both you and your clients.
Grade Your Website Lead Conversion Rate Instantly
Get an instant website audit and 50 leads for free
Here are 11 of the best marketing automation tools for agencies according to industry leaders:
Customers.ai for Agencies
Higher retainers, more revenue streams, and happier clients.
#1. Email Marketing Automation for Agencies: Customers.ai
The best email marketing software allows you to proactively engage with customers and prospects in order to grow revenue, generate leads, and offer real-time support across multiple channels.
Studies have shown that our email marketing software:
Here's how it works:
First, add our X-Ray pixel to your client's website:
Then, set up an email automation through our AI-powered S.O.L.D. tool which maximizes deliverability: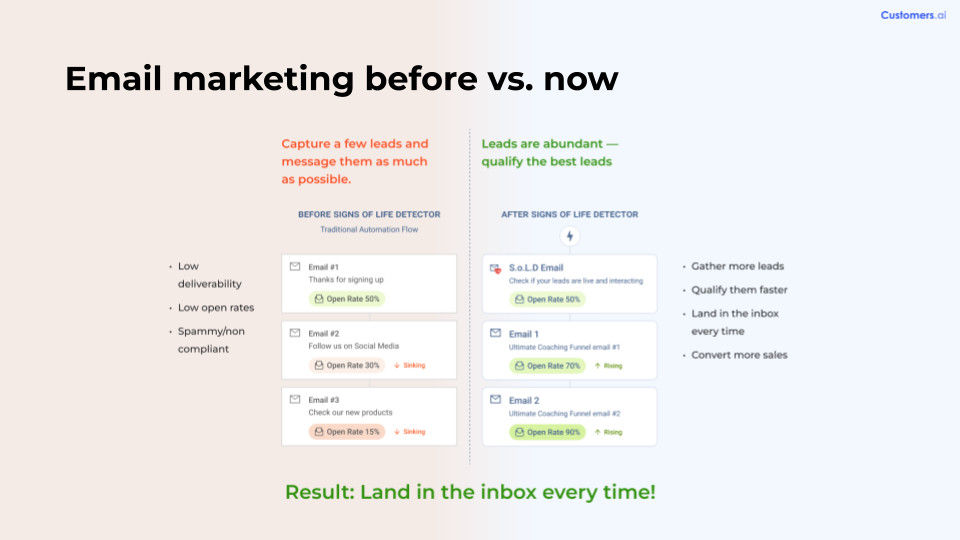 Plus, if you need some help writing your clients emails, you can take our new AI email generator for a spin!
#2. Marketing Automation Tools for Agencies: SharpSpring
Sharpspring is a marketing automation platform with tools for sales that also comes with a built-in CRM.
The best way to describe SharpSpring is as an "all-in-one" marketing platform because there are tools for all of the following and more:
Email marketing
Social media management
Landing Page Designer
Campaign Tracking
Lead forms
Customer Relationship Management (CRM)
Blog pages
However, to be fair, there is no such thing as an "all-in-one" platform. You'll always need additional tools, and often-times you'll want to substitute out for a tool that's better at a particular function.
But for agency leaders who find value in robust marketing platforms, don't want to mix and match their MarTech stack, and don't have the budget for a platform like Marketo, SharpSpring is a great option.
SharpSpring is designed to hold onto clients with the assistance of digital agency-specific features such as:
Rebrandable interface, domain, login screen, and notifications.
Single sign-on: Manage all your clients in one spot, and with one login.
No-hassle client management: No need to call SharpSpring to ask permission. Just add them to your console and get moving. Includes custom access for each user.
Flexible email templates: Have a favorite email template? Share it with all your clients.
SharpSpring also has a friendly business model for digital agencies. On its site, SharpSpring says something smart from a marketing perspective, which is, "Your customers are yours, not ours."
And that's due to many SaaS solutions charging their customers based on the number of contacts or instances one needs room for.
Furthermore, SharpSpring's pricing model is quite flexible and agency friendly:
As little as 1/10th the cost of competing solutions.
If SharpSpring isn't for you, you can leave anytime. No long-term contract.
The agency gets to decide what to charge its customers.
And the agency keeps 75% of the revenue or more.
#3. Automated Social Media Management: Agorapulse
The ability to prove your agency's social media ROI to your clients is powerful. And AgoraPulse has all of the digital agency tools you need to do just that.
With AgoraPulse, your agency can show ROI on each post, whether it's organic or paid. This is accomplished using publishing modals and built-in UTM parameters that allow you to demonstrate your agency's impact on conversions and revenue.
For marketing agencies, anything you can do to save time is paramount to your success. AgoraPulse makes it easy to export reports with key metrics and analysis on engagement and growth to present to clients.
Furthermore, it never hurts to impress clients. Unlimited Graphic Design Services let you get creative logos. So, add your logo to the PowerPoint decks generated by AgoraPulse and your clients will think you built it from scratch.
AgoraPulse also has tools to allow collaboration between marketing agencies and their clients. For example, with a shared calendar, clients can review, accept, reject, and give feedback on your scheduled social media content. Each shared calendar gives you unlimited calendar users and unlimited profiles.
#4. Email Marketing Automation for Agencies: Emma
Emma, or MyEmma, is an email marketing automation tool that flies under the radar but is great for digital marketing agencies.
Emma's agency email marketing software and personalized services set you up to be the experts for your clients, help you manage multiple brands under one roof, and drive results that will have them singing your praises.
The Emma platform is referred to as the Emma HQ platform. It includes an approvals dashboard, campaign management, asset and template sharing controls, and multi-account reporting from the activity dashboard.
In regards to email marketing automation, Emma allows you to create targeted workflows based on any action your audience takes, both inside and outside the inbox.
And what Emma is referring to as "both inside and outside the inbox" is that most activity happens outside of the inbox. For example purchases, web visits, and reviews.
With Emma, as long as you're capturing the data, you can automate workflows based on that data. This allows you to further personalize every workflow.
Emma's marketing agency-specific features consist of the following four components.
Manage multiple accounts: Set up separate accounts for every client – each with its own set of roles & permissions – and easily manage them from one central dashboard.
Robust email reporting: Track client activity and quickly see what's working (and what's not) so you can offer the best advice and adjust your strategy to get better results.
Asset management: Manage and share creative assets – like email marketing templates, logos, and images – with clients so they have everything they need to send a gorgeous email.
White-labeled accounts: Choose to remove all Emma branding from your account. Your clients can even log-in directly from your site, so you can provide them with a complete email marketing experience.
When dynamic content and automation combine, you can create hyper-personalized emails.
Agencies can really impress their clients by automatically populating an email series with content based on a subscriber's favorite activity.
#5. Facebook Marketing for Agencies: Customers.ai
Customers.ai is hands down the best chatbot for Facebook Messenger and a secret weapon to pitch to agency clients.
More than 1.5 billion consumers actively use Facebook Messenger chat. However, less than 1% of businesses are utilizing Facebook Messenger for business.
Using an omnichannel chatbot like Customers.ai, you can spread proactively engage with your clients' audience from their website and to multiple other web chat applications, such as Facebook.
One of the most popular Customers.ai use cases for agencies is to automate lead generation and capture user data with Facebook post autoresponders.
This is a little-known Facebook Messenger hack where you get permission to send chat messages via Messenger to people who reply to any of your Facebook Page posts.
If the recipient engages with the message, you gain access to keep sending them messages and you'll capture their contact information in the process.
For example, a proactive live chat message like the following on Messenger can be very effective.
Facebook Messenger ads for digital marketing agencies
Another powerful Facebook Messenger tool to pitch agency clients on are Facebook Messenger ads.
Facebook Messenger ads present a rare opportunity that savvy digital marketers are taking advantage of in 2020.
In fact, Messenger ads outperform regular Facebook ads by 2X-10X.
And that's because Facebook Messenger ads are different than regular Facebook ads. Most importantly, Messenger ads perform better than normal Facebook ads because they start a more engaging conversation with chatbots.
A couple of types of Facebook Messenger ads exist. There's an ad viewed on any Facebook property that directs traffic to Messenger. And then there's sponsored content that's native in Messenger.
Another cool thing about Facebook Messenger ad experiences is that they can take place across the Facebook family of apps, including the Facebook newsfeed, Instagram newsfeed, Facebook and Instagram Stories, Marketplace, Messenger, and others.
And Facebook Messenger ads differ from your average Facebook ad because they always lead to a conversational experience between your business the prospect.
In addition to outperforming regular Facebook ads, here are four more reasons to consider adding Messenger ads to your digital agency's tool box:
Instant lead and data capture
More features available for personalization
Automated lead qualification and follow-ups with chatbots
Check out the top 7 Facebook ad hacks of all time to get some more ideas!
Customers.ai for Agencies
Higher retainers, more revenue streams, and happier clients.
#6. Onboarding & Customer Journey Mapping Automation: Autopilot
Autopilot is a visual marketing automation tool agencies can use to create customer journey maps for clients. The Autopilot platform includes multi-channel marketing capabilities such as email, in-app, online, and snail-mail communications.
Autopilot is all about building automated lead generation and lead nurturing processes.
Autopilot allows users to:
Customize journeys based on audience behavior.
Build multi-channel workflows to send automated messages.
Generate customer journey reports that allow you to fix leaky marketing funnels.
Autopilot also includes features such as measuring campaign ROI and optimizing the revenue funnel based on real-time performance.
Lastly, Autopilot integrates with other popular platforms such as Salesforce, InsideView, GoodData, Zapier, Slack, and Twilio.
#7. Small Business Marketing Automation Tools: MailChimp
MailChimp is one of the most popular email marketing platforms due to its ease of use, sophisticated automation tools, and the ability to create great-looking emails with a drag-and-drop user interface.
In addition to being the most recognized email marketing platform in the world, MailChimp has built out a suite of cross-channel marketing tools.
MailChimp now refers to itself as an "all-in-one marketing platform" for small businesses. The most prevalent tools on the platform consist of the following:
Email marketing
Customer relationship management (CRM) dashboards
Custom domains and website design templates
Social media management and content scheduling
Facebook and Instagram ad builders
Landing page builders, including ecommerce
Marketing analytics, and more.
Digital marketing agencies can benefit from MailChimp's many automation tools, such as customer journey mapping, retargeting emails, behavior-based automation, date-based automation, welcome series, abandoned cart emails, product recommendations, and more.
MailChimp has gradually become more like Marketo, but for small businesses. And they're doing this by building cross-channel marketing tools that complement their bread and butter, which is email.
#8. Marketing Automation for Attribution & Analytics: Platform.ly
Platform.ly has a full suite of multi-channel marketing automation tools from lead capture and nurturing to sales and brand advocacy.
For digital marketing agencies, the one thing Platform.ly does better than anything else is marketing attribution and analytics dashboards.
Agencies like Platform.ly for a number of reasons. Mainly it's their reporting and attribution models, but it's also the platform's focus on the integration of other marketing tools.
This facilitates the ability to use the best tool for each marketing function, as opposed to using one marketing automation platform for everything, which means you'll have fewer features at your disposal per marketing channel.
Platform.ly makes marketing attribution easy by precisely tracking interactions across different campaigns and channels throughout your marketing funnel. It helps you understand in detail which marketing activities drive the most sales, who your most loyal customers are, and what drives growth.
At a high-level, Platformly's main features consist of the following:
Business Dashboards
Link Tracking
CRM
Lead Capture
Email Marketing
Marketing Automation
Complete Reports
Integrations
Use Platform.ly to track marketing efforts with interactive dashboards, measure agency performance, optimize user interactions from first to last touchpoints, convert more customers, and increasing revenue.
#9. Connect Apps & Automate Workflows: Zapier
As a marketing agency, you're going to use a large variety of business and productivity apps. Every client is going to have a different marketing stack, and you'll need a way to easily integrate many of them.
Zapier is an awesome tool for marketing agencies because you can create automated workflows across tools in your mar-tech stack. In fact, Zapier is compatible with thousands of tools, and you can easily chain commands together with an "If X happens, do Y" structure.
For example, the Customers.ai Zapier integration allows you to easily send information that's stored to customer profiles in Customers.ai to other applications.
Here are some of the more popular "Zaps" for Customers.ai users:
Add all new leads to your CRM, such as Salesforce
Send SMS messages or Slack notifications to new contacts
Subscribe new Customers.ai contacts to MailChimp
One of the main selling points of Zapier for marketing agencies is that this automation allow you to combine multiple actions and apps together in a single Zap.
So, let's say a client sends you an email with an attachment. Using Zapier, you can store it on your Google Drive, share it with your team, and update your project management board without needing to do anything.
Zapier will save your agency lots of time by automating repetitive tasks and please your clients when you're able to work with their tech stack.
#10. PPC Management Software: WordStream
WordStream for agencies helps to replace multiple complex platforms and spreadsheets with a single user interface designed to streamline Google Ads, Facebook, and Bing workflows.
Additionally, WordStream's Advisor tool for agencies makes recommendations to optimize performance across platforms and will highlight your best results each month to your clients.
The most notable WordStream features to consider for your set of marketing agency tools are as follows:
Automated Keyword Lists
Prospect Tracking & Management
Customizable Proposal Generator
White Labeled Google Account Audit
International Currencies
White Labeled Facebook Account Audit
Google Places Match
WordStream's Client Center dashboard is designed to give your agency a view of every account you manage and to assess where to spend your time more efficiently. It comes with tools such as a performance tracker, budget tracking, and spend notifications.
#11. SMS Marketing Services for Agencies: Customers.ai
SMS marketing is rapidly growing in popularity, and that's because it's instant, convenient, and universal.
Outdated mobile-targeting tactics are costing you conversions, clients, and revenue. Meanwhile, SMS marketing is lurking in the background, waiting for agencies to capitalize on it.
Using Customers.ai SMS marketing tools, agencies can set themselves apart from the competition by dramatically increasing open, response, and conversion rates.
Customers.ai SMS marketing tools empower businesses to send customers both bulk and personalized messages at scale with smart features like:
Contact list growth tools
Text message delivery time scheduling
Triggering text messages to send based on behaviors and interactions
Results tracking and analytics
How to use SMS keywords and opt-ins for digital marketing agencies
Getting your clients' audiences to opt-in to text message marketing campaigns is simple with Customers.ai. Multiple opt-in options exist, such as SMS keywords, a website chat SMS opt-in widget, and an SMS opt-in popup form.
For example, here's one of our CTAs where we're using a dedicated phone number and the keyword "UNICORN": Join my Unicorn Marketing Club for news and updates once a week by texting "UNICORN" to 1-309-740-3151.
When you text UNICORN to the number, you'll receive a text message that reads:
"Hi, this is Larry Kim. Thank you for joining my unicorn marketer's text message club. I'll send new marketing hacks — once or sometimes twice a week. You can type STOP at any time to unsubscribe. ???? be a unicorn in a sea of donkeys."
Go ahead and test it out for yourself to receive marketing news and updates from Larry Kim!
There's so much more you can do with Customers.ai SMS marketing tools. Here's just a few:
Bulk text messaging
SMS drip campaign automation
Automated responses and proactive messaging
Send GIFs, emojis, and images in text blasts
Trigger workflows through Zapier and the Customers.ai API
Not sold on SMS marketing? Take a look at these 60 SMS marketing statistics, and you'll surely change your mind.
Looking for More than Marketing Automation Tools for Agencies?
If you need more than just marketing automation software, we have quite a few categories for you to choose from. Discover hundreds of the best digital marketing tools in the following lists:
Customers.ai for Agencies
Higher retainers, more revenue streams, and happier clients.
Important next steps
Watch the Marketing Agency Growth Accelerator Summit with Larry Kim.
Check out our Marketing Agency Pricing Guide to find the pricing models that work best for your agency.
Customers.ai agency Team Plan partners get advanced web chat marketing automation features, multi-page and multi-user dashboard, and new client referrals as a certified Customers.ai agency.
See all the tools in Customers.ai's multi-channel chatbot platform by getting started with Customers.ai for free.
FAQs about Marketing Automation for Agencies
What is marketing automation for agencies?
Marketing automation for agencies refers to the use of automated tools, software, and processes to streamline and optimize marketing efforts on behalf of clients. It involves automating repetitive tasks, managing campaigns, tracking customer interactions, and generating reports to improve efficiency and effectiveness in marketing strategies.
What are the benefits of marketing automation for agencies?
Marketing automation offers several benefits for agencies, including:
Improved efficiency by automating manual and repetitive tasks
Enhanced lead nurturing and conversion through personalized and timely interactions
Streamlined campaign management and tracking for better results
Increased scalability by handling larger volumes of data and campaigns
Better insights and reporting to measure and optimize marketing efforts
What are some popular marketing automation tools for agencies?
There are several popular marketing automation tools available for agencies, including:
These tools offer a range of features and integrations to automate marketing processes and improve overall efficiency.
How can marketing automation benefit client-agency relationships?
Marketing automation can strengthen client-agency relationships by:
Increasing transparency and accountability through better tracking and reporting
Improving communication and collaboration between clients and agencies
Providing clients with real-time insights and performance metrics
Enabling agencies to deliver