You've probably read dozens of contradictory pieces of ABSOLUTELY NECESSARY advice about email marketing, engagement and deliverability tips over the years. Do this! Do that! No, not that!
Pretty unhelpful stuff! (Not to mention quite technical to navigate.)
You may just want to do what's most effective for results and performance and move on to your next exciting campaign idea.
But there are risks associated with email marketing and cold email outreach that marketers want to avoid if at all possible. (If not, you may have months or even years of cleanup to do for your sender IP address, your company domain, and your standing with your ESP.)
At Customers.ai, we don't think the secrets to email deliverability should be secret.
So we put together this email deliverability cheat sheet for you. Follow its seven tenets and you'll be grand!
My personal favorite tip? Doubling down on engaged recipients … because I love unicorns. (That's why I included it as number one!)
But in fact, every one of these AI-powered email deliverability tools and best practices have proven critical to the success of Customers.ai's targeted outbound marketing strategy that today accounts for over half of the leads our marketing team generates for our sales team.
The email deliverability cheat sheet I promised you is below and here's a presentation that will walk you through it.
7 Email Deliverability Tips That Get Your Message in the Inbox & Keep Your Compliant Rate Low
Click the links below to jump to the tip or read on for all the email deliverability tips that will help your cold, warm and event hot emails get seen by your intended recipient (minimizing risk to your IP and domain health, of course)!
But first, why are marketers so keen on email deliverability tips?
It comes down to the fact that email is pretty much the undisputed GOAT of marketing channels.
Email generates an average $36 for every $1 spent.
Recovered cart abandonment email revenue can account for a third of ecommerce sales.
Generative AI technology is changing email marketing fast with 43% of marketers using AI using it for email marketing.
At the same time, there are Gmail promotion tabs and spam filters to account for when optimizing your email to show up in front of your desired audience.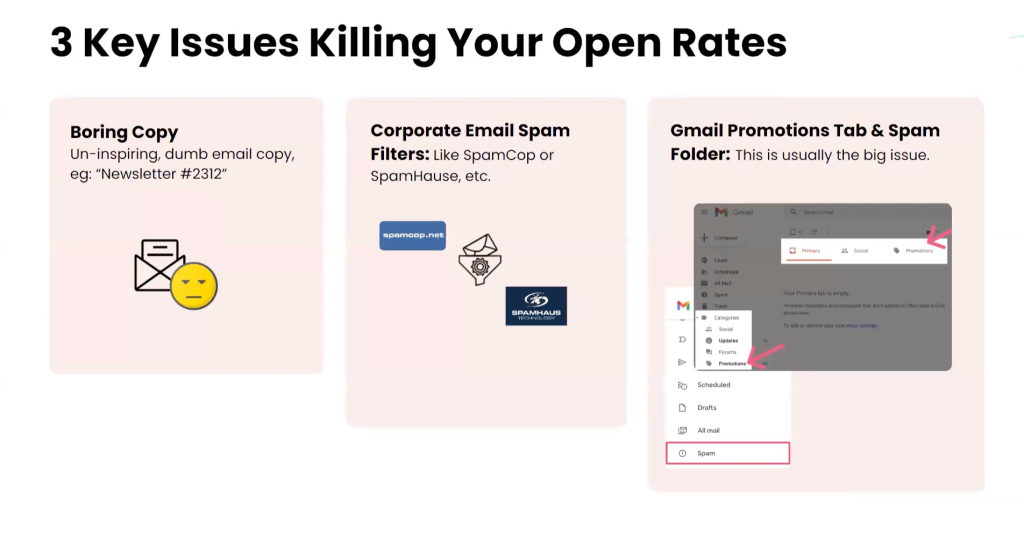 At Customers.ai we combine our email deliverability tips with AI to:
Build a list of likely-to-buy email contacts
Land in inboxes and stay there
Send email outreach to prospects before they've created an account or added products to a cart
Use AI-powered analytics to improve performance
And more!
Email Deliverability Tip #1. Double down on engagers (and purge the rest)
Double down on engagers and purge non-engagers from your list — even though this seems to go against everything marketers are trained to do…
For decades, email marketers have been conditioned to horde every contact, regardless of likelihood to engage. I get it, with the average website's email capture rate and conversion rate between 2-4%, it used to require enormous effort to generate every email contact added to the list.
But this scarcity mindset is a thing of the past now that you can passively grow an email list from the high-intent visitors to your website.
Today, thanks to AI and the ability to capture email addresses from website visitors automatically, the email marketing best practice has changed: Remove non-engagers from your list. Continuing to email them only raises your risk of spam complaints, falling into spam traps, and more!
Market aggressively to the people who do engage. This keeps engagement rates high and email delivery rate climbing!
Customers.ai does this automatically with our AI-powered Signs of Life Detector (more on this below) so you don't have to do anything manually. This leaves you more time to work on crafting offers and copy that convert.
Email Deliverability Tip #2. Validate email addresses before sending messages
Email validators weed out addresses that are spam traps or otherwise unsafe to email.
Using an email contact validator is essential to improving your deliverability.
Again, Customers.ai's system executes this email deliverability tip by automatically validating contact emails before you send anything.
You don't have to worry about bounced or undelivered emails, or risky spam traps mixed in with your prospecting contact list.
Email Deliverability Tip #3. Use multiple senders & send throttling to avoid spam filters and promotions tabs
Sending thousands of identical emails from the same address at the same time is a recipe for landing in the promotions or spam folder.
These are some of the signals that the email platforms like Gmail, Yahoo Mail, Outlook and more use to detect mass marketing emails and can easily land your email in the promotions tab or tucked away never to be seen in in a spam folder.
Use multiple senders and limit the number of sends per day to increase deliverability.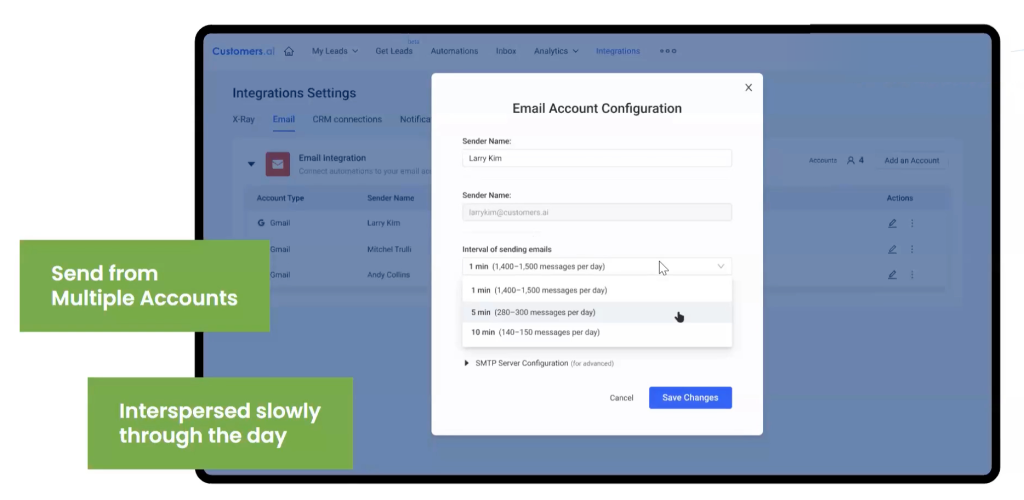 Customers.ai makes configuring multiple email senders, pacing email sends in small batches, and unique, personalized email copy generated by AI simple so you can set it and forget it.
Email Deliverability Tip #4. Include an unsubscribe link separate from the built-in ones from ESPs and email inboxes
Any email sending service will automatically include an unsubscribe link at the bottom of the email.
This unsubscribe link gives users a chance to complain to Email Service Provider (ESP) like Mailchimp, Active Campaign or Constant Contact about your email campaign. If this happens even a few times, it can land you in hot water with your ESP and potentially cause suspension or deactivation of your account.
Here's an email deliverability tip that will reduce the usage of the built-in unsubscribe link and keep your audience to only those who want to hear from you: Include an in-house unsubscribe link above the standard unsubscribe link.
Think about it this way: These unsubscribe requests will stay between you and your audience — exactly where it belongs.
Process unsubscribes yourself and reduce your complaint rate at the same time, without setting off alarms to the email marketing platform.
Email Deliverability Tip #5. Warm up email senders before scaling outbound sending to protect your domain rating
Newly created email addresses have limitations on how many messages they can send while looking natural.
You have to send fewer emails at first so that email providers like Gmail learn to trust you.
This can be a frustrating process because you want to hit the ground running but slowly increasing capacity wins the race.
Customers.ai has built in automated email warmup to protect your domain reputation and sender reputation, allowing you to scale to higher volumes of outbound emailing faster than you would without email warmup tools.
Email Deliverability Tip #6. Segment your audience list with as much targeting intent as needed for fine-tuned messaging relevance
As with all marketing, the more targeted your emails are, the better.
Better open rate, better click rate, better response rate, better conversion rate.
Segmenting your list into more narrow and targeted groups based on interests, intent, and what you know about the audience will increase your deliverability and engagement, helping you sell more.
With Customers.ai, you can target emails to customers based on what page they visited, demographic attributes (location, income, etc.), and more.
Customers.ai just released a new AI-generative email copywriting feature that will create email copy customized to the webpage that a visitor to your site viewed.
Try Customers.ai for free and get your first 50 website visitor leads and email sends on us.
Grade Your Website Lead Conversion Rate Instantly
Get an instant website audit and 50 leads for free
Email Deliverability Tip #7. Check for signs of life before sending follow-up outreach
Think about this: Email providers like Gmail, Outlook and Yahoo Mail are checking for engagement signals like opens, replies, clicks and low unsubscribes as a whole in order to decide if any particular email will be welcomed in the inbox of your intended recipients.
So sending emails to those who engage with them is one sure-fire signal to the email providers that your emails should go where you send them (and not in a spam folder or promotions tab).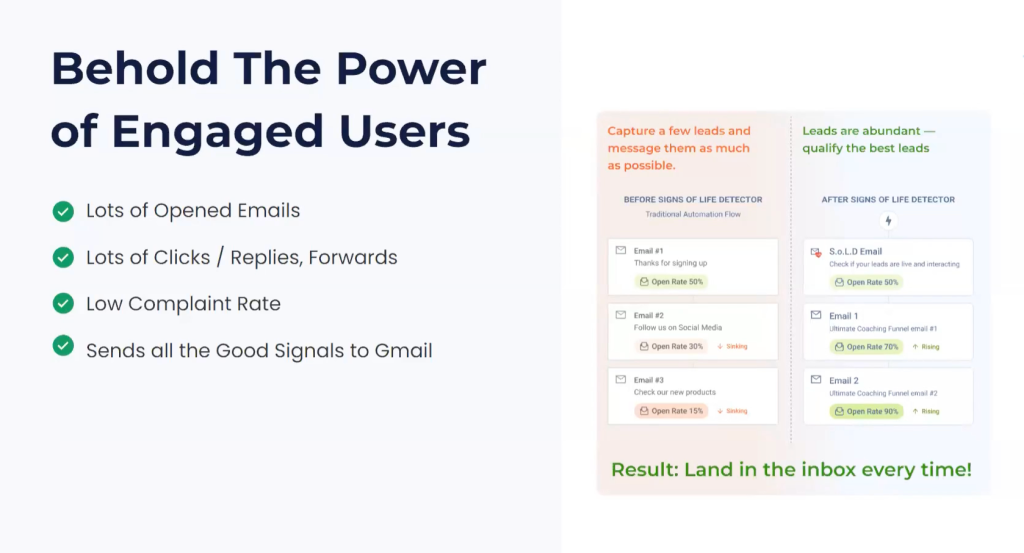 This is why it's a key email deliverability tip to check for signs of life, and send more emails to those who engage with your messages.
Customers.ai's Signs of Life Detector is designed to do exactly that.
And Signs of Life Detector (or S.o.L.D.) is 100% automated and powered by AI.
As new lead email contact enter your Customers.ai targeted outreach automation sequences, the first message will check for signs of life (opens, clicks, replies) before sending any follow-up messages in the sequence.
Ready to put these email deliverability tips into practice for your business? Let Customers.ai email deliverability experts help you implement AI tools to increase sales with AI-powered email marketing automation.
Find Your Customers with Customers.ai
See the new Customers.ai sales outreach automation platform. With X-Ray Website Visitor Detection and automated email and SMS outreach to help mid-market companies find their perfect customers. Request a call to learn more about sales outreach automation today!
Important Next Steps