Are you tired of sending the same old sales prospecting emails and not getting any responses? Well, you're in luck! In this blog post, we're going to share some new, fresh and effective sales prospecting email templates for both B2B and B2C businesses.
Even better, But that's not all, we're also going to talk about a game-changing software that has made targeted sales prospecting possible for B2C businesses. Yes, you read that right! B2C businesses are no longer stuck in the land of donkeys, wistfully dreaming they could join the land of unicorns with their B2B counterparts.
The same type of database-driven prospecting that was once only available to B2B businesses is now accessible to B2C businesses too.
Before we get to that, let's make sure we're on the same page.
Find Your Customers with Customers.ai
See the new Customers.ai sales outreach automation platform. With X-Ray Website Visitor Detection and automated email and SMS outreach to help mid-market companies find their perfect customers. Request a call to learn more about sales outreach automation today!
What exactly is sales prospecting?
Think of it as detective work, but with less trench coats and more email templates. Sales prospecting is all about finding the right people who have a need for what you're selling and are willing to pay for it. It involves researching and qualifying potential leads, reaching out to them, and persuading them to take action.
The key: understand your target audience and their pain points. You need to be able to communicate your value proposition in a way that resonates with them and offers a solution to their problems.
It's not just about selling a product or service; it's about building relationships and creating trust.
So, get ready to put on your detective hat and start prospecting. With the right mindset, a bit of creativity, and some solid email templates, you can find the treasure trove of potential customers that will help grow your business.
What makes a good sales prospecting email template?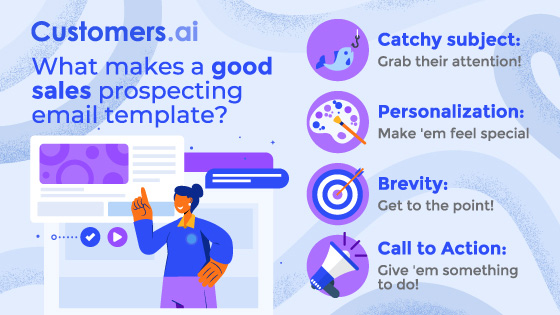 Here are a some things you have to include in all your sales prospecting emails!
Catchy Subject

It has to be attention grabbing! This isn't just about making big promises. People are more likely to open emails that seem sent specifically to them!

Personalization

Show that you care by addressing your prospect by name. Throw in a personalized touch or two. This will go a long way towards endearing them to you!

Clarity

Make what you're selling crystal clear! Don't beat around the bush. You have something you think they want. You want them to know what it is! They have to know what it is to want it!

Brevity

Get! To! The! Point! Nobody has time to read a novel. Your prospects have lots of other emails, texts, tweets, etc to attend to. Every second counts.

Relevance

Demonstrate that you did your research. Establish why what you're offering is good for them. Establish why you're reaching out now as opposed to two months ago or two months from now.

Credibility

Why should they work with you? Case studies, testimonials, customer reviews, documented success. Anybody can send an email! You have to prove you're legit.

Professionalism

Your email should be classy and free from typos. This doesn't mean you shouldn't let your personality shine through! Nobody wants to read another boring email. It can be a tough line to walk but you can do it!

Call to Action

Give your prospect something to actually do! Schedule time with you, sign-up for a consultation, whatever it is. Make sure there's an action they can take!
Who do targeted Sales Prospecting Email Templates make sense for?
Formerly, targeted sales prospect emailing was only really possible for B2B salespeople. They had so much more information about their prospects like their industry, company size, and pain points.
But B2C companies were stuck with expensive and inefficient solutions like direct mail campaigns.
Social media seemed like it was the solution until privacy restrictions made the targeting so much worse.
With MobileMonkey's X-Ray technology, B2C companies can now get the contact information of 1 in 5 people who visit their website! With this information, you can turn casual browsers into loyal customers.
To write great Sales prospecting emails, set up your automation to target users who visit specific pages on your website. This will let you know they're interested in one of your products or services in particular.
Then you can dazzle them with emails that perfectly match what they're considering!
Plus, setting up couldn't be easier! Here's how: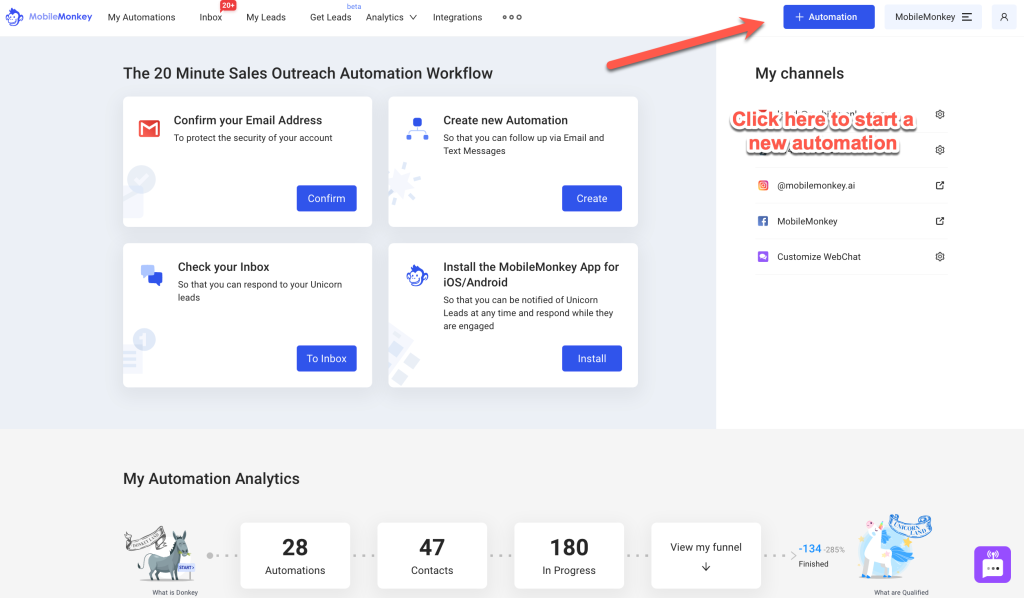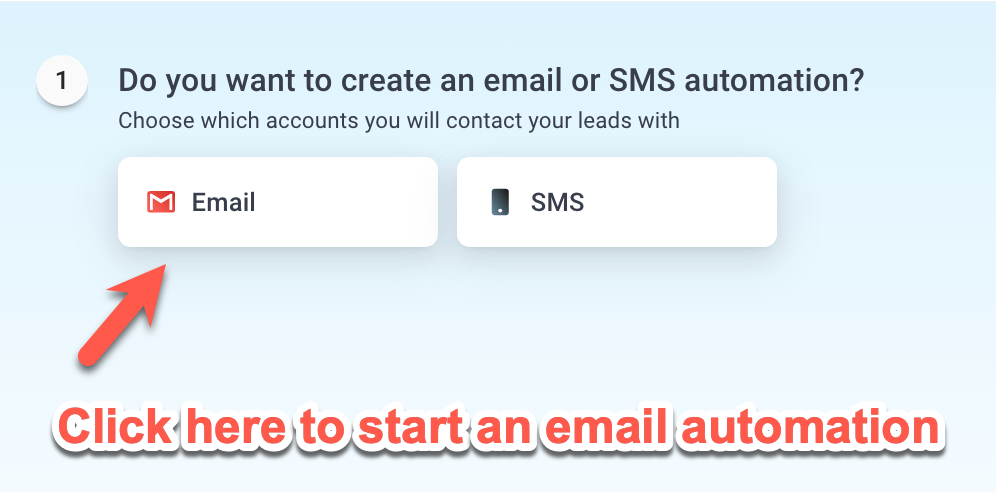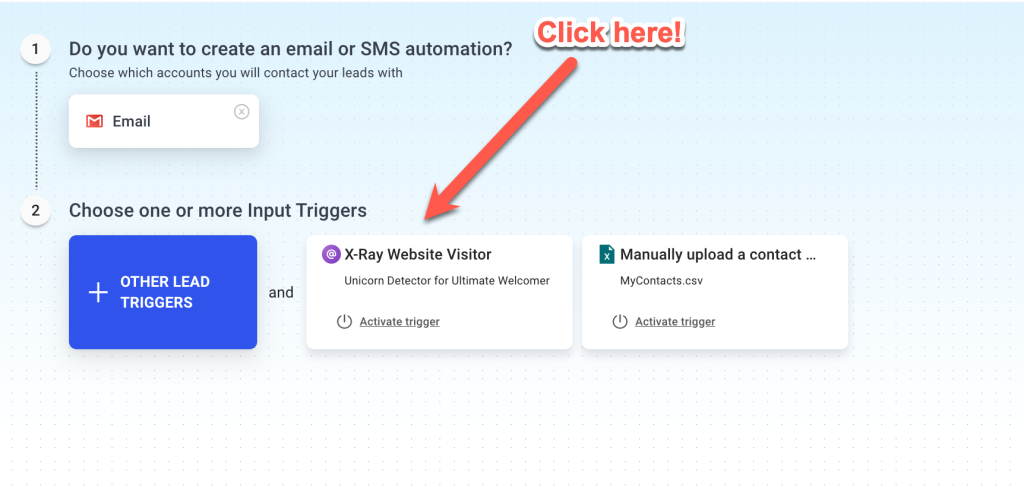 Find Your Customers with Customers.ai
See the new Customers.ai sales outreach automation platform. With X-Ray Website Visitor Detection and automated email and SMS outreach to help mid-market companies find their perfect customers. Request a call to learn more about sales outreach automation today!
B2C Sales Prospecting Email Templates
So you've set up your targeting criteria. Now what?
Use that information to write emails that are targeted and personalized.
Firstly, they demonstrate that you know the prospect and their needs. But that's not all.
They also demonstrate why they should buy from you and not just anyone.
For example, here's an email automation sequence sent by a real estate agent in East Lansing, Michigan.
They ran a Facebook ad targeting University of Michigan fans living in East Lansing who were interested in energy-efficient homes. Now they're reeling them in!
Sales Prospecting Email Templates for a Real Estate Agent
Cold Email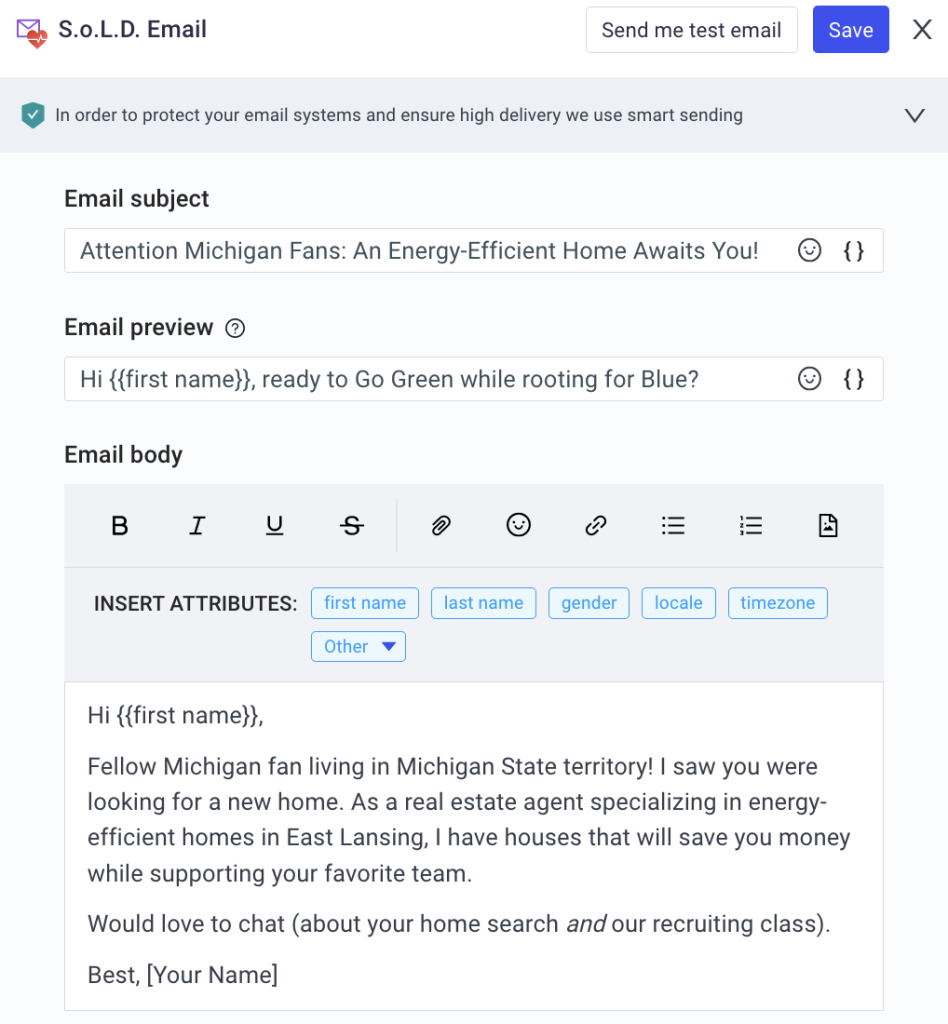 Follow-up #1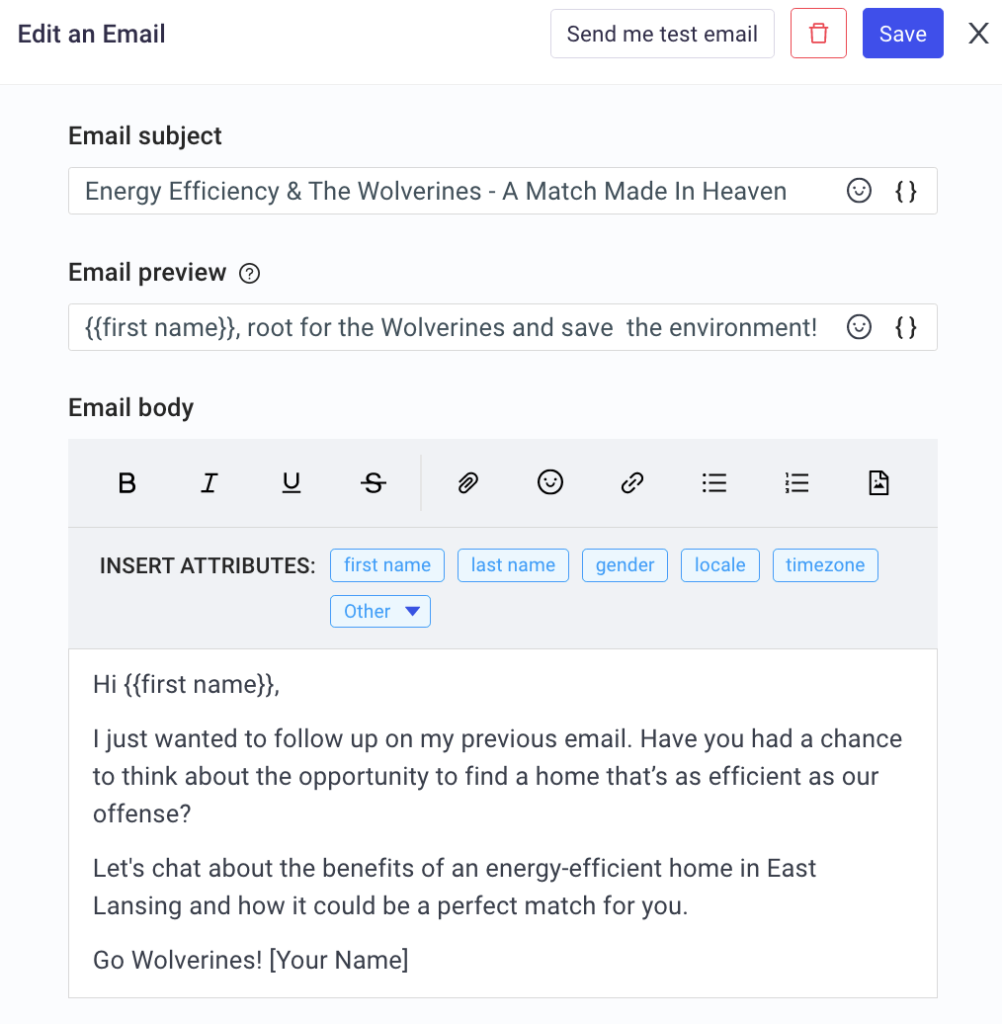 Follow-up #2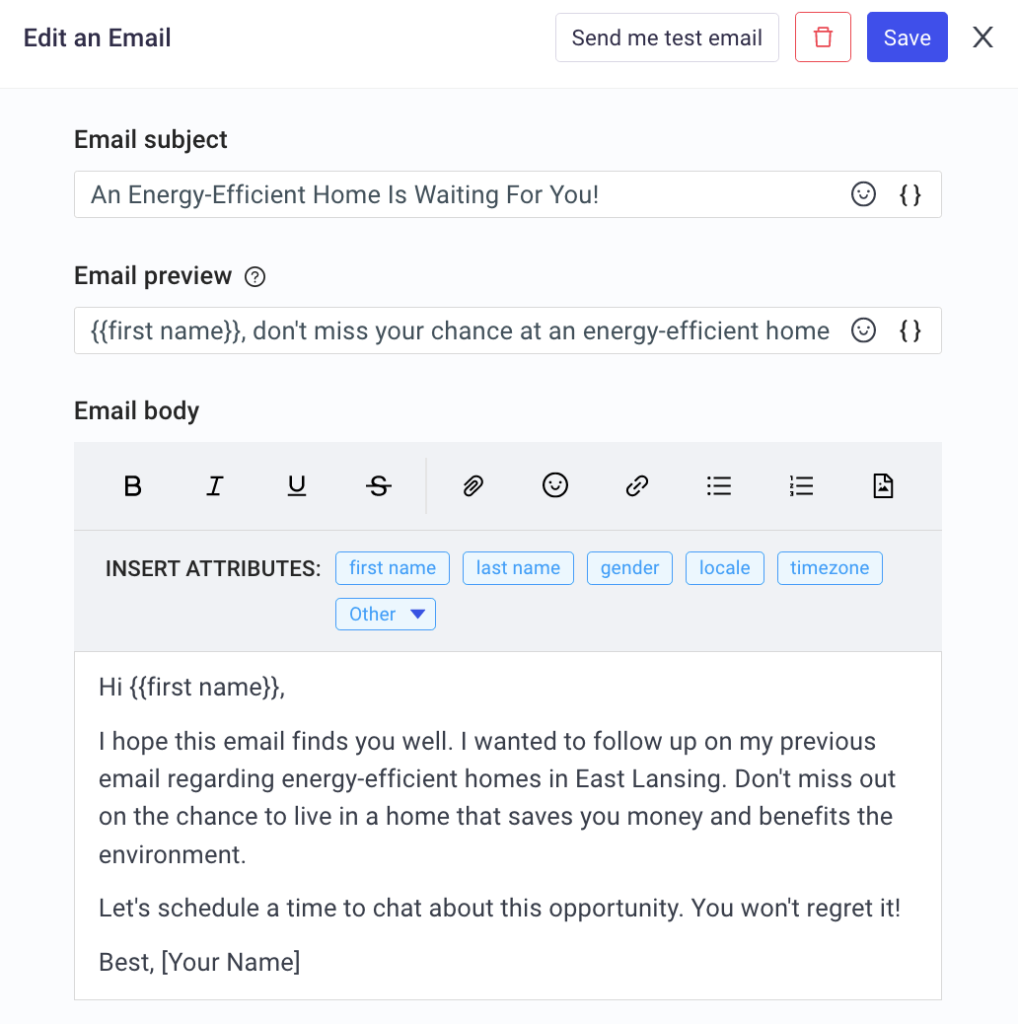 Pre-breakup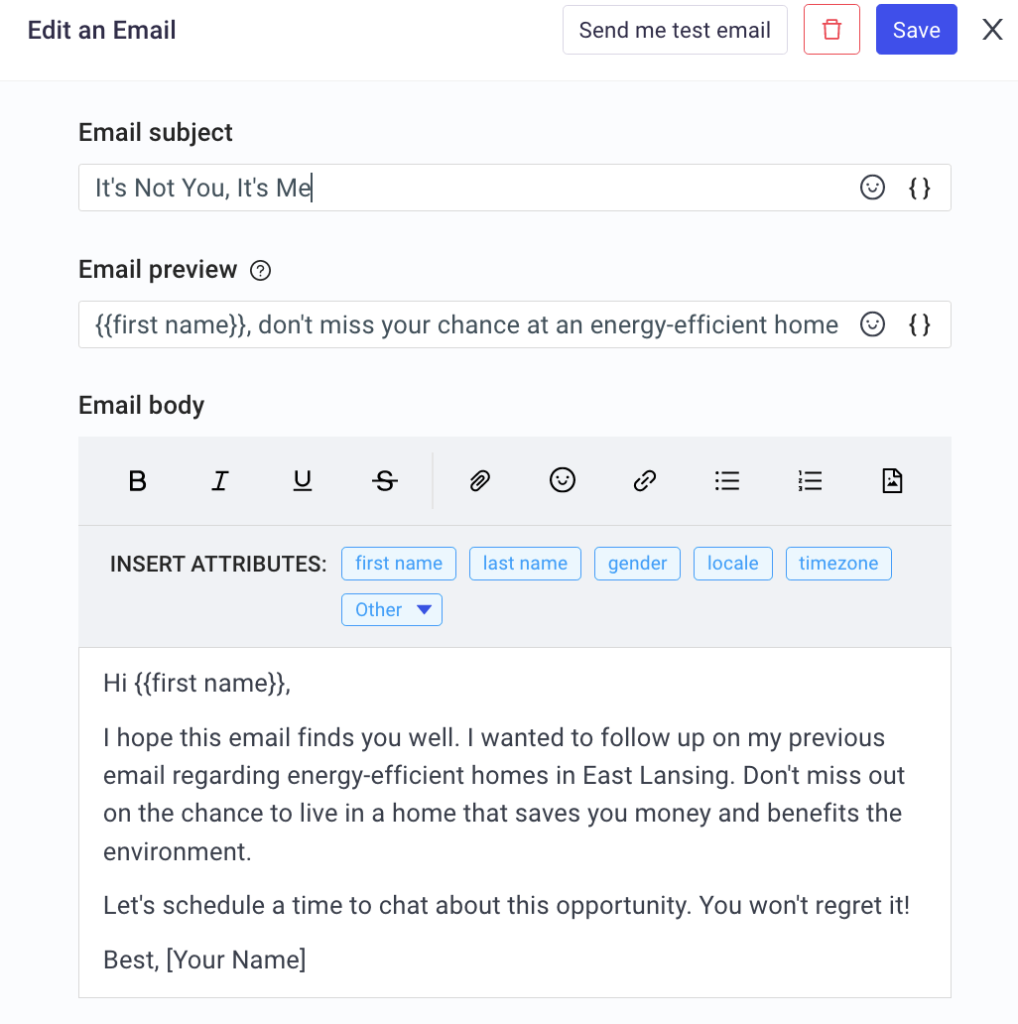 Re-engagement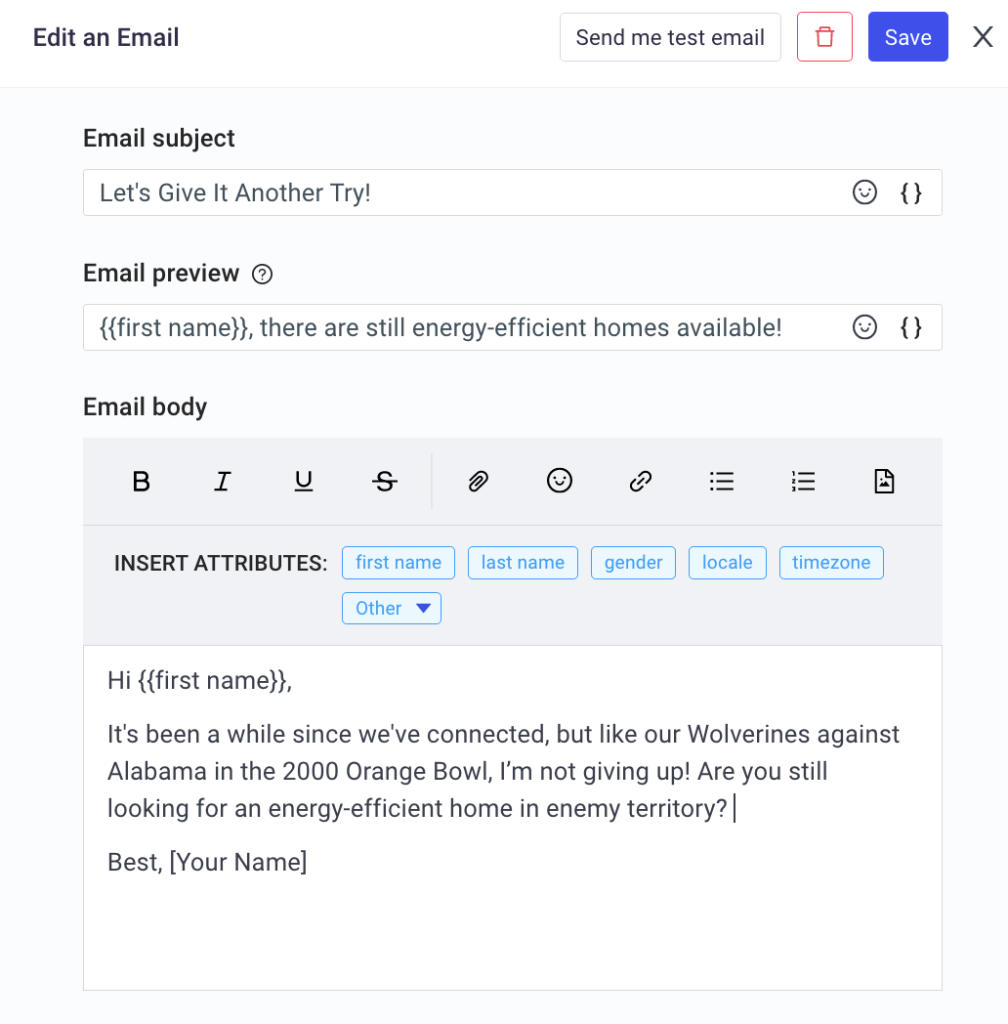 Sales Prospecting Email Templates for a Financial Advisor
Here's another example for a sales prospecting campaign by a financial advisor in Austin, Texas. They're targeting the influx of tech workers by emphasizing their local knowledge.
Cold email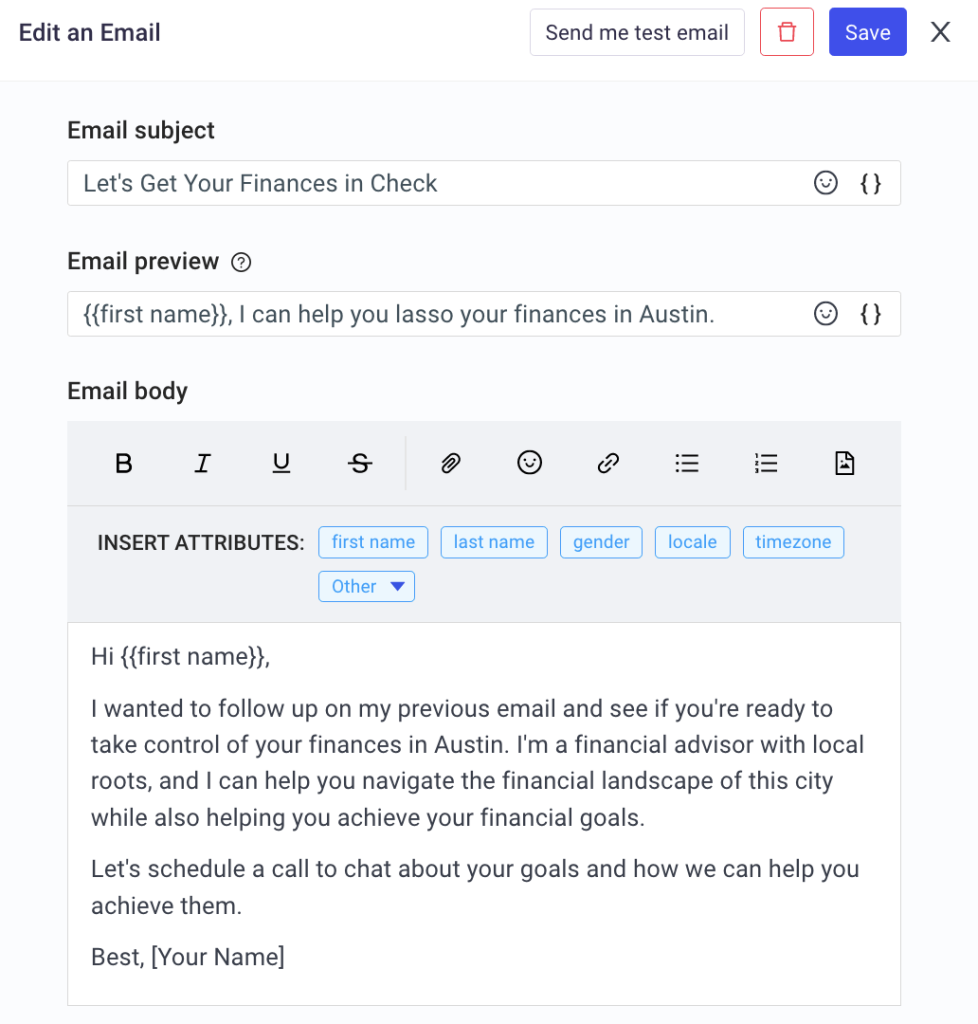 Follow-up #1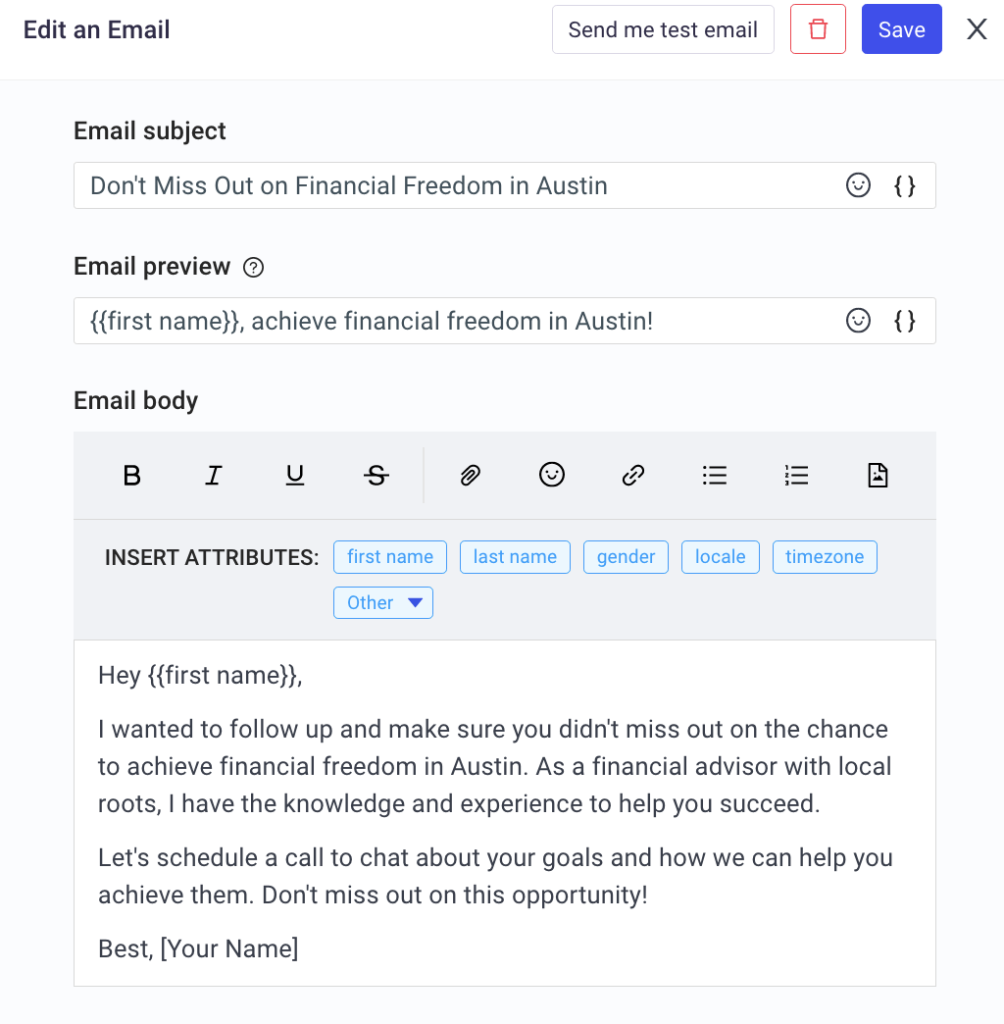 Follow-up #2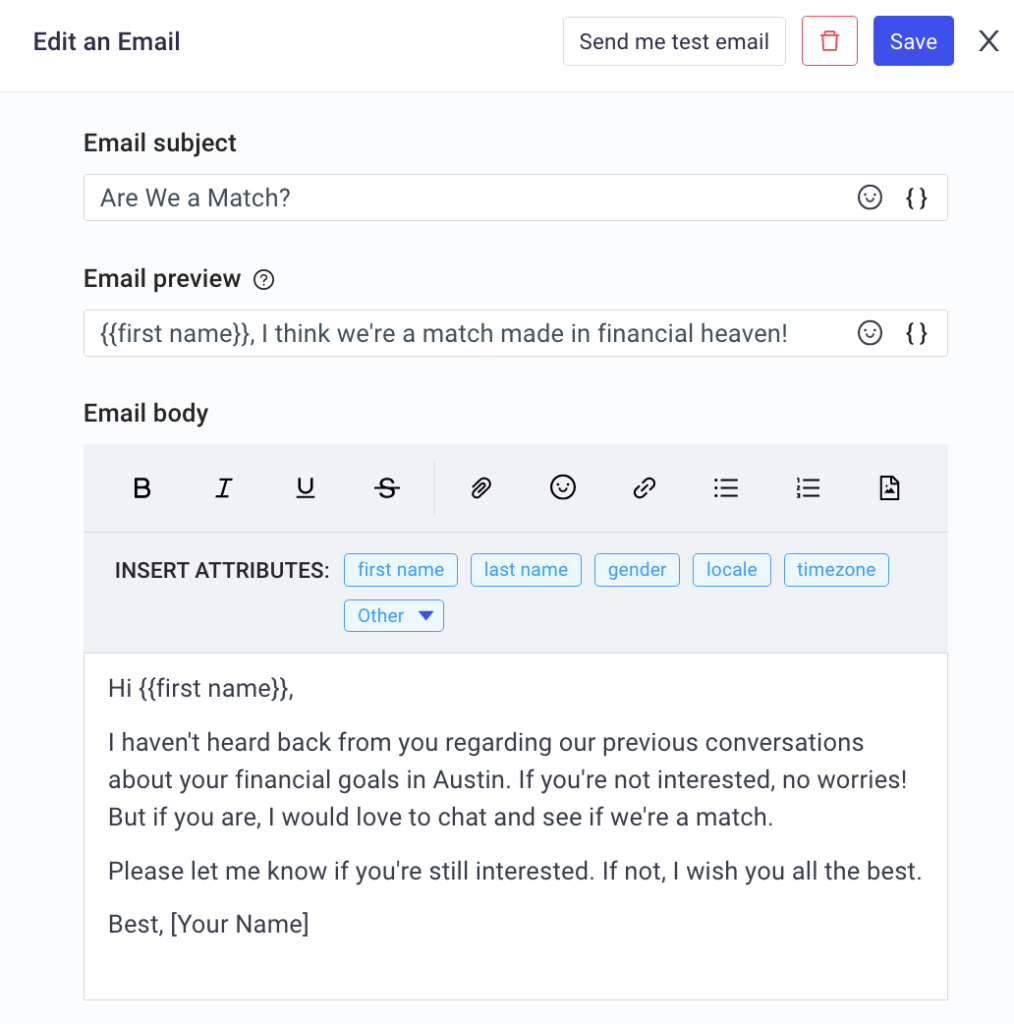 Pre-breakup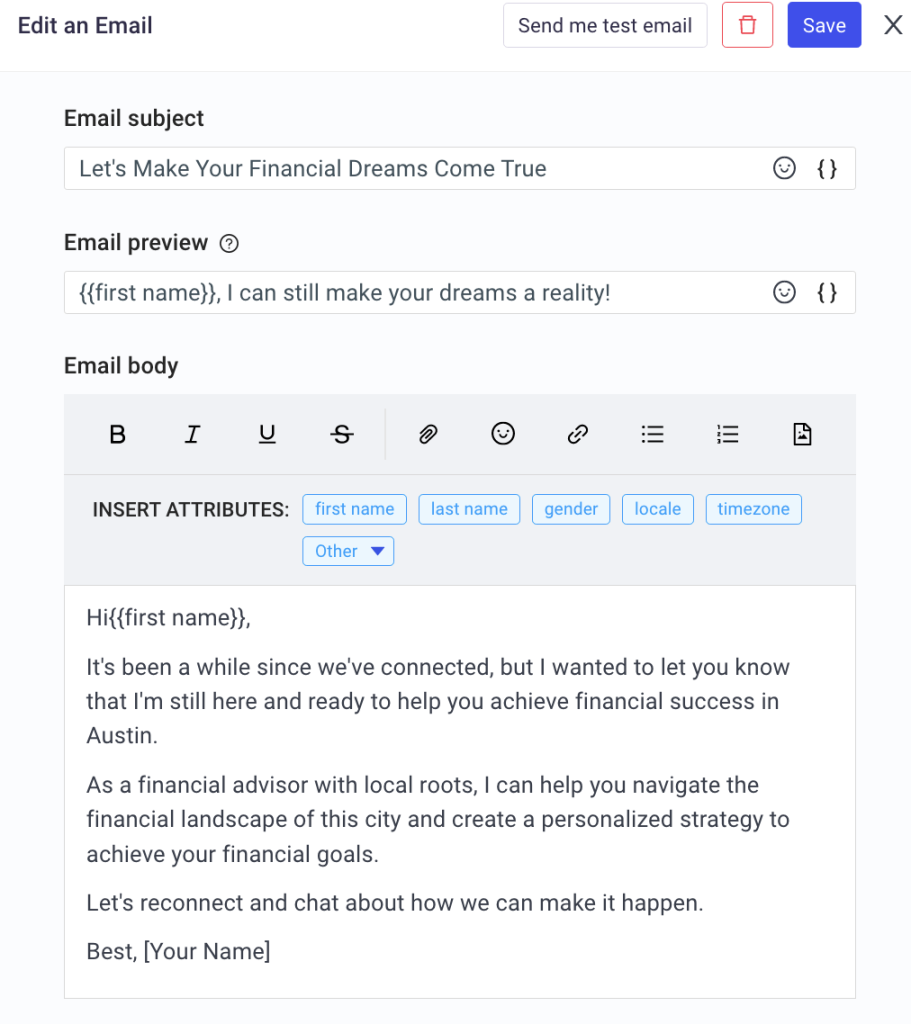 These are easy to transform for your business!
You already know your target customer and you know what makes you special. Therefore, you already know how to write a great sales prospecting email. Just plug those nouns in and you're ready to go.
B2B Sales Prospecting Email Templates
Just like with B2C Sales Prospecting Email Templates, B2B emails need to be personalized and targeted!
Different businesses communicate in different ways. Here are cold email templates written for different styles!
Even if these don't fit perfectly you can use them to make your writing process less Donkey and more Unicorn!
Funny Sales Prospecting Email Templates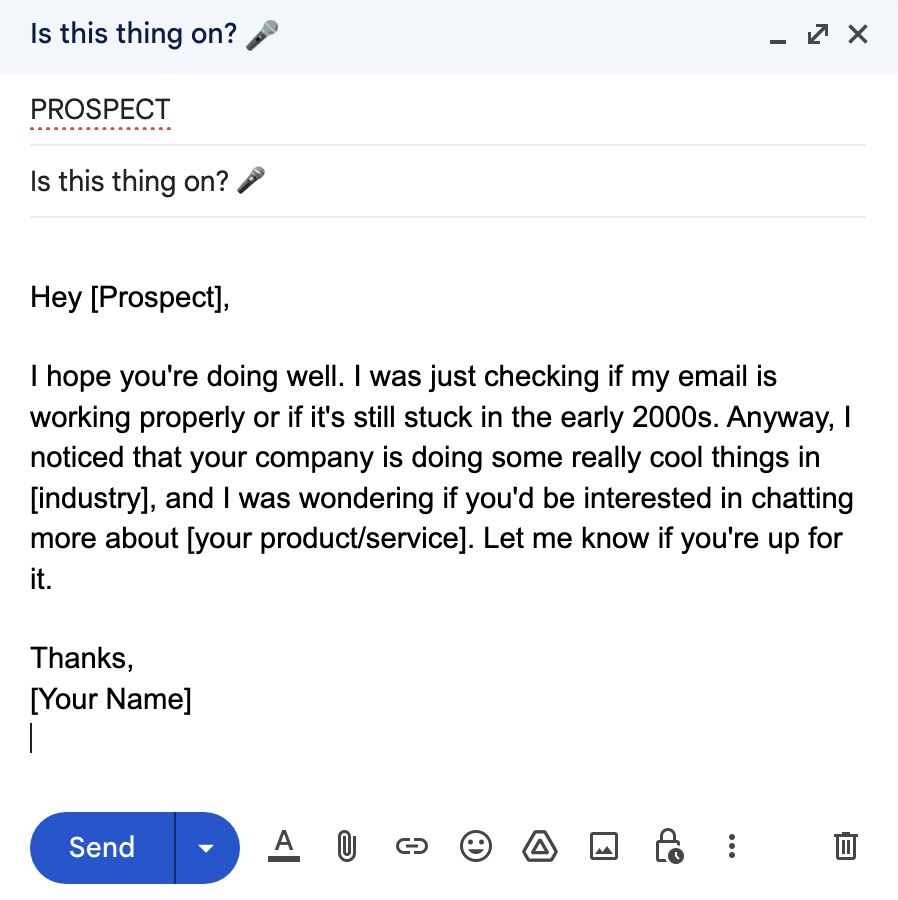 Silly Sales Prospecting Email Template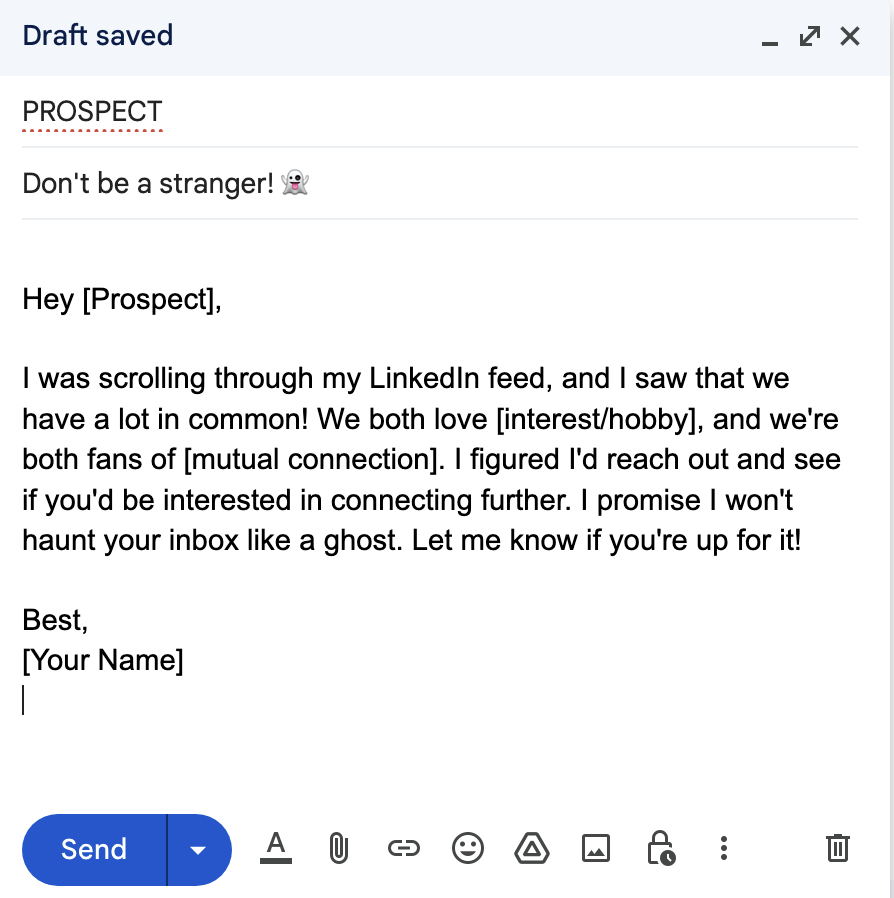 Professional Sales Prospecting Email Templates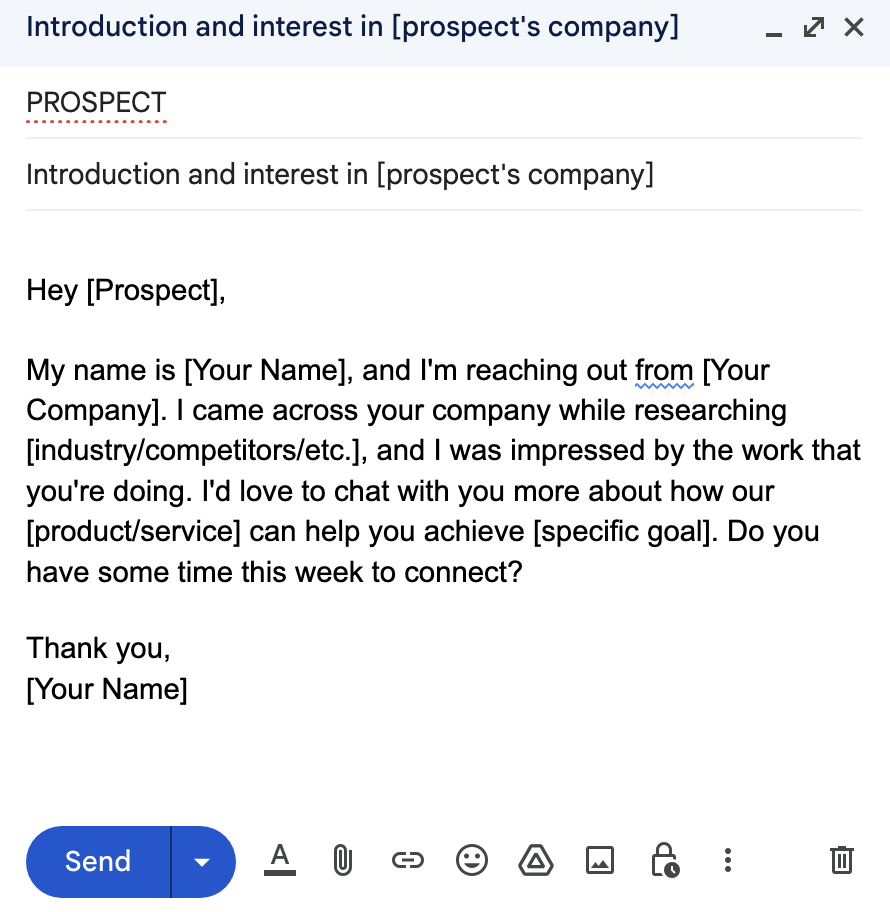 Chatty Sales Prospecting Email Template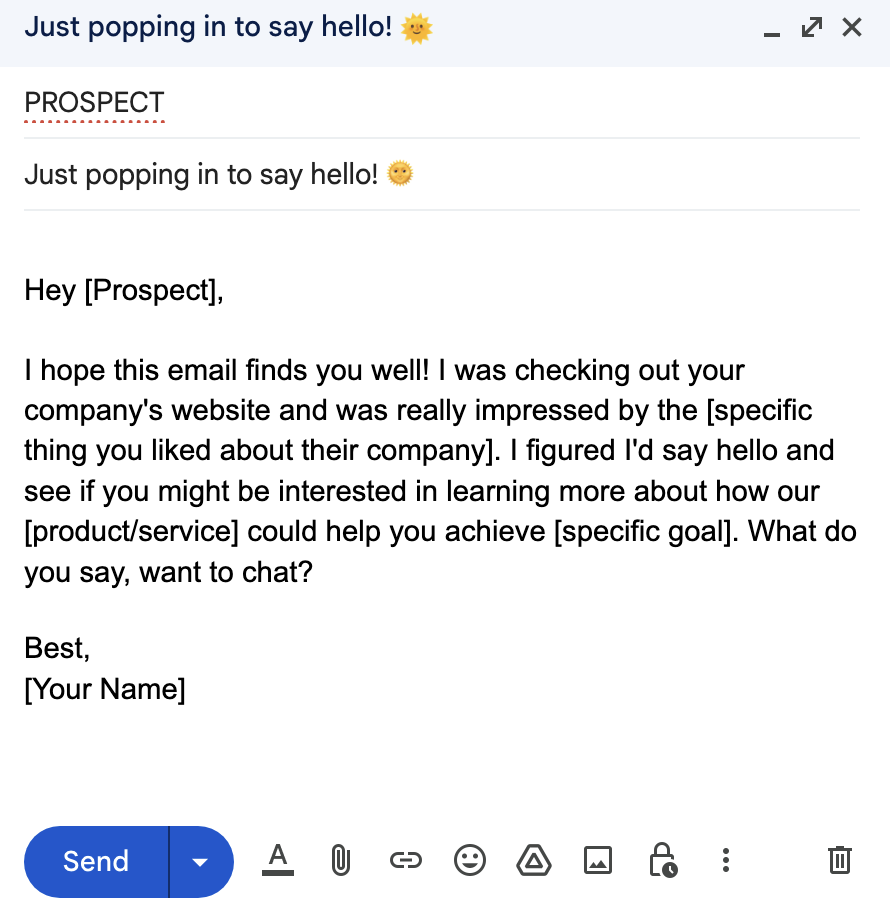 Very Professional Sales Prospecting Email Template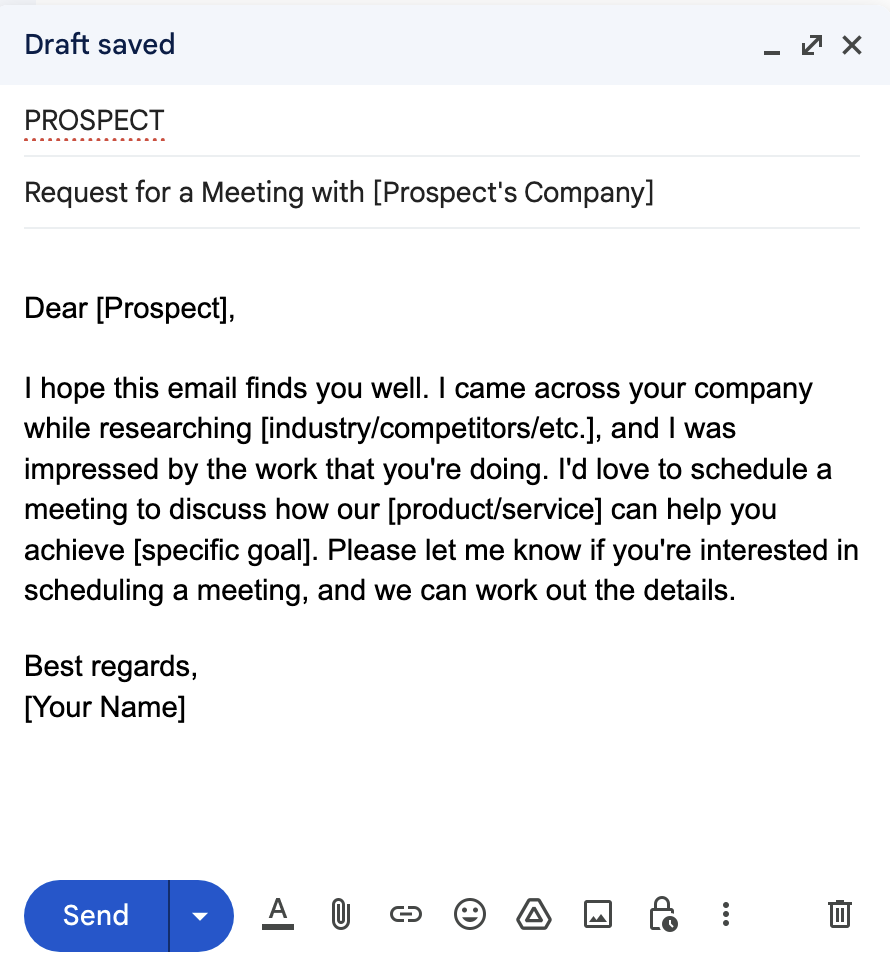 Your B2B sales prospecting emails may also be prompted by a variety of different events. These include not only corporate communications but also social media posts. Here are templates for turning those events into leads!
If a LinkedIn Post Prompts your Email: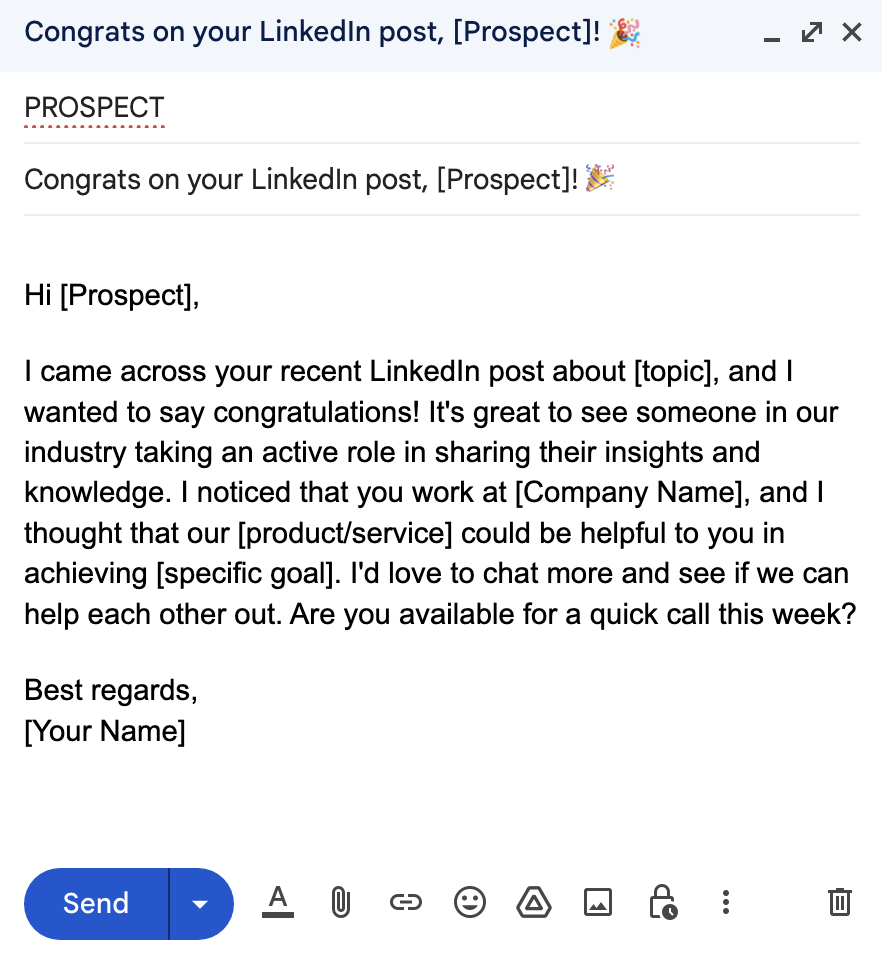 Perhaps a Press Release Prompted You to Send: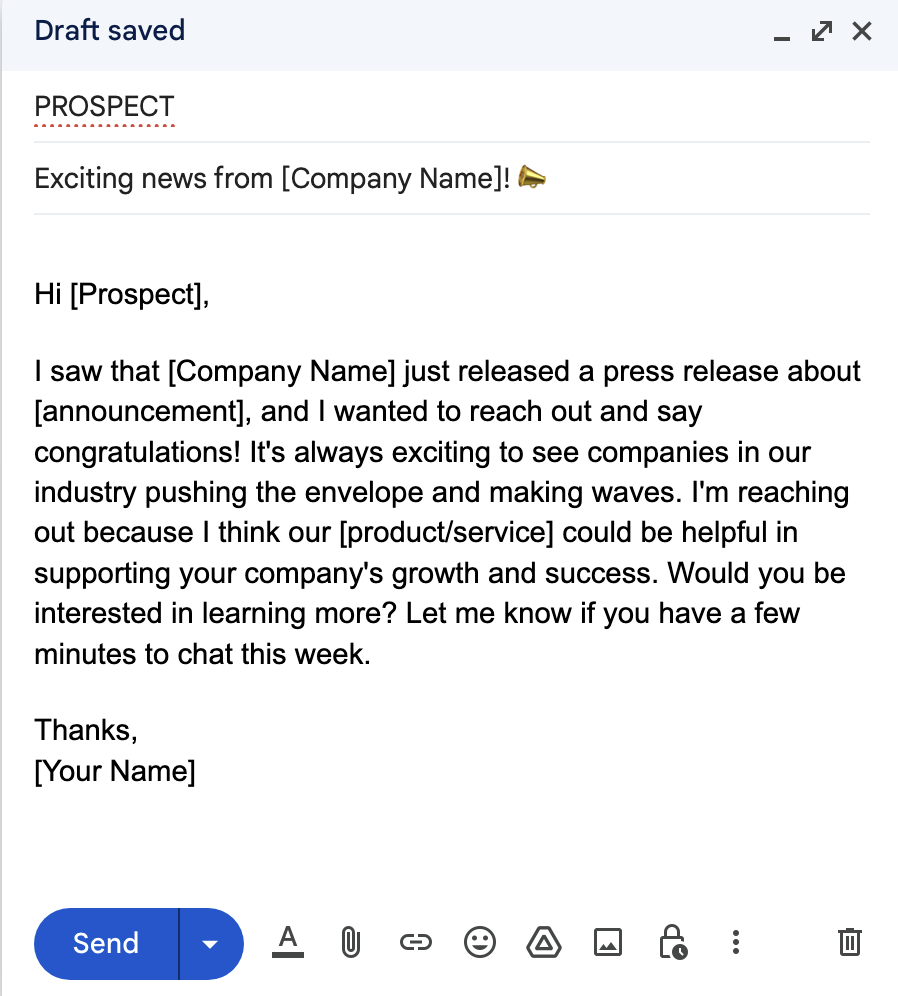 Email Triggered by an Internal Tracking Tool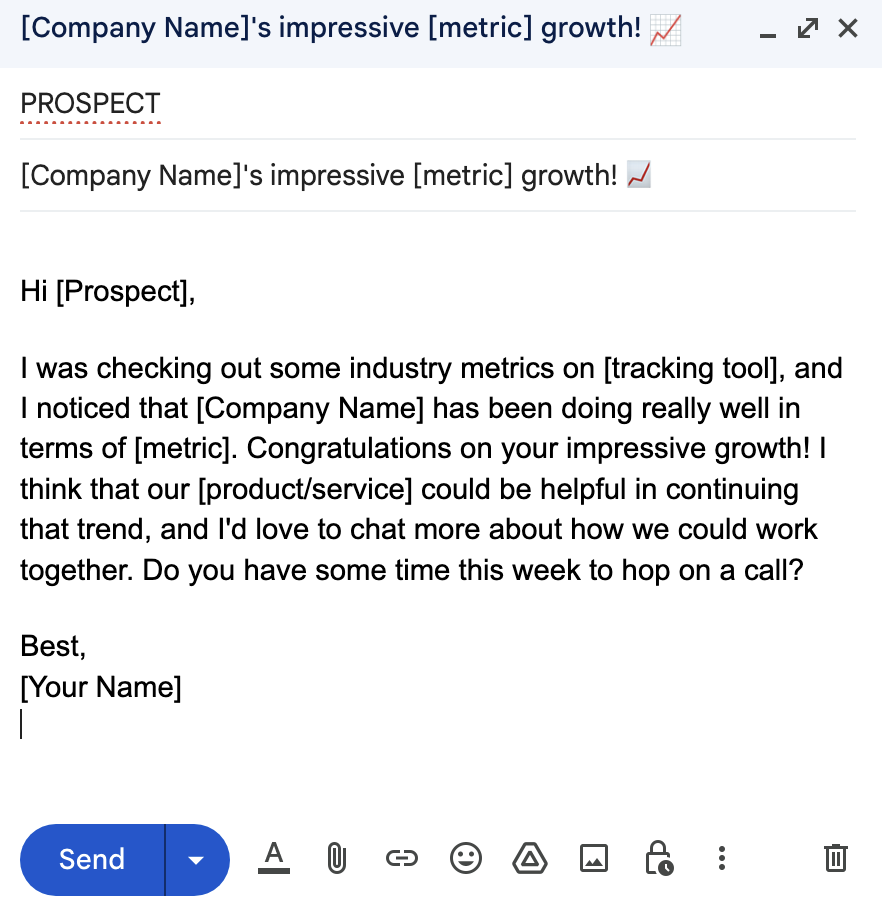 Maybe a Facebook post triggered the email: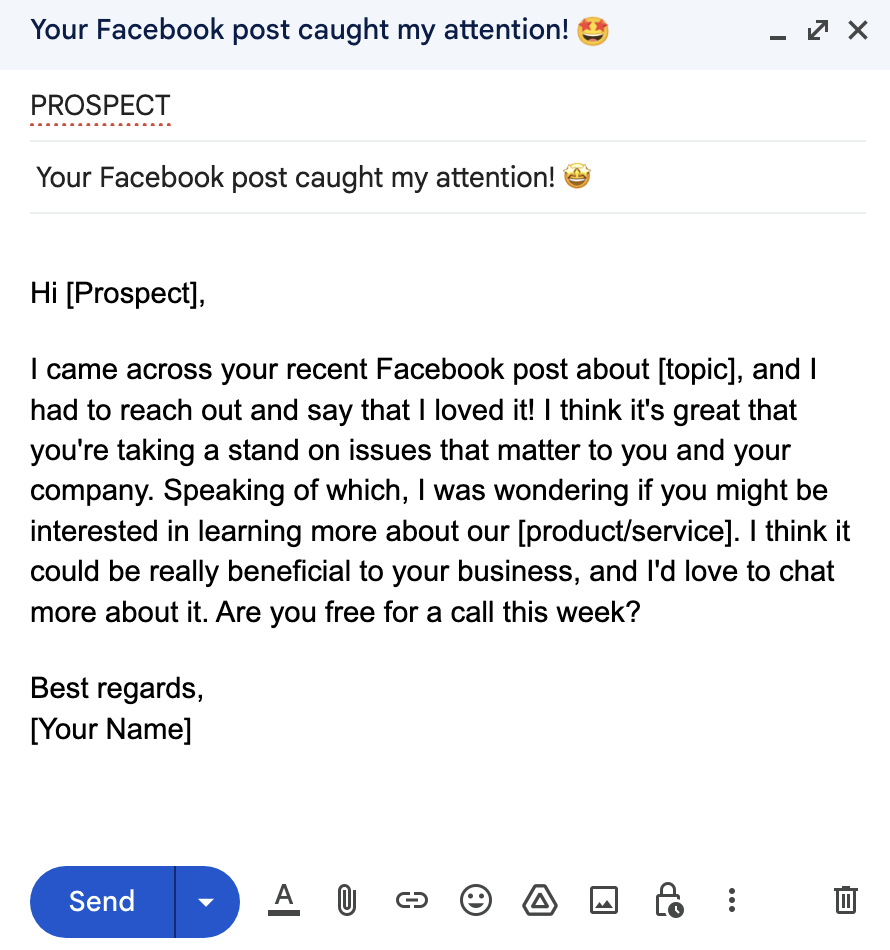 If the prospect was recently promoted: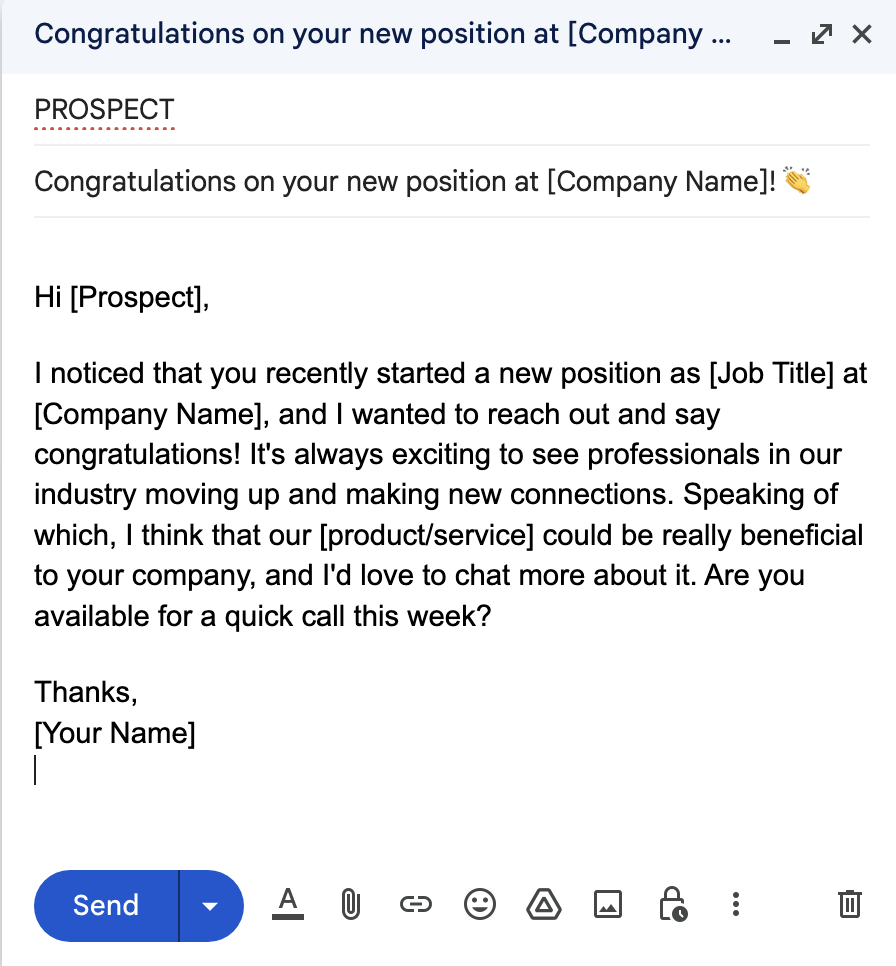 Conclusion
Previously, B2C businesses lacked access to the tools B2B businesses have been using to thrive.
Because of Customers.ai's powerful tools, they can finally harness the power of Sales Prospecting Email Templates for their prospecting!
Important Next Steps
FAQs about Sales Prospecting Templates
What are sales prospecting templates?
Sales prospecting templates are pre-designed documents or email scripts that help sales representatives effectively communicate with potential clients and streamline the prospecting process. These templates can be customized to fit your business needs and target audience, providing a structured approach to outreach.
Why should I use sales prospecting templates?
Using sales prospecting templates can increase the efficiency and effectiveness of your sales outreach efforts. They help you maintain a consistent and professional tone while ensuring that your messaging aligns with your sales objectives. Moreover, templates save time and effort by providing a starting point for crafting personalized and targeted communications.
How can I customize sales prospecting templates to fit my needs?
To customize sales prospecting templates, follow these steps:
Analyze your target audience and identify their pain points and needs.
Incorporate your unique value proposition and relevant industry information.
Personalize the templates by including the recipient's name, company, and other specific details.
A/B test different versions of the templates to identify the most effective messaging.
Can I find free sales prospecting templates online?
Yes, there are many free sales prospecting templates available online that you can download and customize for your needs. To find them, perform a search for "free sales prospecting templates" and browse the results to find a template that aligns with your business and target audience. Remember to modify the templates to suit your specific requirements.
What types of sales prospecting templates are available?
There is a wide variety of sales prospecting templates, including:
Cold email templates
Follow-up email templates
LinkedIn outreach templates
Phone call scripts
Referral request templates
Ensure that your chosen templates align with your business goals and target audience.
How can I create my own sales prospecting templates?
To create your own sales prospecting templates, follow these steps:
Identify the goal of your outreach (e.g., scheduling a meeting, sharing information, etc.).
Write a compelling subject line and opening line to grab the recipient's attention.
Address the prospect's needs and pain points by showcasing your solution.
Include a clear call-to-action (CTA) that prompts the recipient to take the desired action.
How often should I update my sales prospecting templates?
Regularly reviewing and updating your sales prospecting templates ensures they remain effective and relevant. Consider updating them quarterly or whenever there are significant changes to your product offerings, target audience, or market trends. This will help maintain their effectiveness in your sales outreach efforts.