How do you know you've "made it"?
If you own a business or are part of a growing startup, you've probably asked yourself this.
Just before my first company, WordStream, was acquired for $150 million by Gannett Co, I observed 21 signs that your company is on its way to success — or maybe has already made it.
#1) Hiring employee #1. Every journey begins with a single step. (We're at around 40 today!!)
#2) Series A Funding. Validation of your vision.
#3) Consistent Sales & Revenue!
I'm elated to share that Customers.ai made the 2023 Inc. 5000 list of fastest growing companies in America.
We ranked 1286 on the 2023 Inc 5000 list and 69 among technology companies, including AI tools!
The Inc 5000 is a revenue-growth based ranking industry award system – we send them our financials and that's how they compute the fastest growing companies.
On one level, it's always a surprise to get an honor like this. On the other hand, the signs were there all along.
This past year has felt like I've been riding a unicorn with a jet engine strapped to its belly.
We've rebranded and rolled out so many new totally game-changing features. We moved into an office. We've doubled our team. We decreased one company's customer acquisition cost by 93%. We increased another company's email engagement by 5.5x. We outgrew our office. We helped B2C businesses find millions of customers. And it feels like it's just the beginning.
So, how did we do it?
Here are 5 critical things that helped us along our journey to a fastest-growing company.
1. Obsess over understanding your customers.
What happened to catapult our growth in the last 12 months? Laser focus on refining our Ideal Customer Profile. This is an iterative process.
From day 1, you have an ICP in mind. You will almost certainly be wrong, and that's okay. Look at the data. Which customers are most successful? Which customers are struggling? Which customers get the value immediately? Which customers are dropping like flies?
Often, this reveals that your product isn't exactly what you thought it was and your product isn't for exactly who you thought it was. That's okay! 
What matters is making strategic changes when you identify inefficiencies and constantly doing this. Your product changes. Your customers change. The economy changes. All of this means you have to pay constant, close attention to who your ICP is.
2. Fanatically listen to your customers
We were having success generating buckets of leads for our customers and our outreach automations were working great. But I thought we could do better than just offering two great services, so we listened really closely when our customers talked about what they needed.
Customers need better or different data? We built analytics right into the outreach automations.
Customers need more integrations? We partnered with Microsoft and Klaviyo. Customers need to write better emails? We added AI email composition.
Your customers know what they need from you. You just have to listen.
3. Go Boldly Outbound
One of the main benefits of knowing who your customers are and what they want? Marketing becomes way more focused and efficient.
In the last year we pressed hard on the gas of targeted outbound marketing to grow our leads and sales — unlocking our growth potential.
Inbound marketing is like fishing with a pole, waiting for your ideal prospect to swim by. Targeted outbound marketing is like hunting with a laser scope, your sights trained on your ideal prospect.
Because outbound outreach campaigns go directly to your target audience, they are 10-100X more cost effective than digital ads (where you may be spending thousands of dollars per lead).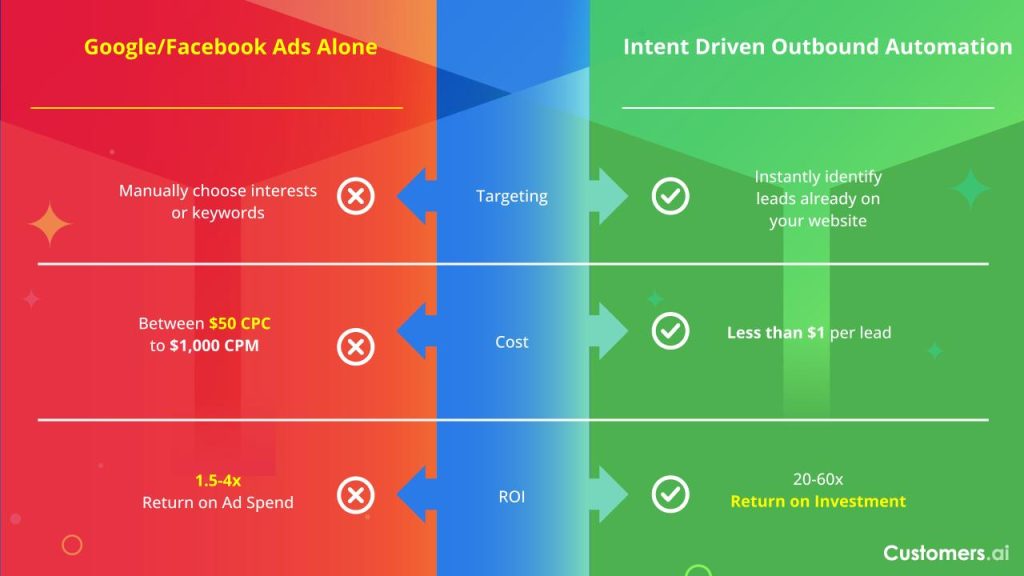 Outbound email marketing, done in an intentional way that protects your domain and optimizes for deliverability, is the most direct and cost effective tool for finding new customers.
4. Make noise about your progress.
If a company creates an exceptional product or service in the forest but no one is there to hear it, does it make a sound? Either way, they won't get any new customers.
So, make a sound!
When we add product features (or just think it's been a while since we've highlighted core features), we make a point of telling everyone who will listen. From every microphone we've got.
We're excited to tell our customers' success stories, too. This helps future customers understand how their lives can be transformed and their goals achieved through our partnership.
5. Believe in your product.
The best way to get people to continue buying your product is to demonstrate how well it can work for them. The best way to do that? Give it to them for free.
Nobody likes giving valuable stuff away for free. But we give customers 50 free leads for a reason…because (to paraphrase the marketing team at FritoLay) we bet they can't get just 50! Once they've seen how great your product is, they know they need it.
Experience is the most powerful tool in your belt, don't be afraid to use it!
Grade Your Website Lead Conversion Rate Instantly
Get an instant website audit and 50 leads for free
What's next for us? Well I'm still looking out for one of my favorite signs of success…