The best digital marketing agency tools are built to scale, will impress your clients, and win you new business.
Two of the most reported challenges for marketing agencies are finding services to offer that differentiate themselves from the competition and adopting new marketing technologies to gain a competitive advantage.
This article will help you discover the best digital marketing agency tools and software available in 2024.
Convert Website Visitors into Real Contacts!
Identify who is visiting your site with name, email and more. Get 50 contacts for free!
Workflow & Project Management Tools
Project management is the unsung hero of the digital agency world. It brings order to the inherent chaos of campaigns, ensuring tasks are organized, deadlines are met, and resources are allocated efficiently. It also enables agencies to adapt swiftly to the fast-paced nature of the digital landscape, allowing them to stay agile, innovative, and ultimately deliver impactful results for their clients. Here are a few of our favorite workflow and project management tools for digital marketing agencies.
Marketing Agency Tools #1: Zapier Workflow Automation
As a marketing agency, you're going to use a large variety of business and productivity apps. Every client is going to have a different marketing stack, and you'll need a way to easily integrate many of them.
Additionally, the need to adopt marketing automation for agencies is growing, fast.
Zapier is an awesome tool for marketing agencies because you can create automated workflows across tools in your mar-tech stack. In fact, Zapier is compatible with thousands of tools, and you can easily chain commands together with an "If X happens, do Y" structure.
For example, the Customers.ai Zapier integration allows you to easily send information that's stored to customer profiles in Customers.ai to other applications.
Here are just some of the more popular "Zaps" for Customers.ai users:
Add all new leads to your CRM, such as Salesforce
Send SMS messages or Slack notifications to new contacts
Subscribe new Customers.ai contacts to MailChimp
One of the main selling points of Zapier for marketing agencies is that this automation allow you to combine multiple actions and apps together in a single Zap. So, let's say a client sends you an email with an attachment. Using Zapier, you can store it on your Google Drive, share it with your team, and update your project management board without needing to do anything.
Zapier will save your agency lots of time by automating repetitive tasks and please your clients when you're able to work with their tech stack.
Marketing Agency Tools #2: Teamwork Project Management Software
Teamwork is a flexible work management software that gives marketing agencies the tools they need to deliver exceptional projects for their clients.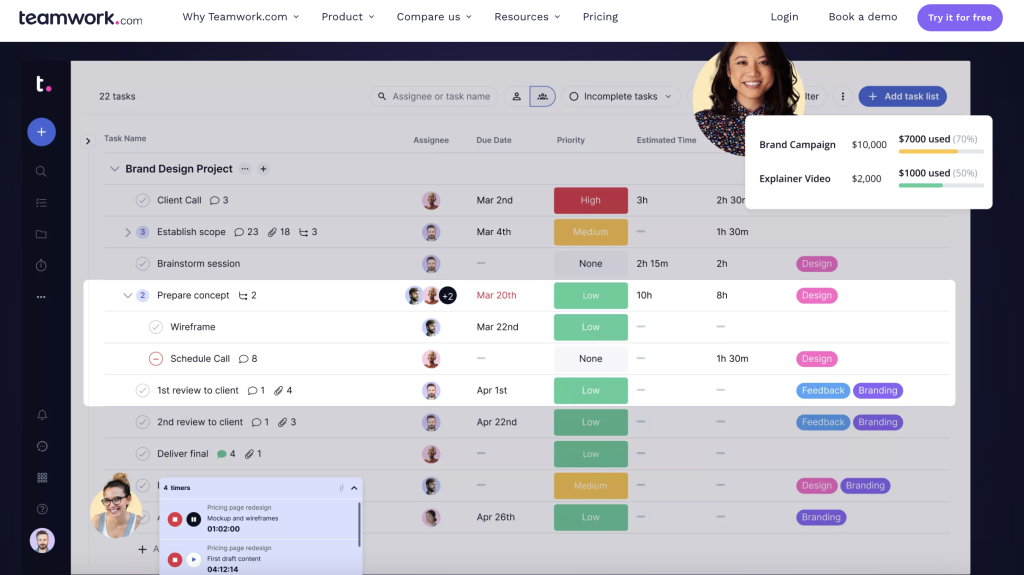 As an agency, you're not only managing your own work, you're also managing your clients' work. With Teamwork's "Workload" solution, you can get a complete picture of your team's capacity and manage it more effectively.
This makes it easier for marketing agencies to respond to changes quickly and keep their team on track.
Additionally, Teamwork allows you to build custom workflows and gives agencies one central place to visualize team projects and tasks, deadlines, and workloads.
Lastly, client communication is facilitated by teamwork, as you can add clients as collaborators. By doing so, clients can leave comments, review assets, view the progress of projects, and eliminate many back and forth email threads.
Marketing Agency Tools #3: Monday Project Management Software
Monday.com stands out as a versatile project management tool that adds tremendous value to digital marketing agencies in navigating the intricacies of campaign management.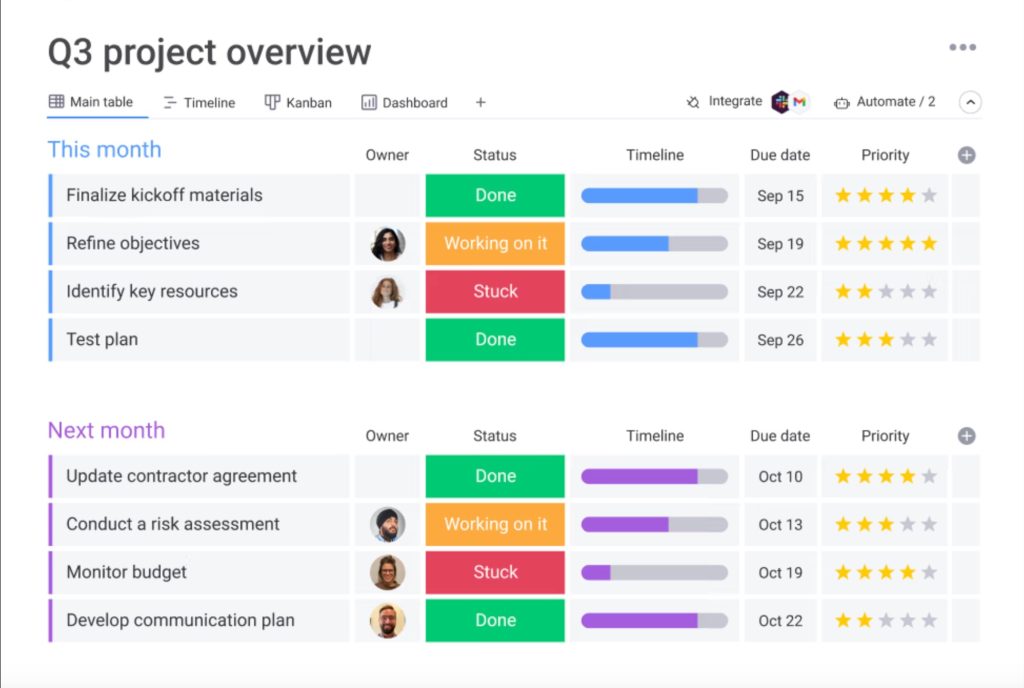 One of the standout features of Monday.com is its customizable Workload view, providing agencies with a bird's-eye perspective of their team's capacity. This not only facilitates effective resource allocation but also allows digital marketing agencies to adapt to changes in project requirements.
The tool's strength lies in its ability to create tailored workflows, offering digital marketing agencies a centralized hub to visualize projects, manage tasks, track deadlines, and balance workloads. This customization capability aligns seamlessly with the diverse and often unique requirements of marketing campaigns, allowing agencies to mold the platform to suit their specific project management needs.
Monday.com also enhances client communication by allowing clients to be added as collaborators. This collaborative feature streamlines feedback processes, as clients can leave comments, review assets, monitor project progress, and significantly reduce the need for lengthy email threads.
Customers.ai for Agencies
Higher retainers, more revenue streams, and happier clients.
Marketing Agency Tools #4: Slack Productivity Platform
Slack is like the ultimate digital clubhouse for digital marketing crews, where communication becomes a breeze and collaboration hits a whole new level.
With channels for each campaign and direct messaging that's faster than a marketing trend going viral, Slack is the secret weapon for digital marketing teams hustling in the fast lane.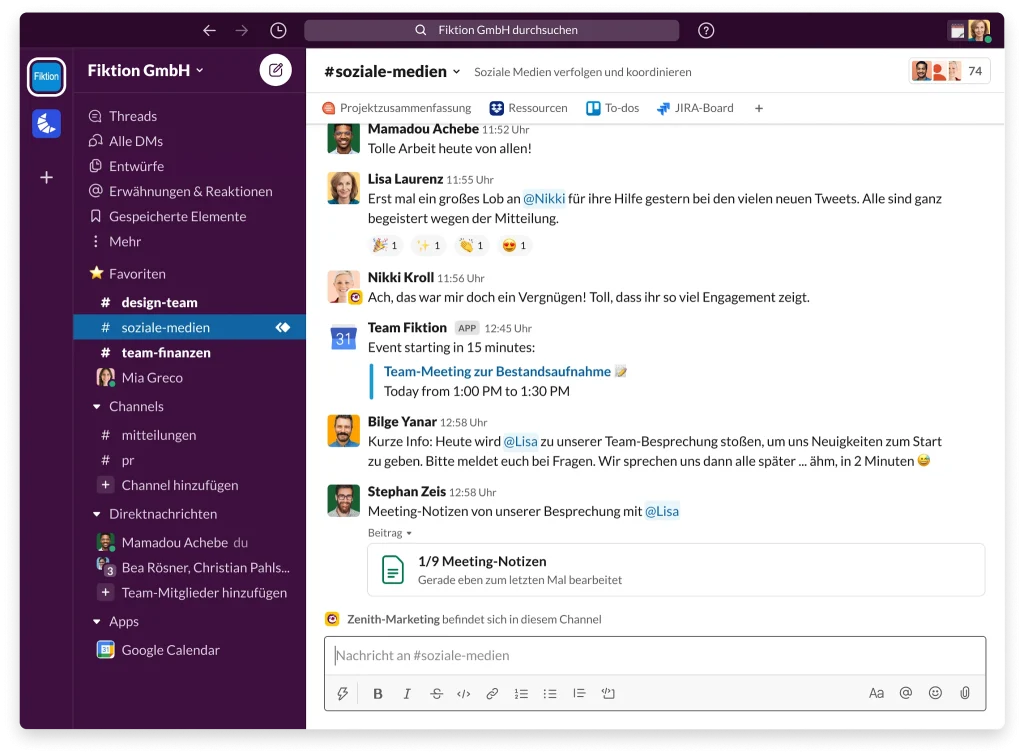 The real magic of Slack for digital marketing agencies lies in its ability to bring everyone onto the same stage. Brainstorming sessions, updates on projects, tools, tasks, whatever.
Plus, with integrations galore, easy file sharing, and feedback loops, it's basically a digital agency must-have.
Marketing Agency Tools #5: Calendly Online Appointment Scheduling
Calendly is the scheduling superhero that digital marketing agencies didn't know they needed. No more email tag or phone ping-pong; it helps avoid scheduling headaches and lets clients and team members book time slots that suit everyone's agenda. Much better than the "does this time work for you?" email.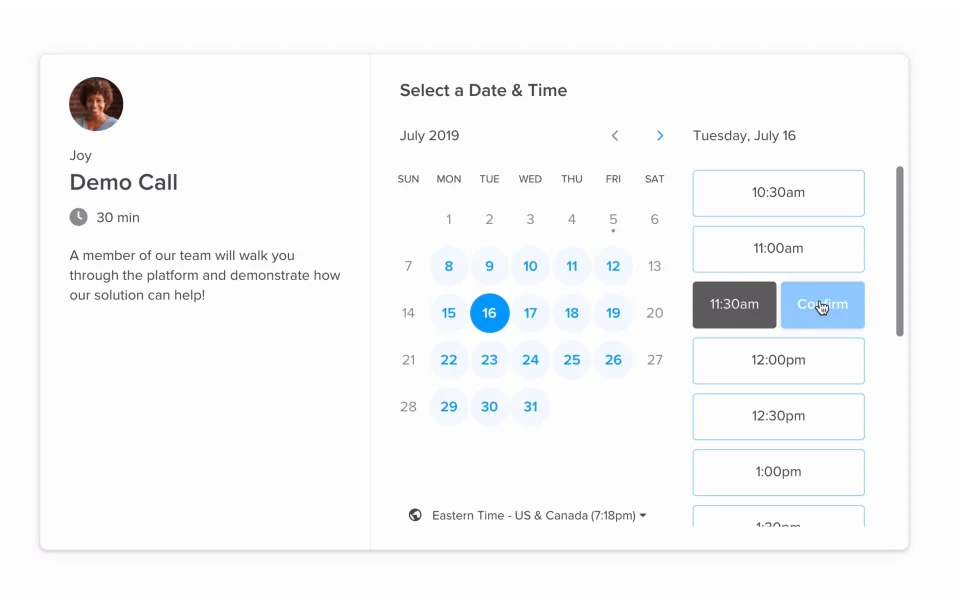 What sets Calendly apart for digital marketing agencies is its time-saving abilities. Real-time calendar sync and customizable meeting types are A+.
It is a game-changer for busy agency marketers – it not only frees up your time but also ensures that every meeting is seamless.
Marketing Agency Tools #6: Growth Hackers Content Marketing Planning
GrowthHackers new Workflow tool helps businesses plan, create, distribute, and analyze content marketing at scale through intuitive and integrated software.
Companies and marketing agencies can use Workflow to:
Brainstorm and approve their editorial lines
Create content for blogs, social media, and emails
Organize and publish through an integrated drag-and-drop editorial calendar
Keep track of their content production and workload
Analyze results from an SEO and social media perspective after publication
As a compliment to GrowthHackers Experiments tool for running growth tests, they built Workflow for teams to also be able to execute their hypotheses from one platform.
Workflow helps growth and content marketing teams guess less, learn more, and work together.
Social Media Management & Social Media Automation Tools
Social media management and automation tools make the daily grind of social media marketing a breeze. They're like having a personal assistant for your social game, helping digital agencies schedule posts, track performance, and engage with the audience effortlessly. With the power of automation, these tools free up time, ensuring that your team can focus on the creative magic that truly sets your campaigns on fire. Here are a few we like:
Marketing Agency Tools #7: Iconosquare Social Media Analytics & Management
Iconosquare is one of the leading analytics and management platforms used by agencies and social media marketers.
Agencies use Iconosquare to help their clients manage their social media accounts. (Instagram, Facebook, Twitter and LinkedIn are available).
Some of the best features for agencies on Iconosquare are:
In-depth analytics to understand their clients' audience for increased account growth and engagement.
Easy reporting – easily report the performance to your clients thanks to branded PDF reports at the click of a button.
Multi profile management – report and analyze the social media performance of multiple social media profiles and content for your clients from one dashboard.
Automatic scheduler – save time by setting and forgetting your content in advance.
Scheduler collaboration – facilitate collaboration with your clients or your team by sharing your scheduler calendar with external approvers.
Other useful features for agencies on Iconosquare:
Competitor analysis
Conversations
Hashtag tracking
Industry benchmark
Marketing Agency Tools #8: AgoraPulse Social Media Management
Being able to prove your agency's social media ROI to your clients can be powerful. AgoraPulse provides the tools you need to do just that.
AgoraPulse has publishing modal's built-in UTM parameters to show your agency's impact on conversions and revenue. This allows you to spot and eliminate spam and negative comments on your ads to encourage more positive engagement and ROI on your client's ad spend.
For marketing agencies, anything you can do to save time is paramount to your success. AgoraPulse makes it easy to export reports with key metrics and analysis on engagement and growth to present to clients.
Furthermore, it never hurts to impress clients. So, add your logo to the PowerPoint decks generated by AgoraPulse and your clients will think you built it from scratch.
AgoraPulse also has tools to allow collaboration between marketing agencies and their clients. For example, with a shared calendar, clients can review, accept, reject, and give feedback on your scheduled social media content. Each shared calendar gives you unlimited calendar users and unlimited profiles.
Marketing Agency Tools #9: Customers.ai Facebook Retargeting Audience Builder
With the iOS 17 privacy changes and Facebook's focus on protecting user data, retargeting audiences are getting smaller.
With the Customers.ai Website Visitor ID X-Ray pixel, you can capture audience data from your website and sync it directly to Facebook, creating larger remarketing audiences and ensuring you are targeting people who are already interested in what you have to offer!

To get started, make sure you add the Website Visitor ID X-Ray pixel to your site. It's easy to do and takes less than 90 seconds. To add it, sign up (it's FREE!), go to the dashboard, navigate to My Automations, select + New Automation, and get your pixel. Make sure to test it to verify it's working.
From there, you can start building your Facebook Ads audience.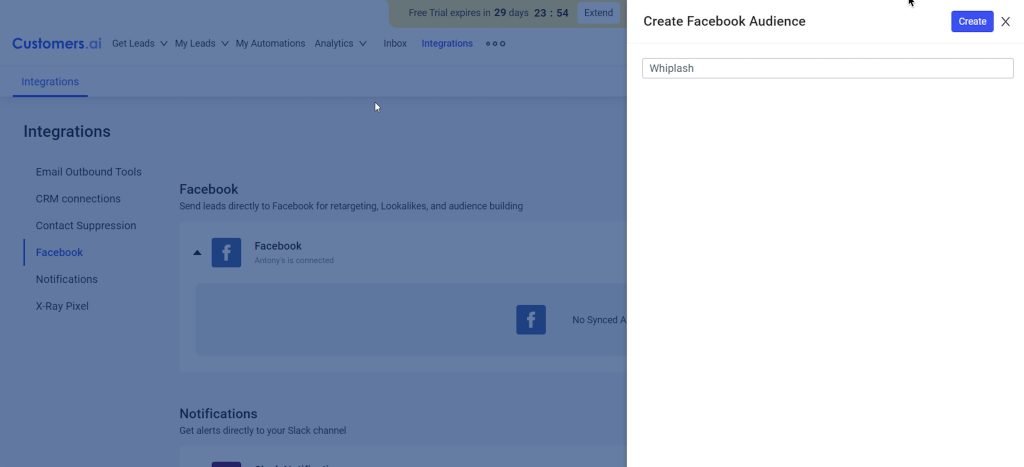 Marketers can't afford to lose their retargeting audiences and Customers.ai is the answer.
Marketing Agency Tools #10: Ad Espresso Facebook Ads Manager
Performance marketing agencies can quickly be in control of managing hundreds or even thousands of ads for their clients. That's why a tool like AdEspresso can be a particularly useful addition to your marketing agency tools.
Whether you're a freelancer or an experienced marketing agency, AdEspresso has the right combination of Automation tools designed to save you time and generate more leads for your clients.
AdEspresso allows you to quickly create and analyze all your clients' campaigns across three channels, all from one platform:
Facebook ads
Google AdWords
Instagram ads
What's particularly useful for performance marketing agencies is AdEspresso's ability to simplify the onboarding of new clients using its Onboarding Requests tool. With this feature, you can have your clients provide access to their pages and ad accounts with as little friction as possible.
Additionally, if you need to add external services, you can also request access to your clients' CRM to connect AdEspresso.
Other useful tools for agencies on AdEspresso:
Request approval for your campaigns
Create and send customized reports
White label the product to the look and feel of your agency
Team collaboration and permissions management
Give your Facebook ads some extra juice with these 19 powerful Facebook advertising tools!
Marketing Agency Tools #11: Whatagraph Marketing Analytics & Social Media Reporting
Whatagraph is a marketing analytics & social media reporting tool for companies, teams, and marketing experts to visually monitor campaign performance.
This tool enables professionals to automatically pull information from digital marketing channels and turn analytical data into visually appealing reports & dashboards.
Whatagraph enables marketing professionals to monitor numbers in real-time and share automated performance reports with important clients & colleagues.
Its main benefits include:
Pre-made templates
Automatic report delivery (keeps clients informed by automatically sending updated reports)
Custom API (import custom data from any source to reports).
Custom branding (colors, logos, etc).
Dedicated account managers (personal onboarding).
Integrations with all major social media networks & analytical platforms.
SEO Management Software & PPC Management Software
SEO management and PPC management software are the dynamic duos in a digital marketing agency's toolkit, working hand in hand to catapult online visibility and drive results. SEO tools are like the backstage crew, fine-tuning your website's performance, optimizing keywords, and ensuring it steals the show on search engines. PPC tools are the cool kids handling the spotlight, creating and managing those attention-grabbing paid campaigns that bring in the audience. Together, they're the secret sauce behind a digital marketing agency's success!
Marketing Agency Tool #12: SE Ranking All-in-one SEO Software
The comprehensive SEO platform SE Ranking is one of the best choices for marketing agencies. It combines all the necessary tools for everyday optimization activities, from rank tracking to keyword and competitive research, and even content creation. The report builder is a huge benefit for agencies and has many templates, a white label feature, and integration with Looker Studio (previously Data Studio).
So which SE Ranking tools can help clients to create a comprehensive strategy?
Rank Tracker that provides accurate position tracking for each keyword with many additional features like ranking cannibalization spotting and keyword grouping, and tagging
On-page SEO Checker that provides an optimization score for the page and advice on how to improve it
Keyword Research with valuable features like bulk keyword analysis, question generation related to your query, providing long-tail keywords, etc
Competitive Research that analyzes the organic and PPC traffic of the client's rivals and extends the competitor list
Website Audit that evaluates the website's health and detects any possible technical issues
Backlink Checker that analyzes backlink profiles from every possible angle
Content Marketing Module that helps to create briefs and high-performing content based on the client's competitors.
Marketers and SEO specialists can also connect Google Search Console and Google Analytics so that all the data is in one place. SE Ranking was designed with the needs of agencies in mind, so it also offers:
White-label functionality
The possibility of working in teams on one project
Marketing reporting tools for presenting well-visualized reports for clients
More affordable pricing compared to other SEO tools.
Marketing Agency Tools #13: SEMRush SEO Management Software
SEMrush is one of the best SEO tools to make your clients visible online.
Agency teams use SEMrush to help clients master content marketing, improve SEO across their websites, create PPC campaigns, and manage their social media presence.
Some of the most popular tools to create a plan for your clients consist of:
Website audit
Social media tracker
Backlink audit
Ad builder
Keyword position tracking
On-page SEO checker
PPC keyword tool
Organic traffic insights
So, if you think about it, not only can you use SEMrush for SEO optimization with your clients, you can also use SEMrush to find prospects and land new business.
By gaining insights into potential clients, the better you'll be able to pitch them. Use SEMrush to:
Analyze potential clients and their online visibility
Get insights into their online performance, marketing strategy, and budgets
Understand their niche and target audience
Locate gaps in their marketing strategy to offer a personalized action plan
Marketing Agency Tools #14: aHrefs SEO Management Software
Ahrefs is kind of the Swiss Army knife of SEO tools. It does keyword research, backlink analysis, site audits, and more.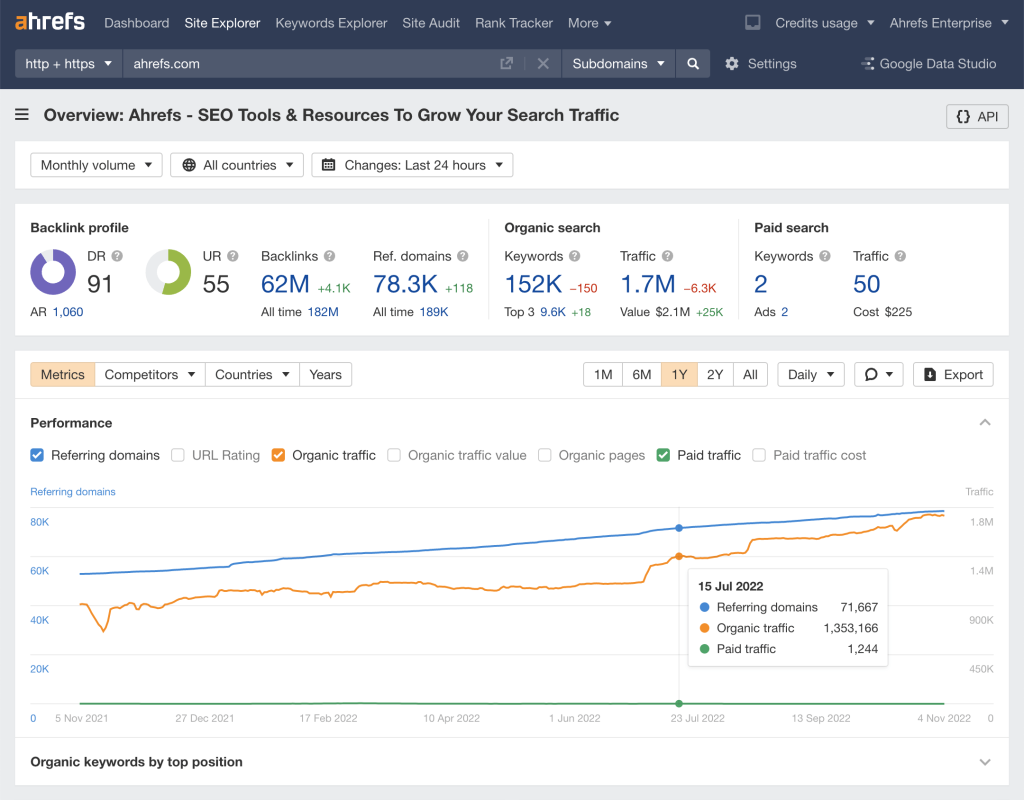 With the power to spy on competitors' strategies, uncover high-performing keywords, and dissect backlink profiles, Ahrefs helps guide the SEO efforts of digital marketing agencies. It's not just about improving rankings; it's about crafting campaigns that resonate with the algorithms and audiences alike.
In our opinion, it helps transform SEO from a guessing game into a calculated science, ensuring that every optimization move is backed by data-driven precision.
Marketing Agency Tools #15: SpyFu Competitor Keyword Research
SpyFu is the best tool available for competitor keyword research.
And each of your current or prospective marketing agency clients are going to get excited when you tell them you can steal traffic and leads from their competitors.
With SpyFu you can search for any domain and see every place they've shown up on Google, every keyword they've bought on Adwords, every organic rank, and every ad variation in the last 13 years.
SpyFu has step-by-step guides on how to:
Find the keywords most important to your client's market
Increase your clients' ranking for specific keywords
Plan a content marketing campaign
Research your client's competitors marketing strategies
Start a new AdWords campaign
Additionally, with SpyFu's AdWords Advisor tool, if you analyze your client's website, you can analyze all of their competitors' AdWords bidding history and recommend the most profitable keywords your clients aren't yet targeting.
SpyFu makes it easy to delight marketing agency clients because you can walk into a room and present hard data that shows how you're going to help them beat out their competitors.
Customers.ai for Agencies
Higher retainers, more revenue streams, and happier clients.
Marketing Agency Tools #16: Wordstream PPC Management Software
WordStream for agencies helps to replace multiple complex platforms and spreadsheets with a single user interface designed to streamline Google Ads, Facebook, and Bing workflows.
Additionally, WordStream's Advisor tool for agencies makes recommendations to optimize performance across platforms and will highlight your best results each month to your clients.
The most notable WordStream features to consider for your set of marketing agency tools are as follows:
Prospect Tracking & Management
Customizable Proposal Generator
White Labeled Google Account Audit
International Currencies
White Labeled Facebook Account Audit
Automated Keyword Lists
Google Places Match
WordStream's Client Center dashboard is designed to give your agency a view of every account you manage and to assess where to spend your time more efficiently. It comes with tools such as a performance tracker, budget tracking, and spend notifications.
Marketing Agency Tools #17: Rebrandly Link Tracking Software
Rebrandly is the industry-leading link management platform to brand, track and share short URLs using a custom domain name.
Rebrandly is great for creating many different short links with your client's brand name on the links, making them more than 30% likely to be clicked.
Using Rebrandly, you can do the following and much more:
Build, schedule, and send custom reports based on the traffic your links receive.
Send visitors to specific landing pages or direct them to your mobile app based on their location, device, browsing language, and other factors.
Fire retargeting pixels directly from your links, add users to your retargeting lists in Facebook, AdWords, Twitter, and more.
Quickly build UTM parameters on all your links to know the medium, source, and content traffic is coming from.
For agency teams, you can set up folders where members of the same team can connect to view and manage sets of branded links collaboratively.
Email Marketing & AI Email Tools
Email marketing is the driver of any digital marketing agency's communication game, turning client interactions into a symphony of seamless connections. These tools not only save time and streamline communication but also add a dash of personality to your agency's conversations, making client relationships as smooth as your favorite playlist.
Marketing Agency Tools #18: Customers.ai AI Email Customizer
Customers.ai's AI email writer is a cutting-edge tool that revolutionizes email marketing by seamlessly blending advanced artificial intelligence capabilities with personalized communication strategies. Businesses can send dynamically generated, hyper-personalized email campaigns, tailoring content to individual recipients with unprecedented precision.
Here's an example: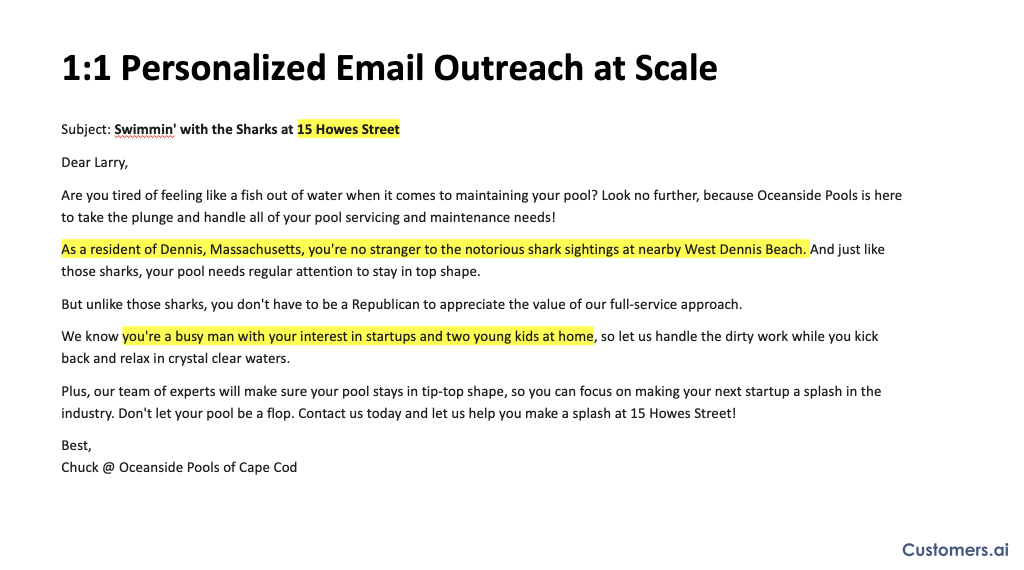 By leveraging AI-driven delivery tools, automated follow-up sequences, and real-time notifications, Customers.ai significantly enhances engagement rates.
Even better, the platform goes beyond basic email campaigns, enriching leads with comprehensive demographic and interest-based data, enabling businesses to create detailed customer profiles and finely segmented audience groups.
Convert Website Visitors into Real Contacts!
Identify who is visiting your site with name, email and more. Get 50 contacts for free!
Marketing Agency Tools #19: Klayvio Email Marketing Software
Klaviyo is the marketing maestro that empowers digital marketing agencies to orchestrate highly targeted and personalized campaigns with finesse. It's not just a platform; it's the key to unlocking the full potential of customer engagement.
With Klaviyo's robust email marketing and automation features, agencies can go beyond just managing campaigns – they can craft experiences that resonate with audiences and drive unparalleled results. Plus, Klayvio integrates with Customers.ai for supercharged campaigns!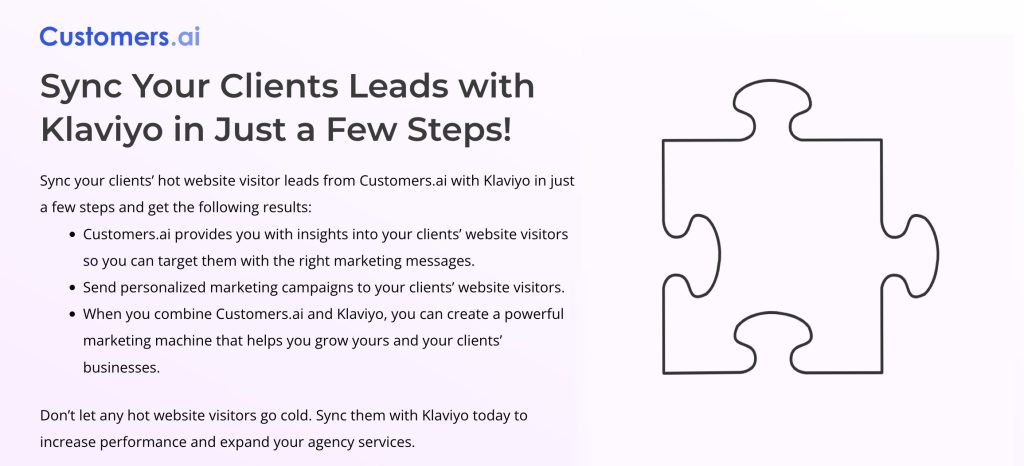 What sets Klaviyo apart for digital marketing agencies is its intuitive design and data-driven approach. Agencies can harness the power of personalized email sequences, segment their audience with surgical precision, and track the performance of every campaign in real-time..
It's not just about sending emails; it's about creating journeys that captivate, convert, and keep customers coming back for more.
Marketing Agency Tools #20: Customers.ai Intent-Based Consumer Directory
With changing privacy regulations, especially around email marketing, growing an emai list is harder than ever. For many marketers, this means supplementing their existing email lists. And that's where the Customers.ai intent-based consumer directory comes in.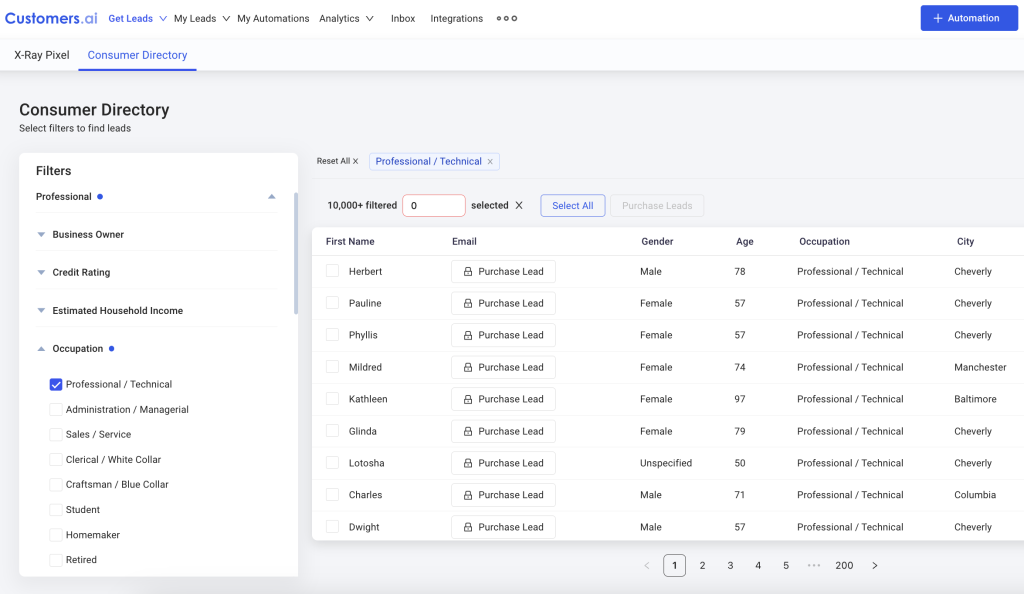 Our Consumer Directory has actionable information on over 250 million U.S. consumers that you can use to filter and purchase leads based on the criteria that's most in-line with your business's ideal customers, like:
Age
Location
Relationship status
Number of kids
Estimated income
Occupation
And more!
Grow your email marketing list with people who are actually in your target audience!
Graphic Design & Landing Page Tools
Graphic design tools are the creative wizards of the digital marketing realm, turning bland campaigns into visual masterpieces. They're like a magic wand for your content, allowing agencies to conjure up eye-catching visuals, snazzy social media graphics, and captivating landing pages. These tools not only make your brand shine but also ensure your marketing materials are on point.
Marketing Agency Tools #21: Unbounce Landing Page Builder
Unbounce is a popular addition to the list of many marketing agency tools. It allows you to create custom landing pages with no coding required.
Additionally, Unbounce's Conversion Intelligence and Smart Traffic tools help to set Unbounce apart from the competition.
As an agency, you're under pressure to turn client campaigns into success stories. Well, sending traffic to your client's website isn't going to be successful because websites are for exploring, not converting.
Landing pages, on the other hand, are focused on the messaging that brought visitors to the page in the first place. A landing page with one, focused goal tailored to a marketing campaign will absolutely increase conversions, and therefore keep your clients happy.
With Unbounce, you can duplicate your most successful landing pages across client accounts to save time and build high converting pages in bulk. Furthermore, you can A/B test variations of landing pages to see which messaging and design works best for your client.
Marketing Agency Tools #22: Visme Graphic Design Software
Visme is an all-in-one visual content creation tool that allows you to design anything from social media graphics and presentations to reports and infographics, and much more.
Start with one of Visme's thousands of professionally designed templates and fully customize it to fit you or your client's brand and marketing needs. The intuitive design interface comes with many design assets like icons, popular fonts, color themes, animation and interactivity elements, as well as animated graphics and illustrations that are exclusive to Visme's platform.
A few categories of templates users can choose from include:
Infographics
Flyers
Brochures
Schedules
Instagram Posts
Instagram Stories
YouTube Thumbnails
Greeting Cards
Certificates
and so many more!
Business account users can even add in their branded colors and fonts so that they're easy to access in all-new designs. Save customized templates to reuse in your designs.
Marketing Agency Tools #23: Canva Visual Design Tool
Not all of us are creative design experts. Thank you Canva!
Canva really is the secret sauce for agencies aiming to craft compelling visual content without the need for a graphic design degree.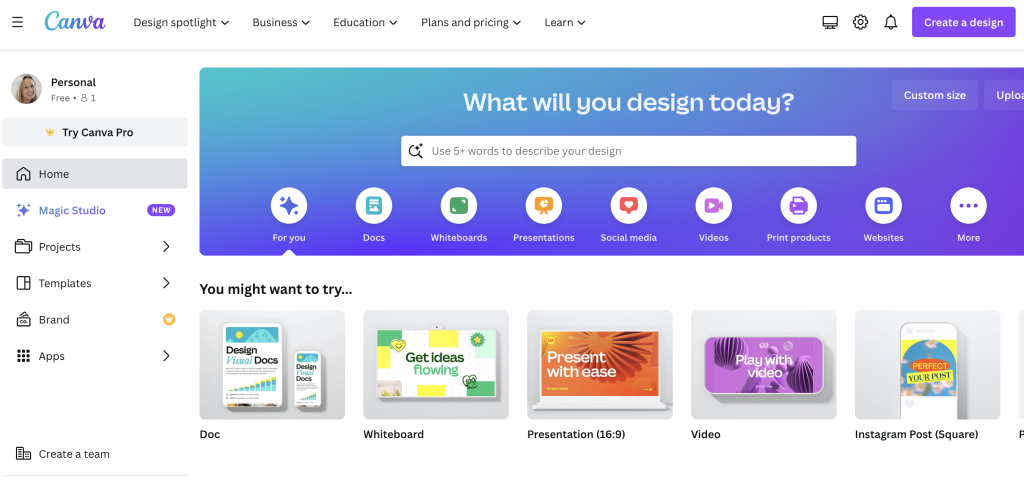 It's user-friendly, has an extensive library of templates, and it makes designing images, videos, ads, etc, so easy.
It's also collaborative, so agencies can work together or with clients to gather feedback, and iterate designs in real-time
Canva is the design wizard that keeps digital marketing agencies one step ahead in the visual storytelling game.
Marketing Agency Tools #24: Snagit Screen Capture Software
Snagit is the digital detective that equips digital marketing agencies with the superpower of visual communication. It's not just a screen capture tool; it is so much more!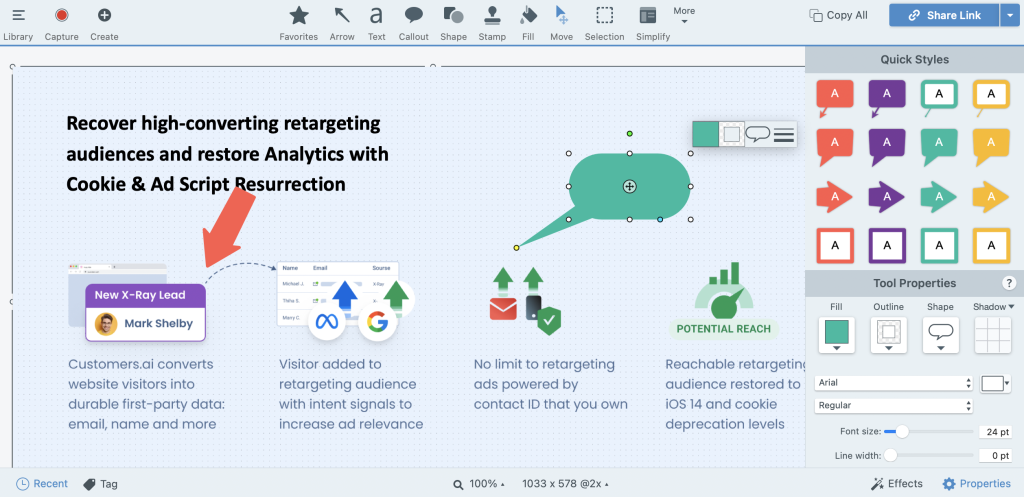 For agencies looking to capture, edit, and share screenshots and videos without a ton of software, this is it. It has a super-intuitive interface and tons of editing tools. it's creating how-to guides, visual content, or client tutorials.
What makes Snagit indispensable for digital marketing agencies is it simplifies complex processes. Capture intricate details, highlight key elements, and annotate images on the fly.
In the world of digital collaboration, Snagit is the visual storyteller that bridges the gap between ideas and understanding.
Bonus Tool for Digital Marketing Agencies
Marketing Agency Tools #25: Databox Business Analytics & KPI Dashboards
Databox is a business analytics tool that brings all data into a unified platform so users can track performance and discover insights in real-time.
This tool allows agencies to mix and match their data from different sources into one dashboard, and visualize a complete overview of business performance.
Some of the best features for agencies on Databox are:
Agency + Client Accounts: agencies can create client accounts under 1 umbrella account. Clients then have access to monitor data anytime via URL, mobile application, TV data stream, or office wall.
Client Performance Screen allows an agency to monitor up to 5 KPIs per client on a single screen. This is great for agency owners, managers & directors that want to quickly review account performance.
Mobile Application – Databox has a native mobile app that allows users to check data from anywhere, at any time. Data Boards will automatically adjust to fit the mobile screen, so you don't need to build them twice.
Calculate KPIs From Different Sources – Data Calculations allows users to aggregate metrics from multiple data sources, calculate different ratios, return-on-investment, financial metrics, then track them over time.
3rd Party Automations – 70+ native integrations & 250+ Zapier & Integromat automations that you can connect with Databox.
Scheduled Snapshots – Your clients or agency may not want to log in to Databox every day to check data. Snapshots allow them to send monthly or weekly updates to important stakeholders, without asking them to log in to the web or mobile app.
Other useful features for agencies on Databox:
Dashboard Annotations
Drag-and-Drop Editor
Pre-made Templates
Quick Setup
Smart Goals
Alerts
In the dynamic landscape of digital marketing, success hinges on the right toolkit. The best digital marketing agency tools are designed not just to meet but to exceed expectations. They empower your agency to scale effortlessly, impress clients consistently, and secure new business confidently.
This compilation of top-tier marketing tools for digital agencies addresses the pivotal challenges we are facing in 2024 – differentiation from competitors and leveraging cutting-edge marketing technologies for a competitive edge. As the industry evolves, these tools promise to keep your agency at the forefront.
Important Next Steps
Upgrade your Instagram and Facebook with 100% Meta-approved comment and DM automation to grow your audience, engagement and sales. InstaChamp is free for Creators this week!
Join the Customers.ai Facebook group to get and give help on chatbot marketing. We have over 40,000 members and counting.
Do yourself a favor by signing up for Customers.ai blog updates. We only send the most actionable and high-impact marketing tactics to your inbox.
See all the tools in Customers.ai's multi-channel chatbot platform by getting started with Customers.ai for free.
Customers.ai for Agencies
Higher retainers, more revenue streams, and happier clients.
FAQs about Marketing Agency Tools
Q: What are marketing agency tools?
A: Marketing agency tools are software or platforms designed to assist marketing agencies in various aspects of their work, such as analytics, project management, social media management, content creation, and customer relationship management (CRM). These tools help streamline marketing processes, improve efficiency, and enhance overall productivity for agencies.
Q: Why should marketing agencies use tools?
A: Marketing agencies can benefit from using tools as they help automate repetitive tasks, provide data-driven insights, and enable collaboration among team members. By leveraging these tools, agencies can optimize their workflow, deliver better results for clients, and stay ahead in the competitive marketing landscape.
Q: What types of tools are commonly used by marketing agencies?
Analytics tools: These tools provide valuable insights into website traffic, user behavior, and campaign performance, helping agencies make data-driven decisions.
Project management tools: These tools facilitate task management, project collaboration, and scheduling, ensuring smooth workflow and efficient project execution.
Social media management tools: These tools assist in managing and scheduling social media posts, monitoring engagement, and analyzing performance across different platforms.
Content creation tools: These tools aid in creating engaging content, such as graphic design, video editing, and content writing, allowing agencies to produce high-quality materials.
CRM tools: Customer Relationship Management tools help agencies manage client relationships, track leads, and organize communication, ensuring effective client management.
Q: What are the benefits of using marketing agency tools?
A: The benefits of using marketing agency tools include:
Increased productivity: Tools automate repetitive tasks, saving time and allowing agencies to focus on more strategic activities.
Improved collaboration: Tools enable team members to work together seamlessly, share information, and track progress in real-time, enhancing teamwork and communication.
Enhanced data-driven decision-making: Analytics tools provide valuable insights that help agencies understand campaign performance, optimize strategies, and achieve better results.
Streamlined workflow: Project management tools help agencies stay organized, manage deadlines, and allocate resources efficiently, ensuring projects are executed smoothly.
Competitive advantage: By leveraging the right tools, agencies can deliver high-quality work, demonstrate expertise to clients, and gain a competitive edge in the market.
Q: How can I choose the right marketing agency tools for my business?
A: When choosing marketing agency tools, consider the specific needs of your business, budget, scalability, and integration capabilities with existing systems. It's important to research and evaluate different options, read reviews, and consider factors such as ease of use, customer support, and features offered. Trial periods or demos can also help you assess whether a tool is a good fit for your agency's requirements.
Q: Are marketing agency tools expensive?
A: The cost of marketing agency tools varies depending on the specific tool, its features, and the provider. Some tools offer free versions or trial periods, while others operate on a subscription or licensing model. It's essential to consider the value and potential return on investment (ROI) a tool can provide to your agency before making a decision.
Q: Can marketing agency tools replace human expertise?
A: Marketing agency tools are designed to enhance the work of marketing professionals, not replace them. While these tools automate certain tasks and provide valuable insights, human expertise, creativity, and strategic thinking are still essential for successful marketing campaigns. Tools should be seen as supportive resources that augment the capabilities of marketing teams.
Q: How often should marketing agency tools be updated?
A: The frequency of updates for marketing agency tools depends on the tool itself and the provider. Some tools may release updates regularly to introduce new features, fix bugs, or enhance security. It's recommended to stay up to date with the
Q: What are some common challenges faced when implementing marketing agency tools?
A. Common challenges when implementing marketing agency tools include integration issues, learning curves, cost considerations, resistance to change, and compatibility.
Q: How can marketing agencies ensure the security of client data when using tools?
A. To ensure the security of client data when using tools, agencies can choose tools with robust security features, implement access controls, regularly update and patch tools, conduct security audits, and educate staff on security best practices.
Q: Can marketing agency tools help with client retention?
A. Yes, marketing agency tools can contribute to client retention by improving communication, delivering better results, enhancing collaboration, and providing transparency.
Q: What are the key features to look for in social media management tools for marketing agencies?
A. Key features include scheduling capabilities, analytics for performance measurement, team collaboration functionalities, and support for various social media platforms.
Q: Can marketing agency tools assist in automating email marketing campaigns?
A. Yes, many marketing agency tools offer features for automating email campaigns, including personalized drip sequences, autoresponders, and analytics.
Q: How do project management tools benefit marketing agencies in handling client projects?
A. Project management tools help in organizing tasks, setting milestones, tracking progress, and facilitating communication among team members, ensuring efficient project delivery.
Q: Are there tools specifically designed for keyword research and SEO analysis in marketing?
A. Yes, tools like Ahrefs, SEMrush, and SpyFu specialize in keyword research and SEO analysis, providing insights into competitors, backlinks, and search engine rankings.
Q: What role do analytics tools play in measuring the success of marketing campaigns?
A. Analytics tools track and analyze key performance indicators (KPIs) such as website traffic, conversion rates, and engagement, providing data-driven insights for assessing campaign success.
Q: Do marketing agency tools offer collaborative features for content creation?
A. Yes, many content creation tools provide collaborative features, allowing team members to work together on projects, share feedback, and streamline the content creation process.