No matter your opinion of Facebook, if you or your business dabbles in digital marketing, you better know your Facebook tools, because there's no avoiding this giant.
Nearly seventeen years after its founding in 2004, Facebook has over 2.7 billion monthly users.
There's also over 60 billion active business pages, and 42% of marketers say that Facebook is important — or even crucial — to their business.
But what sort of Facebook tools are available to help businesses and marketers drive engagement, reach, and sales? Likely more than you'd think!
Convert Website Visitors into Real Contacts!
Identify who is visiting your site with name, email and more. Get 50 contacts for free!
In this article, you'll learn about amazing and convenient Facebook tools that businesses use to reach new customers, stay on top of mind, and convert customers:
Advertising & Optimization Facebook Tools
1. Customers.ai
Yes, we put ourselves first. Why not? Customers.ai is the premier Facebook tool for all of your Facebook Messenger marketing efforts. From contact growth Facebook tools to chatbots, you can find it all here.
For some reason, a lot of businesses do not take advantage of Facebook Messenger marketing, despite the significantly higher engagement it receives than Facebook Newsfeed ads or email marketing.
Use Customers.ai's platform to take advantage of these benefits. We offer various chatbot tools, like chatbot templates to build your Messenger bot, chatbots on your website and WordPress chatbot plugins, as well as tools to build drip campaign automations, click-to-Messenger ads with interactive chatbots as the landing page, and sponsored message ads (which propel the message click-through rate to +20%).
You can even move your data from Customers.ai to other systems you use to run your business, thanks to integration powered by Zapier.
Join Today's Webinar with Larry Kim!
Or Register for the Free Replay
Learn all about NEW 100% Meta-Approved Automation Tools from Customers.ai with a spotlight on features to 10X Instagram & Facebook Engagement and turn social media into a revenue driver for your business.
2. Facebook Ads Manager
A handy Facebook tool for businesses straight from Facebook is the Facebook Ads Manager. Using this you can create, view, make changes to, and see the results of all of your Facebook ads.
Using Facebook Ads Manager, you design your ads and choose the audience you want to see your ad. You can also decide where you want to show your ad on the site.
Facebook Ad Manager is an extremely easy way to manage multiple ads over your campaign (or different campaigns). You can duplicate ads, edit your audience and placements, or edit your budget. There's also an app for ad management on the go!
3. WordStream
WordStream is a unique Facebook tool in that it is specifically designed for small- and medium-sized businesses maximize their online advertising results.
You can start with the free Facebook tool to grade your current Facebook ads performance and see where and how you can improve your results. Then you can use WordStream's agency solutions to easily manage your campaigns from one place.
In addition to agency ad solutions, WordStream provides similar Facebook tools and advising for ecommerce, to help your online shop turn more clicks into sales.
Most handy, however, is WordStream's 20-Minute Work Week. With this Facebook tool, your most time-consuming tasks are simplified with customized cross-platform alerts that display high-priority actions, cutting hours from your work.
4. AdEspresso
AdEspresso is a Facebook tool that helps you easily create, manage, and analyze your ad campaigns not only on Facebook, but on Instagram and Google as well.
Using AdEspresso, you can manage your ads across platforms all from one place instead of switching between ad managers. You can also easily obtain your web, email, Excel, and PDF insights.
On top of being a great management tool for Facebook, Instagram, and Google ad creation, AdEspresso makes collaborating with clients easier, making it a great agency marketing tool as well.
Shockingly, their aren't a lot of tools where you can easily both share and manage your Facebook ad examples with another company. AdEspresso allows you to share accounts and get approval of your campaigns before they go live. Far easier than a constant back-and-forth.
Furthermore, AdEspresso features a plethora of resources to help you fine-tune and perfect your marketing skills.
5. Perfect Audience
Have you ever wanted a total solution to retargeting your audiences with ads across audience networks from Facebook to Twitter to display? Perfect Audience is a single-platform solution for just this.
With this Facebook tool, you can manage retargeting efforts across the web in one place.
Perfect Audience allows you to track visitors to your site using a site tracking tag that you add to
your website. After they visit your site, the site tracking tag places a cookie in the visitor's browser.
Once this is done, the platform serves your ads to those visitors on different sites.
Perfect Audience integrates with the web, Facebook, Twitter, HubSpot, Shopify, and mobile!
6. Facebook Pixel
Facebook Pixel is a tool from Facebook specifically designed to help you measure Facebook ad performance and create custom audiences for Facebook ad remarketing.
Facebook Pixel is simply a piece of code that you can add to your website, and it helps you learn more about your audiences to optimize your ad campaigns.
Use Facebook Pixel to get insights about your website traffic and learn how people are using your site. Next, you can create custom audiences using those website visitors and retarget them once they leave.
You can also optimize your ads to make sure that they are seen by people who are likely to engage with them!
7. Facebook Blueprint
Running a business, or running an ad campaign, is hard work and requires skill. Sometimes it's useful to brush up on those skills.
Facebook Blueprint is a Facebook tool that provides free online training in digital marketing.
Using your Facebook profile, you can access short courses in Facebook page management, Facebook and Instagram ad creation and management, optimization, and more.
8. Instagram Ads
Even your average digital marketer is likely to overvalue Facebook ads, and forget to spend the extra 2 minutes optimizing the same ad set for Instagram.
And now, at the end of 2020, if you're one of those people, you're probably realizing that was big mistake. More and more powerful marketing tools are coming to Instagram, such as Instagram Messenger and Instagram Shops.
You can use a number of tools on both Facebook and Instagram (as well as other platforms we've mentioned in this post!) to create compelling ads, such as Messenger. Then, you can use those ads to drive traffic to your Facebook page or website.
Boom! High traffic incoming.
Create and run your Instagram ads through the Facebook Ad Manager.
9. HubSpot Ads
If you're just getting started with Facebook ads and are still trying to figure out just the right strategy, then consider using HubSpot. HubSpot's free ad management software allows you to quickly get started with simple ad creation and seamless lead syncing.
Because it uses data from the HubSpot CRM, you can see which ads are actually converting new contacts. This data also allows you to build custom lists so you can target visitors at different stages of the funnel.
The more premium features allow you to take your Facebook advertising even further with retargeting, automation, and advanced attribution reporting.
In addition to the ads software, HubSpot comes with a series of tools that are designed to help you grow your business. This includes more lead generation tools like a form and popup builder, live chat, and landing pages, as well as campaign tools like email marketing.
10. Qwaya
Qwaya is a powerful Facebook ad creation and management tool.
With Qwaya, you can schedule a time of day and day of the week for your ads to run. You can also optimize your campaign's results by defining performance-based rules that allow you to pause campaigns that are not performing well.
In addition to all of this, Qwaya provides free training sessions in each plan to help you learn to use these Facebook tools!
11. Facebook Test and Learn
Facebook Test and Learn is a little known tool within Facebook Business Manager that allows you to literally create advertising tests and analyze their results.
What's that? You can learn about what works and doesn't work in advertising before you even publish an ad?
All of the Facebook Test and Learn tests measure lift, which is essentially results that would not have happened without your ads. The tests measure two types of lift: conversion lift and brand lift.
You can compare campaigns using these Facebook tools to optimize your advertising budget, increase brand performance, and more.
Join Today's Webinar with Larry Kim!
Or Register for the Free Replay
Learn all about NEW 100% Meta-Approved Automation Tools from Customers.ai with a spotlight on features to 10X Instagram & Facebook Engagement and turn social media into a revenue driver for your business.
Organic Social Management Facebook Tools
12. Hootsuite
Hootsuite is a social media management and analytics tool. It allows you to manage all of your social media in one place.
Schedule your posts across various social platforms, including Facebook, Twitter, Instagram, YouTube, LinkedIn, and Pinterest.
You can also easily manage your social content by storing pre-approved content in any cloud file service, keeping your business on brand. Content is easy to curate and locate using tags and stats.
You can even manage your business's social media team using Hootsuite Facbeook tools like organization setup, team permissions, team assignments and more.
13. Agorapulse
Agorapulse is an extremely useful social media management tool. It's simple to use but produces effective results.
With this one Facebook tool, you can publish updates to all the top social networks. You can also schedule posts, as well as add them to a queue to be republished automatically. Use their social media calendar to help you plan these updates, or use their analytics reports to see how your posts measure up.
On top of content management, Agorapulse lets you check all of your mentions across all social media platforms in one place. Talk about easy!
14. Buffer
Buffer is a Facebook tool that helps small businesses grow their audience and build their brand on social media. It's purpose is to make it easy to plan, collaborate, and publish content that drives engagement and thus builds a following.
Most interesting about Buffer is its Chrome browser extension that can be used to comb for shareable content.
Once you've started building your brand, Buffer also helps you by providing insights and analytics to your pages' performance.
15. Social Report
Social Report is a Facebook tool that boasts "every feature a social media manager needs."
It's definitely true! Use Social Report as a one-stop for all of your social media management needs across social networks and other online platforms.
Social Report is a fully-stocked package including social scheduling and monitoring, analytics and custom reports, a smart inbox and integration across the web.
It also makes managing your social media team as easy as pie with user permissions, publication workflow and team member performance reporting.
16. Everypost
Everypost is another all-in-one social media management platform, where you can curate content, collaborate with a team, and schedule and publish posts.
This Facebook tool makes it simple to create compelling content by pulling multimedia content from different sources, such as Instagram, Flickr, YouTube – even RSS feeds – and publish it across your social media platforms.
Contest & Engagement Facebook Tools
17. WP-Chatbot
WP-Chatbot turns your website visitors into contacts you can send direct messages to in Facebook.
Facebook CEO Mark Zuckergerg says that private messaging, stories and groups are the "growing ways we're communicating online".
Use WP-Chatbot to add the next level of engagement, interactivity and connection to your Facebook marketing audience. Businesses can answer website visitors' questions automatically and instantly, and even better, send follow-up messaging to contacts in Facebook Messenger.
18. Wishpond
Wishpond is a site that makes it easy for marketers to increase awareness on Facebook networks using various contest tools.
One such type of contest is an Instagram hashtag contest, in which your followers enter by using a specific hashtag. This increases audience engagement and draws attention to your brand.
Wishpond also features a sweepstakes builder that allows you to create a sweepstakes and then run it on Facebook, your website, and beyond. This is a handy way to gather information from contest entries such as emails, Facebook pages, and more.
19. Heyo
Sometimes, we want to add a little pizzazz to our Facebook marketing. Heyo is the Facebook tool for that!
Heyo is a lead generation Facebook tool intended to help you get more engagement. It's the perfect Facebook tool to create brand awareness.
Use Heyo to create contests and sweepstakes to help engage potential customers. You can also collect user-generated content with hashtag campaigns. This is a creative and fun way to engage audiences and create leads.
Heyo's Facebook tools integrate with Facebook desktop, mobile, and practically anywhere on the web!
20. Pagemodo
Pagemodo's page customization Facebook tools are very beneficial for customizing your Facebook page.
You can create compelling cover photos, add custom tabs, create "Like Gates" where people have to like the page before seeing content, and create contests for your page!
The Facebook tool can be used as an ad manager, a content manager and curator, audience targeter, and analytics provider.
Social Listening Facebook Tools
21. Buzzsumo
Buzzsumo is another social management tool that you can use to create content and monitor that content's performance across your channels.
It also has a search tool that allows you to discover content ideas to publish and identify influencers that can help propel your brand forward.
Another extremely handy Facebook tool that Buzzsumo features is SumoRank. This Facebook tool allows you to see how your Facebook page ranks against your competitors' or other top pages in the industry.
You can use SumoRank to identify what your audience will respond to and optimize your page performance!
22. Falcon
Falcon is a platform of Facebook tools that allow you to publish, track, and measure social content. You can also use it to manage your ad campaigns!
One of Falcon's most interesting Facebook tools is it's Listen feature, which allows you to monitor social media trends, analyze sentiment in your mentions, and receive email updates of trends. It even tracks which social media influencers are interacting with you online!
Curation Posting Facebook Tools
23. DrumUp
DrumUp is a popular social media management and content curation and marketing tool.
Use DrumUp to curate trending content to share on your own pages. This will help you to start meaningful conversations with your audience and therefore boost your page.
It's all part of DrumUp's Facebook tools – the platform mines through content on the web to find the freshest and most relevant content to your audience. It makes recommendations on content and then, that's it! You post it and you rake in the fans, followers, and top social media performance.
Facebook Creative Tools
24. Grammarly
All social media, webpages, and ads require copy that expresses their purpose. But copy isn't all that easy to write, especially if writing isn't exactly your specialty. And most of us haven't had a writing class in school for quite some time!
Grammarly helps with that. This tool uses artificial intelligence and natural language processing to help you create bold, clear copy – regardless of what it's for.
It's not only a spelling and grammar checker – though it does that, too.
Grammarly features Facebook tools that push your writing. Use the tone detector to find out if your writing needs to be a little more (or a little less) formal. And use the style tools to make sure you're using the correct formalities, tenses, and even get suggestions for better word choice.
Grammarly's writing assistance tools work across email and messaging platforms, documents and apps, and social media.
25. Canva
Do you need to make graphics for your Facebook page, your business, your blog, or your ads, but you're simply not an artist?
No need to fret – Canva comes in handy for that!
Graphic designers of all levels and abilities can use Canva's various design tools to easily create eye-catching graphics using professional templates. The platform uses a drag-and-drop format to make the process even easier.
Canva provides access to fonts, photographs, graphics (including animations), and more that can be used for web and print media.
26. Venngage
You don't often hear simple and graphic design in the same sentence.
If you need graphics for your facebook page and facebook ads, you don't need to look any further. Venngage offers over 1 million people easy to use professional graphics.
You can create stylish content with their vibrant and adaptable templates.
Venngage allows you to customize infographic templates to make unique visuals quickly and easily, without a designer!
You have access to helpful videos, easy how-tos, step by step guides, and top tips on infographics and design.
27. DocHipo
DocHipo is a cloud-based graphic design tool for busy entrepreneurs, marketers, and content creators.
You can use this tool to design various aspects of an attractive Facebook business page, such as a compelling cover photo, posts, ads, etc. You can create all these by leveraging DocHipo's ever-expanding template library that covers various industries and occasions.
The stunning pre-designed templates fast-track your design process. With its drag-and-drop editor, you can easily customize them to suit your needs, even without prior graphic design experience. Its exclusive design elements, such as illustrations, animations, stickers, etc., make your design unique, memorable, and intriguing.
With DocHipo, you can grab users' attention to your Facebook page, drive engagement to your Facebook posts, and convert your paid campaigns. This tool makes collaborating on a design project easier among multiple team members in real time. It seamlessly integrates with social media platforms to share your posts directly from the editor. You can download all your designs in multiple formats without any watermark.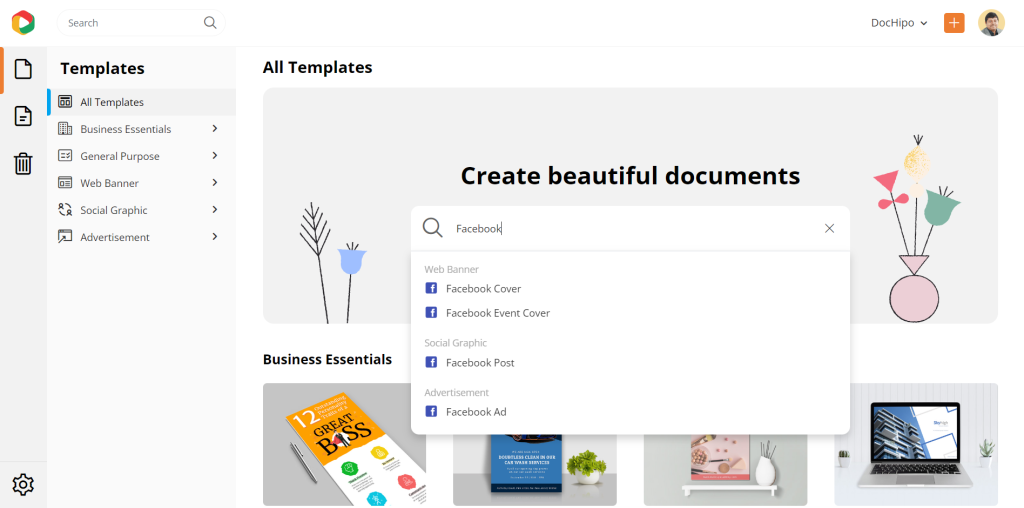 Facebook Analytics Reporting Tools
28. Sprout Social
Sprout Social is for the most part a CRM tool for social media and Facebook analytics. It helps you manage and monitor your fans and followers, as well as better understand your audience through social monitoring.
In addition, it has everything that a common social media management platform would have, down to an inbox where you can track your mentions across social media networks.
One of the most influential parts of Sprout Social's platform is the way it helps you understand and leverage Facebook impressions. You can narrow your impressions data by various demographics like age, location, etc. for better targeting.
Competitive Analysis Facebook Tools
29. Facebook Ad Library
The Facebook Ad Library is a new Facebook tool launched just this year as a part of Facebook's campaign to be more transparent.
Facebook Ad Library is a comprehensive, searchable database of all of the ads currently running on Facebook and across Facebook products (including Instagram). Anyone can see any ad on any platform, whether they have an account on that platform or not.
FB ads library is a great competitive intelligence Facebook tool for marketers.
It allows you to essentially spy on your competitors. You can see what works for them – what messages they are promoting, or what types of ads they've been running for a long time.
You can then use this information to optimize your own Facebook ad campaigns.
How Will You Utilize Facebook Tools?
There are tons of different Facebook tools to help you manage your content, your ads, your audiences, and more.
You can engage, convert, schedule, publish, post, track, monitor, analyze, curate, create, design – all with a select number of Facebook tools that do most of the work for you.
What will you choose?
GET
NEW 100% META APPROVED AUTOMATION TOOLS TO GROW YOUR AUDIENCE IN INSTAGRAM & FACEBOOK

FROM CUSTOMERS.AI

Increase social media ROI through instant engagement, audience monetization, and time saving tools for creators, coaches, influencers and social media managers. Activate InstaChamp superpowers for Instagram and Facebook for free this week!
Important Next Steps
Frequently Asked Questions about Facebook Tools
What are Facebook tools?
Facebook tools refer to a set of features and applications provided by Facebook that help users manage and enhance their experience on the platform. These tools include analytics, advertising solutions, content creation and scheduling tools, as well as developer APIs for integrating Facebook functionality into external applications.
What are some popular Facebook tools?
Some popular Facebook tools include:
Facebook Business Suite: A unified platform for managing Facebook Pages and Instagram profiles, including post scheduling, analytics, and messaging.
Facebook Ads Manager: A powerful tool for creating, managing, and tracking Facebook ad campaigns.
Facebook Insights: An analytics tool that provides data and insights about your Facebook Page's performance.
Facebook Pixel: A piece of code that tracks user activity on your website and helps optimize your Facebook ad campaigns.
Facebook Login: A secure way for users to log in to your website or app using their Facebook credentials.
How can I access Facebook tools?
To access Facebook tools, you need to have a Facebook account. Most tools can be accessed through the Facebook website or mobile app. Some specialized tools, like the Facebook Ads Manager, may require additional permissions or specific account types (e.g., a Facebook Business Manager account for managing ads for businesses). Simply log in to your Facebook account and navigate to the respective tool or feature you want to use.
Are Facebook tools free?
Many of the basic Facebook tools are free to use, such as creating a Facebook Page or using Facebook Insights. However, some advanced features or advertising solutions may come with a cost. For example, running Facebook ads requires a budget for ad spend. It's important to review the pricing and terms for each specific tool or service provided by Facebook to understand any associated costs.
Can I use Facebook tools for business purposes?
Yes, Facebook tools offer a wide range of features specifically designed for businesses. You can create a Facebook Page for your business, use advertising tools to promote your products or services, access analytics to understand your audience, and communicate with customers through messaging tools. Facebook Business Suite and Facebook Ads Manager are particularly useful for managing and promoting your business on Facebook.
Are there any Facebook tools for developers?
Yes, Facebook provides a range of tools and APIs for developers to integrate Facebook functionality into their applications. Facebook Login allows users to log in to third-party apps or websites using their Facebook credentials. Facebook Graph API enables developers to access and retrieve data from Facebook's social graph. Additionally, Facebook SDKs (Software Development Kits) provide resources and libraries for various platforms and programming languages to help developers build Facebook-integrated applications.
Can I schedule posts using Facebook tools?
Yes, Facebook provides scheduling tools that allow you to create and schedule posts in advance. Facebook Business Suite, for example, offers post scheduling features for both Facebook and Instagram. With these tools, you can plan your content calendar, choose specific dates and times for your posts to be published, and maintain a consistent social media presence without manual intervention.
Where can I find documentation and resources for Facebook tools?
Facebook provides comprehensive documentation and resources for its tools on the Facebook for Developers website. You can find API documentation, guides, tutorials, and other helpful materials to understand and utilize various Facebook tools. Additionally, Facebook's Help Center offers detailed information and support articles for specific features and tools available on the platform.