20 SMS Marketing Tools No Business Should Be Without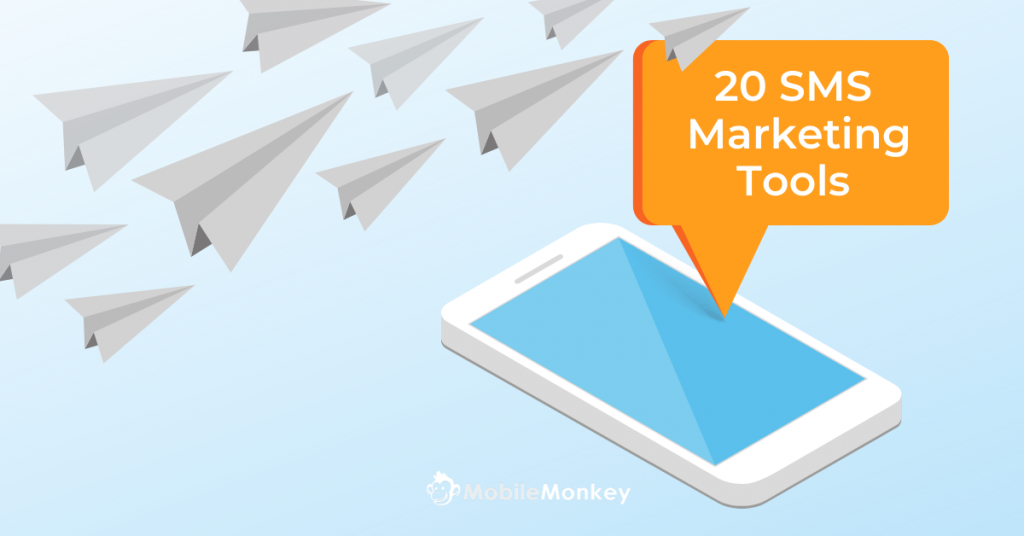 It's 2021 and chat and text messages are the way that customers want to stay in touch with service providers.
In fact, 67% of customers would rather send and receive text messages to communicate about appointments over emails or phone calls, according to Media Post.
Of course, for a business to reasonably scale SMS as a channel for customer communication, marketers need an SMS marketing platform to manage and automate campaigns sent via SMS, short for "short message service," also known as text messaging.
Enter SMS marketing tools, empowering businesses and marketers to send customers marketing and customer service messages in mass, with smart features like:
Want to reach your leads and customers using SMS tools for automated text message marketing?
Here are 20 SMS marketing tools that every marketer can use to generate results via text message marketing.
🤯 Try SMS tools for FREE with Customers.ai's NEW $0 UPGRADE trial! SMS Marketing Tools are available in Customers.ai PRO plans in the U.S. and Canada.

SMS Marketing Tool #1: Coding-Free Campaign Builder
Marketers can rest assured that no coding is required to create and run SMS marketing campaigns.
Every SMS tool from list growth tools, to segmenting an audience, to sending text message blasts and reading campaign analytics — not one SMS tool in Customers.ai requires any advanced programming knowledge.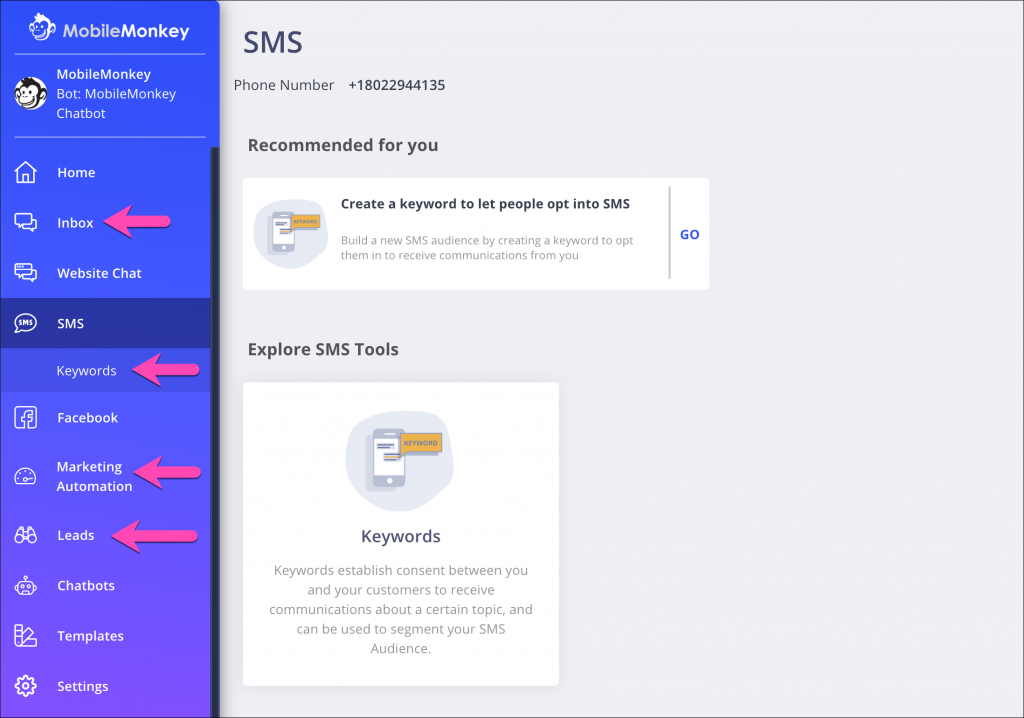 From Customers.ai's chat marketing dashboard, navigate to every SMS tool a marketer needs in a user-friendly visual interface, including:
SMS Marketing Tool #2: Advanced Inbox Management in Desktop & Mobile Apps
Customers.ai is a chat marketing platform that lets marketers create and launch multi-channel chatbot campaigns in SMS, web chat and Facebook Messenger.
Question: How does a business keep track of conversations happening across messaging platforms?
Answer: The OmniChatⓇ inbox for SMS chat and more.
View conversations from customers happening in all chat messaging channels including SMS, Facebook Messenger, native web chat.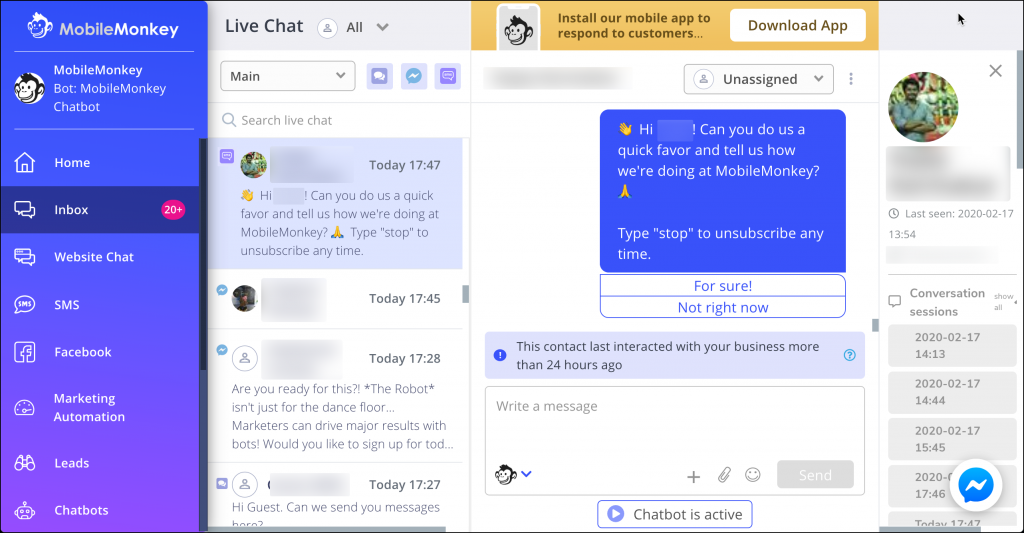 See messages that need human follow-up, flagged for your attention.
Assign conversations to live agents to follow-up with.
View the SMS contact's profile, chat history, and responses.
And you have the option to tag SMS contacts. One reason why you'd want to tag a contact is to add them to an audience to receive a follow-up campaign.
For example, tag an SMS contact when a support issue is closed, to automatically send them a survey to see if they're satisfied.
SMS Marketing Tool #3: Keyword Opt-in Tool
We've all seen the keyword method of SMS messaging opt-in that goes like this:
"Text the word CLUB to 309-740-3151 to join Larry Kim's unicorn marketing text message club!"
Use the SMS Keywords tool to set up an SMS autoresponder when someone text a special word to your SMS marketing phone number.
It's as easy as going to the SMS Keywords tool, customizing your keyword, and then setting up the SMS autoresponder using the StartBot chatbot builder.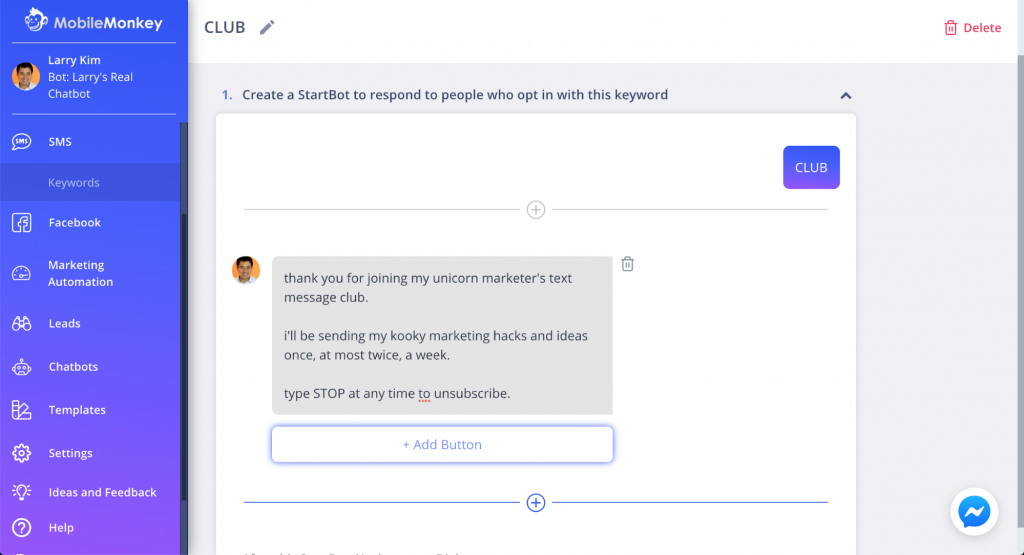 Now, any time someone texts the keyword to the number, they will receive the custom SMS autoreply.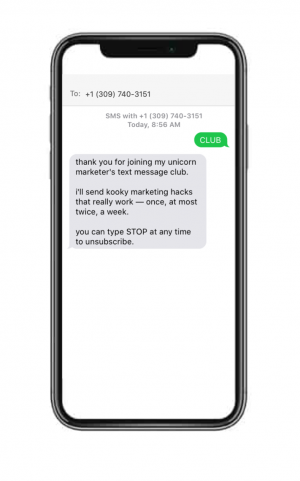 SMS Marketing Tool #4: Contact List Uploader
Have a list of customer phone numbers who have signed up for your SMS updates?
Use the Customers.ai SMS tool to upload a list of contact info and phone numbers for people who are interested in SMS updates.
From Leads tools, view Contacts and import phone numbers in a CSV file.
Then match the fields from the CSV to your Customers.ai contact attributes and voila, you've updated your SMS contacts to send automated messages to from the Customers.ai SMS marketing platform.
SMS Marketing Tool #5: Website Chat SMS Opt-in Widget
When leads and customers are chatting on your website chatbot, invite them to connect via SMS to stay in touch.
Available using Customers.ai native web chat as well as Customers.ai Facebook Messenger chat.
Invite them to provide their phone number to get updates, or as a method of follow-up in case they're disconnected.
Just add the SMS opt-in widget in Customers.ai to a conversation.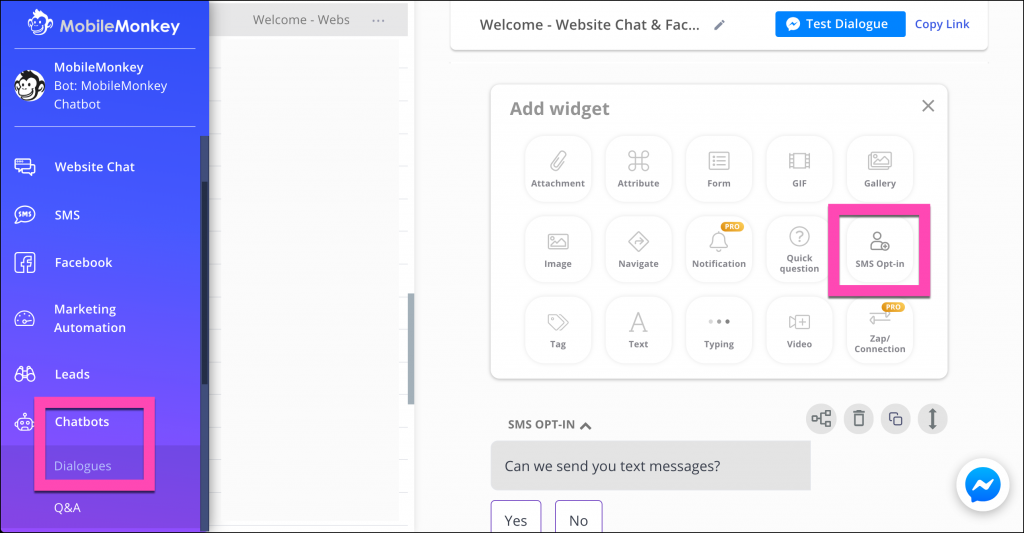 SMS Marketing Tool #6: SMS Text Blaster
With your SMS contact list growing, you're ready to send mass text messages to your contacts with the SMS tool called the SMS Blaster!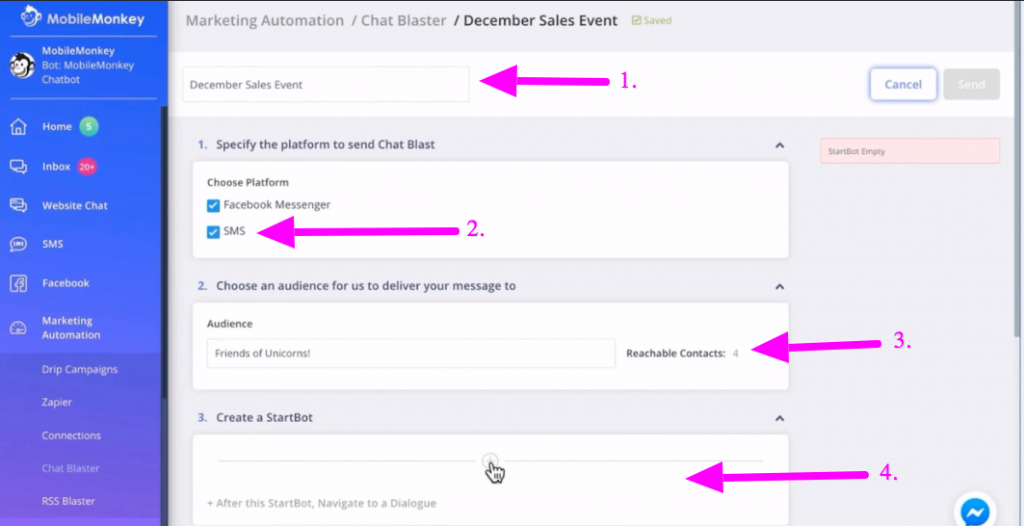 Go to the Chat Blaster in Customers.ai's marketing automation tools and set up a chat blast to send to SMS contacts, any Audience saved in Customers.ai and then set up the content to send in the text message.
SMS Marketing Tool #7: Text Message Quick Replies
Make your SMS text messages interactive by using quick replies.
Add a Quick Question widget in the StartBot chatbot builder or chat blaster SMS tool.
Give users the option to send a quick reply, like "Yes" or "No" in response to a question.
The SMS tools will translate quick replies into numbers, like "Text 1 for Yes, 2 for No."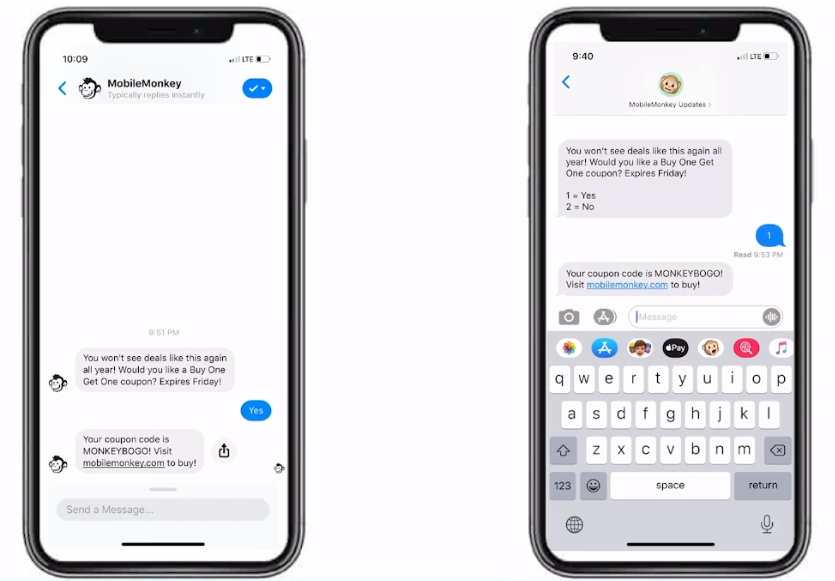 As far as SMS marketing platforms go, it doesn't get any easier than that!
SMS Marketing Tool #8: GIFs and Images in Text Blasts
Add visual interest as images and animated GIFs from the StartBot builder or advanced chatbot builder!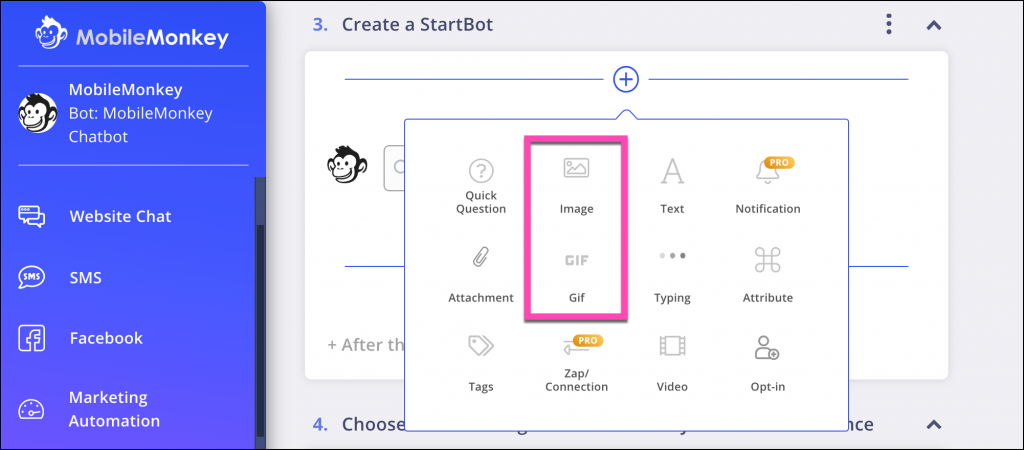 Just select the widget and then upload or search for images and GIFs to add to your SMS content.
SMS Marketing Tool #9: Emoji Keyboard
Did you know that emojis in your SMS messages increases visual interest and engagement? 
Well, they do. Which is why an emoji keyboard is built into the Customers.ai SMS marketing platform.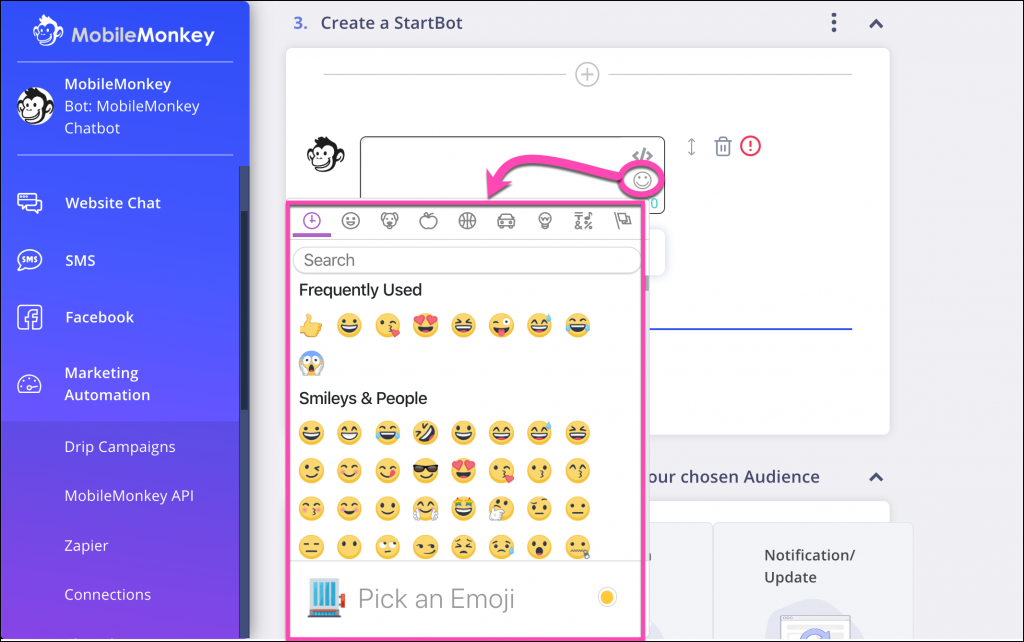 Customers.ai's emoji keyboard can be accessed in any text field by tapping the smiley face icon.
SMS Marketing Tool #10: Text Message Campaign Scheduler
Customers.ai SMS tools include a campaign scheduler to create SMS campaigns that you can schedule in advance.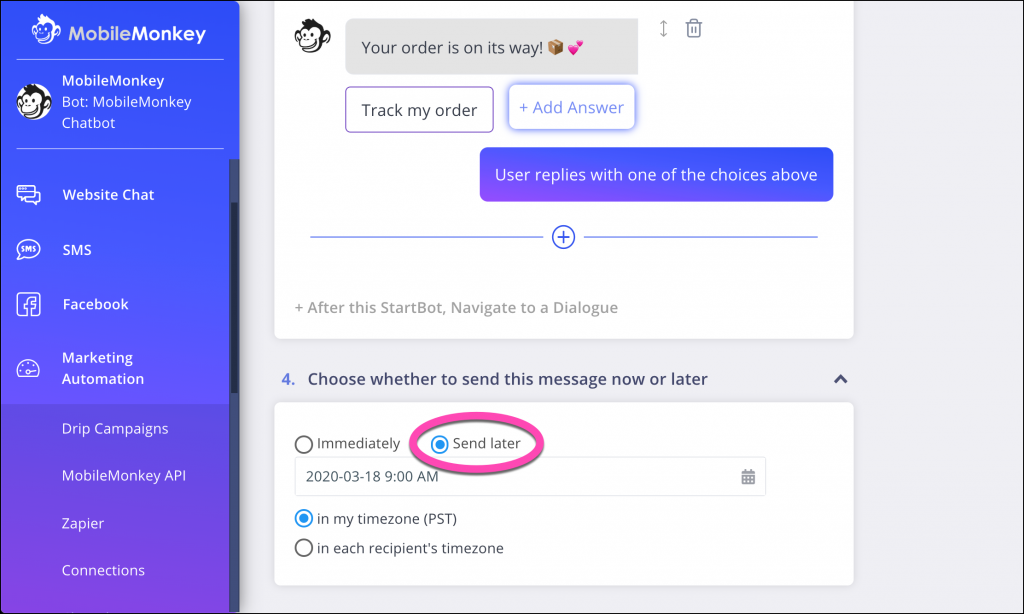 Just create an SMS chat blast campaign, then choose to send it later.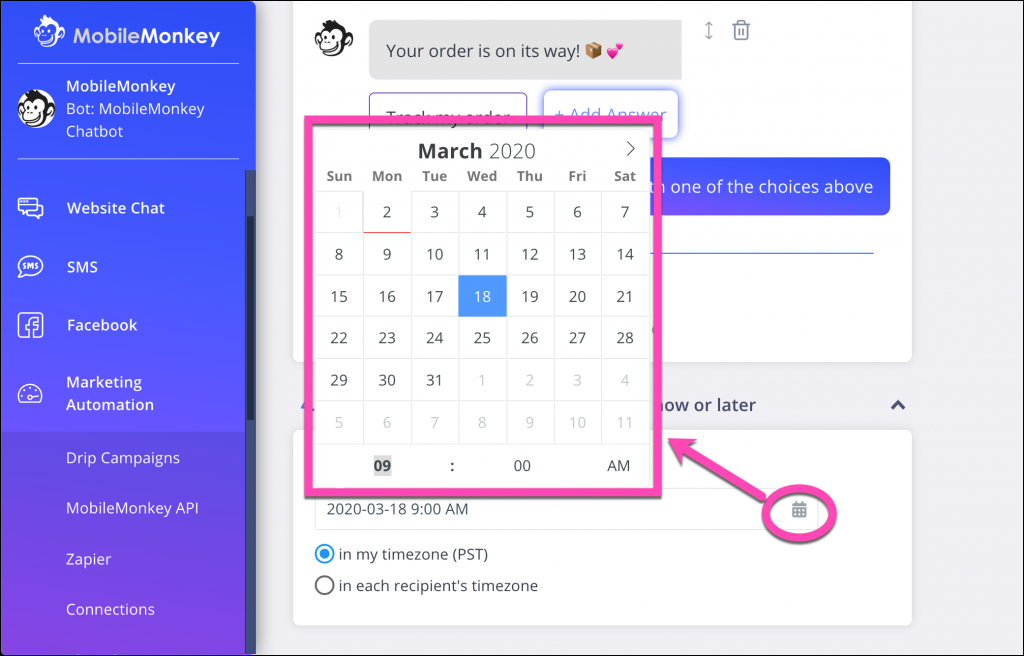 You'll see a calendar and clock that you can set to the time you want the campaign delivered to recipients.
SMS Marketing Tool #11: SMS Drip Campaign Builder
Drip campaigns are automated series of messages sent via SMS, chat applications and email, intended to educate and nurture leads and customers.
Customers.ai SMS marketing tools include a drip campaign builder for text message marketing.
Find the SMS drip campaign builder in the Marketing Automation tools.
Name your campaign, specify SMS as the platform to send the drip messages.
Select your audience of SMS contacts and set the times when these messages can send to recipients.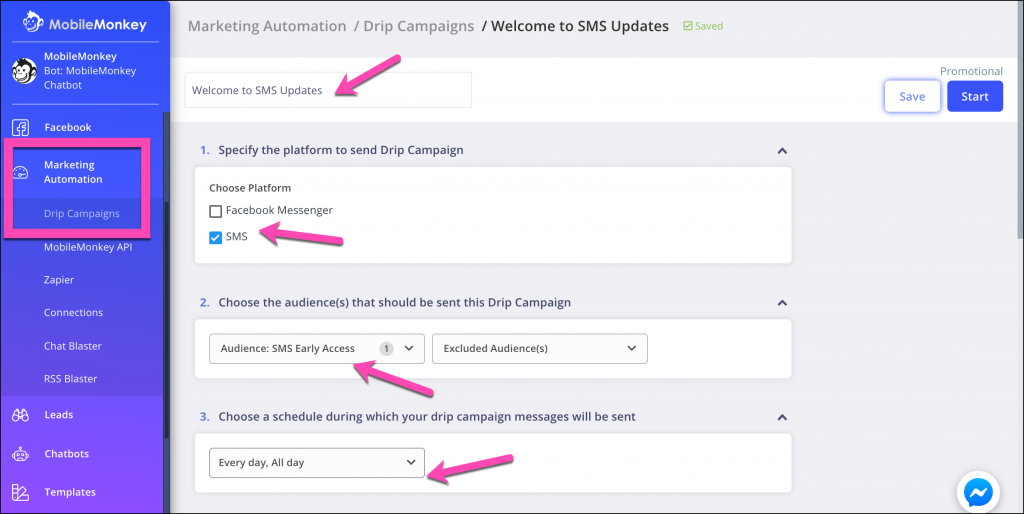 Finally, create the content for the drip marketing campaign series, including when to send it and what the message will include.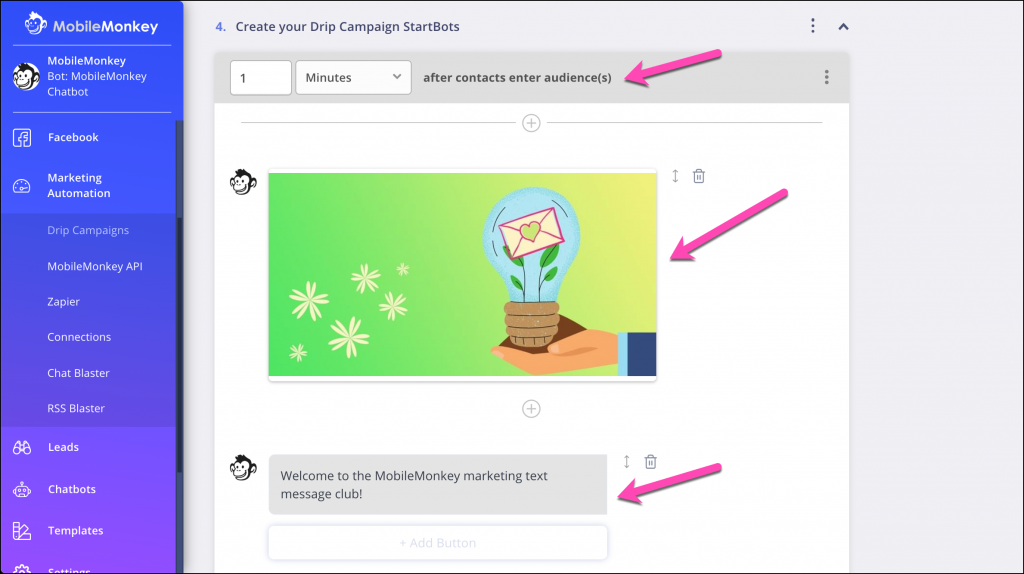 SMS Marketing Tool #12: Lead Notifications in Desktop
Use the notification widget in the StartBot or advanced chatbot builder to send a notification to the Customers.ai Chat App for Android and iOS.
SMS Marketing Tool #13: Mobile App Notifications
SMS Marketing Tool #14: Live Agent Takeover
You're sending SMS chat blasts and drip campaigns. What happens when someone replies?
Your team will want to be able to see the conversations that require follow up and jump into the convo using live operator takeover.
Do this from the OmniChat inbox on desktop or the Customers.ai Chat app.
SMS Marketing Tool #15: Contact Attributes
Every interaction that happens in automated SMS messages gets saved to your contact database, creating rich customer profiles.
View a contact's profile, including conversation history and the responses saved as attributes, from the Customers.ai contact manager.
See contact attributes from the mobile app inbox as well as the desktop app tools.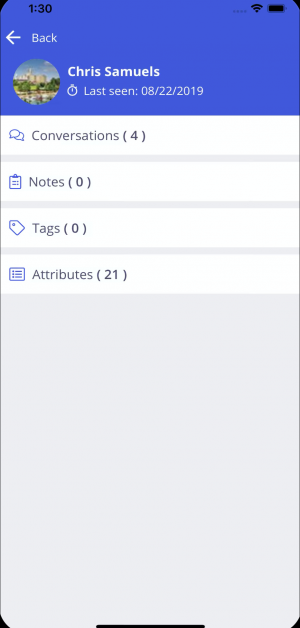 SMS Marketing Tool #16: Audience Segmentation Tools
Customers.ai SMS marketing tools enrich contact profiles with contact history and responses. Each response is saved as a contact attribute in the user profile.
Use attributes as well as tags to create audience segments.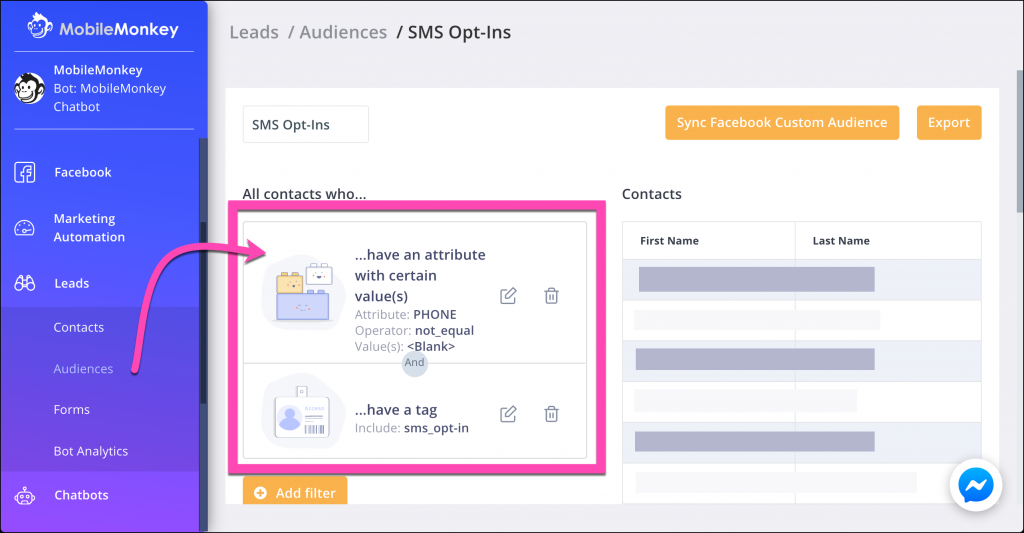 Then send campaigns including text message blasts and SMS drip campaigns to audiences that filter based on attribute and tag criteria.
SMS Marketing Tool #17: SMS Conversion Form
Want to track conversions executed with an SMS chatbot?
Customers.ai's advanced chatbot builder conversion forms let you do that.
Just use the form widget in a chat marketing campaign, and market a field in the form as a conversion.
Then use Customers.ai Chatbot Analytics to view the number of completed conversions in a given time period.
SMS Marketing Tool #18: SMS Campaign Analytics
Want to track conversions executed with an SMS chatbot?
Customers.ai's advanced chatbot builder conversion forms let you do that.
Just use the form widget in a chat marketing campaign, and market a field in the form as a conversion.
Then use Customers.ai Chatbot Analytics to view the number of completed conversions in a given time period.
SMS Marketing Tool #19: Triggers Based on Zapier Connections
Zapier is the glue that connects applications across the web.
Customers.ai has Zapier connections built in.
Zapier connections save time for a business by eliminating repetitive data entry and help you gain efficiencies so you can focus on creative, high-impact activities.
Google Sheets, email marketing apps, webinar apps, and more are directly connected to Customers.ai via Zapier integrations.
SMS Marketing Tool #20: Triggers with the Developer API
Use the Customers.ai API to retrieve or update contact data, and to send messages on any channel.
There are no limits to the number of ways you can connect your application to chat messages.
Get Started with SMS Marketing Today
You have these 20 SMS marketing tools and more at your disposal with Customers.ai.
Get started with chat marketing today free with the free forever plan.
Ready to upgrade a free plan with SMS features? Great! How much do SMS marketing tools cost?
Add SMS marketing tools to any PRO, PRO Unicorn or Team Plan in Customers.ai with a $9/month upgrade for an SMS marketing phone number!