SMS Drip Campaign Automation: Text Message Marketing With Chatbots
It's time to run an SMS drip campaign. Email drips still work, however, open and engagement rates continue to slide year after year.
SMS text messages, on the other hand, see much better results.
In fact, SMS open rates beat email open rates by nearly 5X, according to Ericsson. Additionally, the response rate of SMS is 45% vs email response rates of 6%, according to MarketingProfs.
So, not only are your customers more likely to open offers and communications via text, but they are also more likely to interact with your brand when you communicate via SMS messaging.
With Customers.ai SMS drip campaigns, marketers can:
Easily onboard and welcome customers.
Scale communications with automated messaging.
Increase engagement and sales for your brand.
Although drip campaigns are nothing new, SMS drip campaigns are a far more effective form of this proven marketing technique. On top of that, Customers.ai makes it easier than ever to execute at scale.
Add SMS Text Messaging Drip Campaigns to Your Toolbox
And Increase Your Open and Engagement Rates
Tips for Building an Effective SMS Drip Campaign
Before you build your first SMS drip campaign, you'll want to make sure it's going to be effective.
Here are some tips on when and how to properly execute SMS text messaging campaigns.
Understand when SMS drip campaigns are ideal
Drip campaigns are key to selling solutions that:
Have a learning curve
Benefit from training
Require onboarding
Just to name a few.
Keep your customer journey in mind
You should correlate SMS drip sequences with the customer journey.
Design campaigns that nurture your key audience segments, whether that's demographics or where they learned of your business.
For example, your message may differ if a customer came in from a Facebook ad, as opposed to opting-in to messages after watching a webinar.
Furthermore, messaging should keep in mind where your audience segments are in the funnel. Top of the funnel messages will certainly be different than the messages you send to long time paying customers.
Be clear on what you want from the audience
What's the goal of your campaign? Is it making a sale, getting users to opt-in, getting referrals?
Create a clear conversion goal for the drip campaign and an easy to understand pathway for the recipient to get there.
Lastly, make sure the call-to-action is short and sweet. If people don't understand quickly what they're supposed to do next, chances are your message will be ignored.
Focus on strengthening the relationship
Personalized messages are powerful and go a long way when it comes to strengthening customer relationships.
Therefore, address your audience by name and send messages from what at least appears to be a personal account whenever possible.
Always try to provide value
You need to demonstrate the benefit of engaging with your brand. And in order to keep customers engaged, every SMS text message should contain content that your audience will find useful.
For example, sending customers special or exclusive offers is one of the best ways to provide value in an SMS drip campaign.
75% of people wouldn't mind receiving a promotional SMS text message (after opt-in), according to MarketingProfs.
How To Set Up An SMS Drip Campaign With Customers.ai
Launch your SMS drip campaign with Customers.ai in 3 steps.
Setup an automated marketing campaign
Create content with the SmartBot editor
Create your drip sequence schedule
Step 1: Setup Marketing Automation Drip Campaign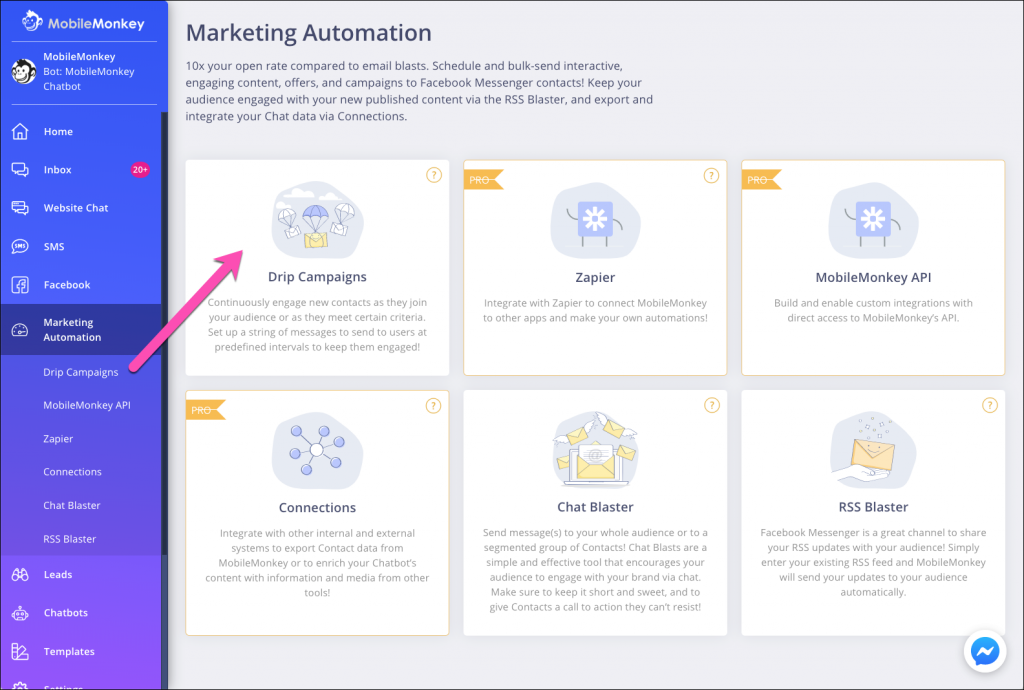 Just like email drip campaigns, start your SMS drip campaign by building the content.
Each piece of content for the campaign can be built with a drag-and-drop chatbot editor.
When you "create a new drip campaign", you'll see this screen below.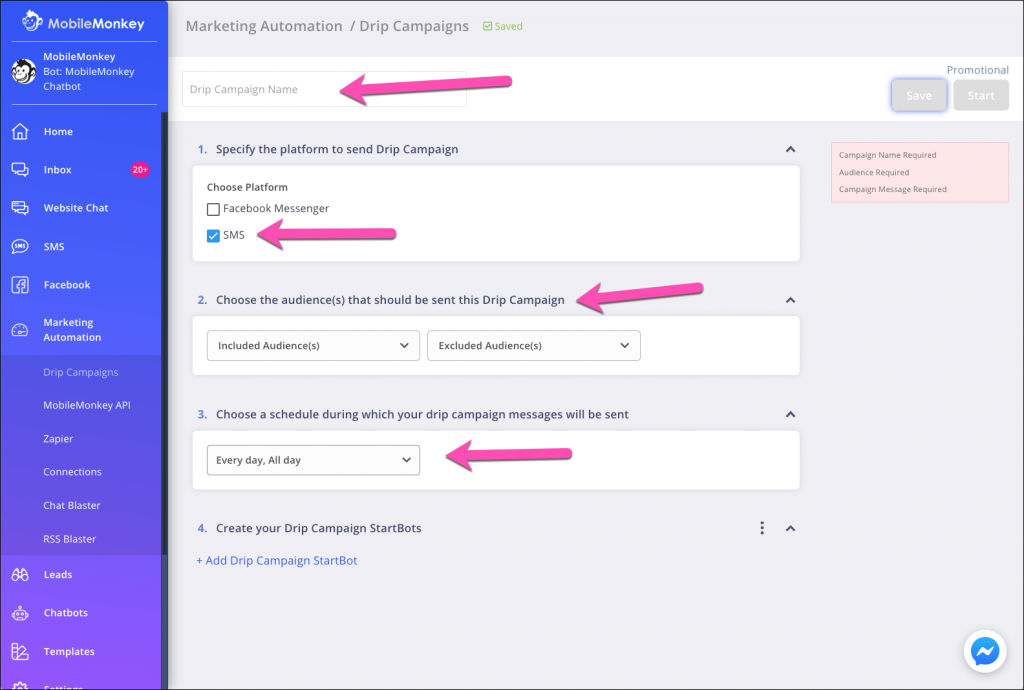 Name the campaign so you can pick it out in your line up. Then, choose to send this campaign in SMS.
By the way, through the magic of Customers.ai OmniChat, you can send this same SMS campaign to other marketing channels simultaneously!
Next, choose your audience — both the audience to include and if you like, exclude and choose your schedule — do you want to only send it weekends, only during certain hours of the day, etc.
Step 2: Use the StartBot editor to create your content
The beauty of the StartBot editor is where you get to create the content you want to send straight from the SMS drip campaign builder.
Choose from any of a dozen widgets including:
Plain text
Images and GIFs
Videos and attachments
Opt-in options for your other campaigns
Surveys and questions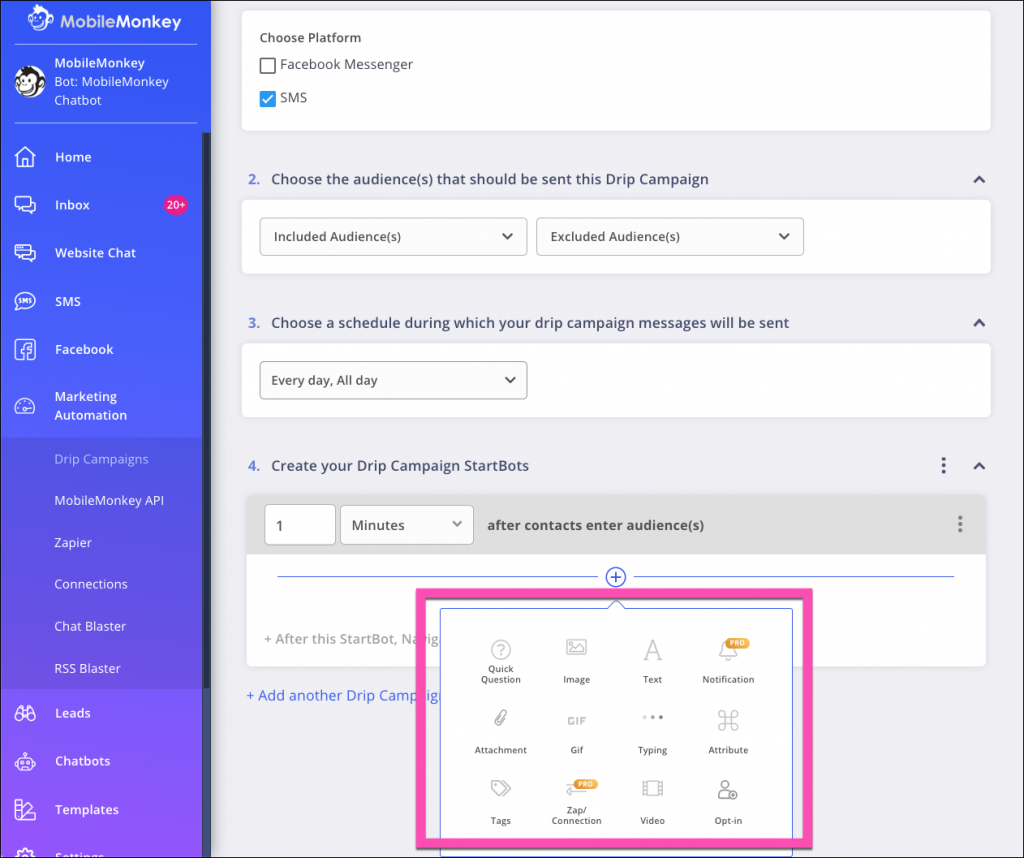 Step 3: Set the schedule for when your audience will receive each drip
Pick your audience, content and delivery schedule from easy drop-down options.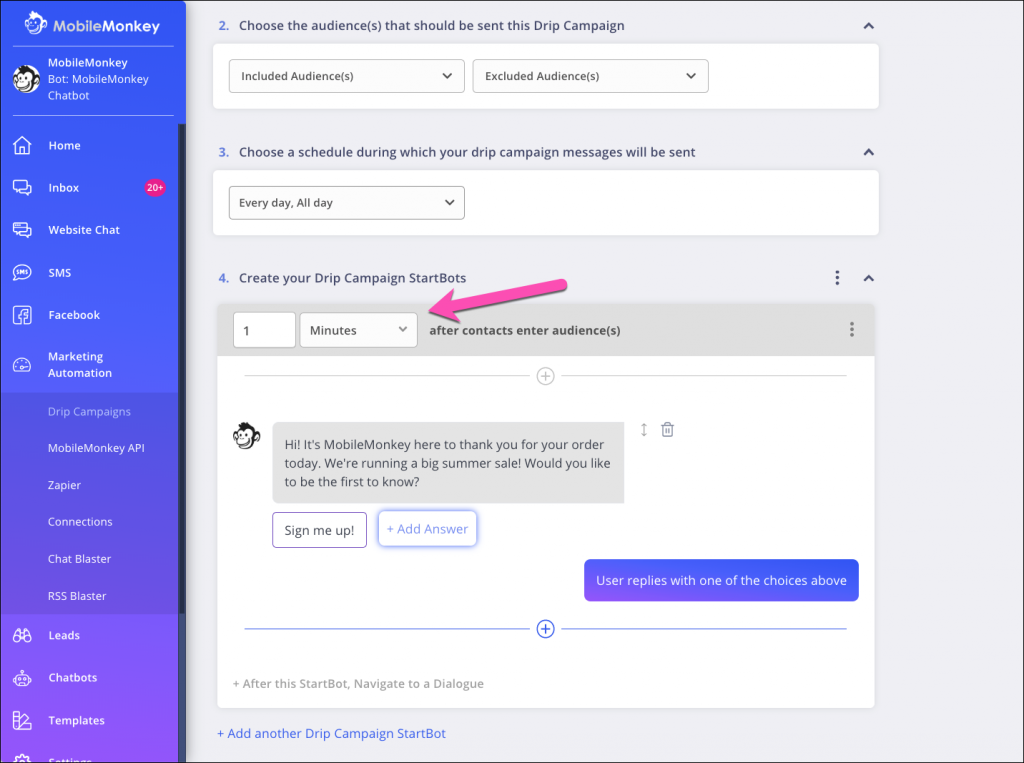 Add as many drips as you want.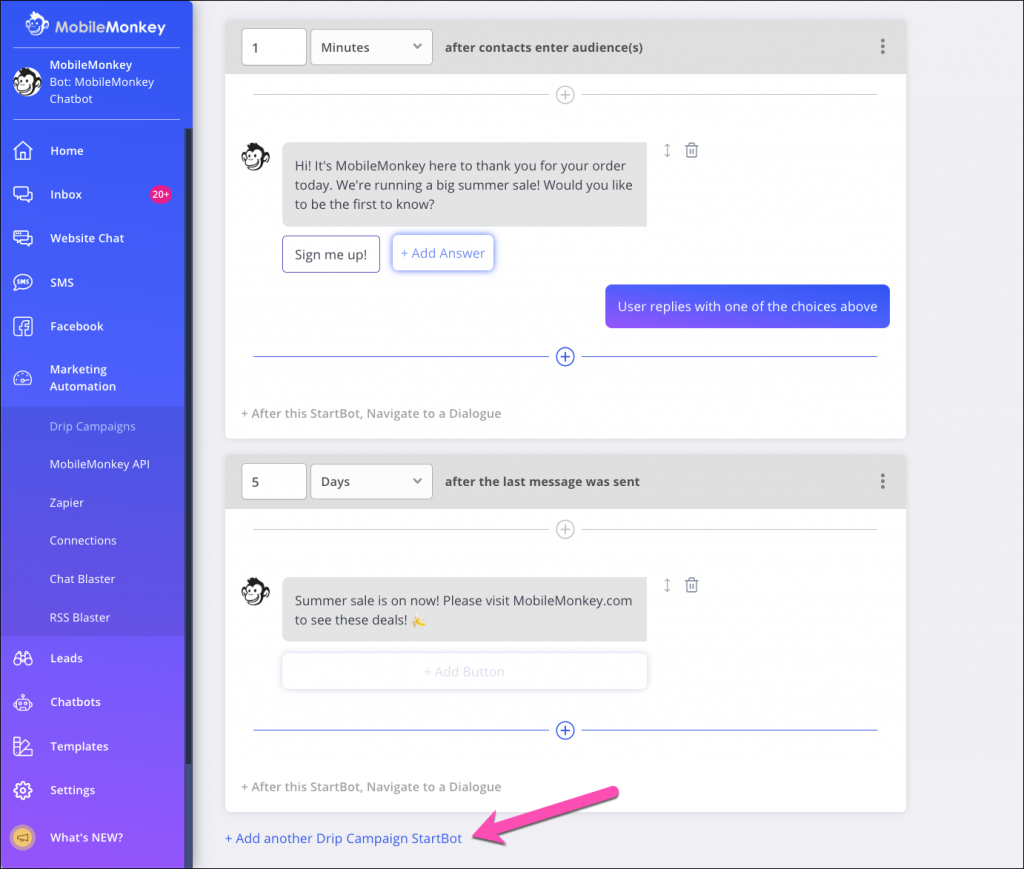 Finally, hit Start to activate your campaign!
What Else Can Automated SMS Drip Campaigns Be Used For?
Educational campaigns: SMS drip campaigns are an ideal way to deliver real value to your subscribers and establish yourself as an authority.
Promotional messages: It could be about your product, your latest events, discounts, and so on.
Lead nurturing: Most consumers need to be exposed to a message multiple times to have sufficient information to feel comfortable enough to convert.
Welcome new audience members: Create an introduction to your brand and content.
Check out these "20 SMS marketing tools no business should be without" for more ideas and insights.
SMS Drip Campaigns Are Powerful
Drip campaigns work for any type of business.
It doesn't matter what you're promoting, drip campaigns are a great way to keep your SMS list better informed.
Using Customers.ai to execute an SMS drip campaign gives you the ability to set up a series of messages in advance and send them to your prospects or customers according to any schedule you prefer.
This is an extremely powerful communications tool that has the potential to help you engage better with your audience and keep them interested in your business.
Take a Step Towards Automating Your Marketing
And Connecting More Effectively With Your Audience