Breaking a corporate grand opening record by
generating high-quality, cost-efficient salon bookings
with chatbot-powered click-to-Messenger ads

To shatter previous franchise records and launch the largest Grand Opening in the most cost-efficient way, Sharkey's Cuts For Kids, Odessa, TX, worked with Almost Magical Marketing to test Facebook ads that click to Messenger where an automated Customers.ai chatbot is used to enter potential clients in a giveaway, deliver a voucher, and assist applicants in booking their appointment for Grand Opening Day.
Fun Haircuts in Odessa, TX!
Sharkey's Cuts for Kids opened in Odessa, TX, in 2019. The salon focuses on creating a unique experience where haircuts are cool and fun rules.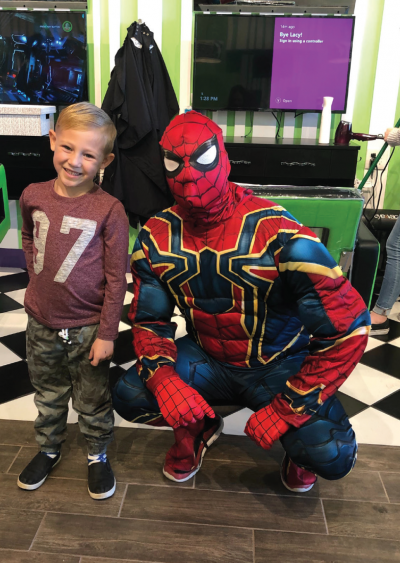 Break a grand opening record without spending a fortune on ads
Sharkey's Cuts For Kids in Odessa, TX, is a franchised hair salon owned by a wife and husband team. They manage customer care and the salon together.
Prior to running the campaigns, they hoped to break the corporate grand opening record of 78 services and maximize ad results while reducing the time spent in customer support by funneling prospects through a Messenger chatbot.
Driving appointments with giveaway incentives, FACEBOOK ADs & MESSENGER Bots to automate bookings
When launching a grand opening in a new city there are a lot of systems and processes that need to be established. In most cases, this is the first time a customer will be seeing or hearing about the brand so it's crucial to make a great impression from the start. Because of that, there's a lot of trust-building and anticipation that needs to be built up to maximize the effectiveness and showing at the event. 
In order to increase excitement around the event, Sharkey's launched a giveaway that would announce a winner on the Grand Opening date. The giveaway was promoted via Facebook ads to interest-based audiences and drove people to Messenger where the bot captured their information, gave them a voucher for the event, entered them into the giveaway, prompted them to book an appointment, and asked for permission to send them reminders about the event.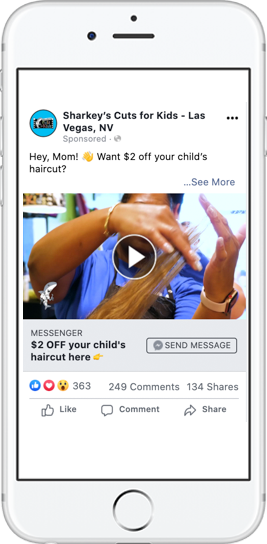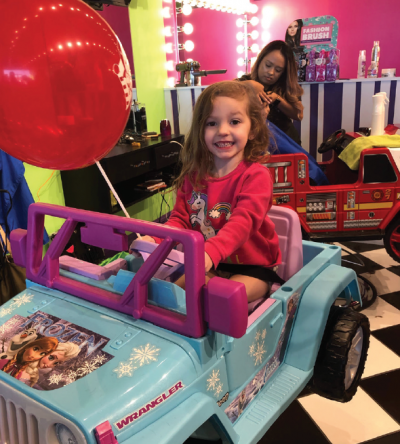 MESSENGER CHATBOT BREAKS CORPORATE RECORD & GENERATES +100 BOOKINGS!
With the Customers.ai chatbot programmed to guide prospects through the info capture process and address common obstacles to conversion, Sharkey's Cuts For Kids in Odessa, TX, was able to generate more than 100 appointments on Grand Opening Day. 
The event was completely filled so as a result, they decided to extend the voucher through the weekend. Using chat blasts and without any increase in costs, we were able to book an additional 60+ appointments for the
next day. 
The company reduced CPA by 58% when compared to previous franchise grand openings all through Messenger ads and chatbots funnels. During a large portion of the campaign, the CPR was around $0.65 but ended up stabilizing around $1.21 overtime. In conclusion, the company found that Messenger ads using interest targeting had a much higher conversion rate than other marketing avenues and techniques previously used by the franchise.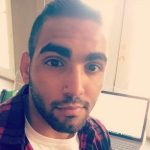 Kris Olivo, President, Almost Magical Marketing
Utilizing the power of Chatbots and Messenger marketing we are able to scale customer response for our clients, lower overall CPA in advertising efforts, and build better and more complete funnels to solve their specific needs.
Prior to working with the franchise, the record for the most haircuts performed on a grand opening day was 78 haircuts and that was achieved by a variety of way more expensive and time-consuming activities. 
Using Mobile Monkey we have built efficient and proven processes for our clients to open their businesses without having to worry about whether people will show up when the doors open. That way they can get back to what matters most.
Connect with your future customers today.