The best lead generation tools make it easy to capture quality leads with as little manual outreach and follow-ups as possible. However, building a scalable lead generation machine is quite a challenge. So, when you get that machine rolling, it's extremely rewarding.
In 2021, there are hundreds of lead generation tools to choose from, and naturally, some are built better than others. Furthermore, many of them no longer provide the same ROI as they once did due to overused strategies and a lack of further innovation.
This is why I'm sharing 20 lead generation tools with you that I know can grow your business from hands-on experience. With a combination of the following on-page, inbound, and outbound lead generation tools, you'll be able to quickly identify and convert leads.
Here are the 21 best lead generation tools for growth marketers in 2021:
Join Today's Webinar with Larry Kim!
Or Register for the Free Replay
Learn all about NEW 100% Meta-Approved Automation Tools from Customers.ai with a spotlight on features to 10X Instagram & Facebook Engagement and turn social media into a revenue driver for your business.
#1. Live Chat Software for Lead Generation: Customers.ai
The best live chat software in 2021 allows you to proactively engage with customers and prospects in order to grow revenue, generate leads, and offer real-time support across multiple channels.
Most live chat software is only found on a company's website. However, with OmniChatⓇ technology by Customers.ai, you can instantly talk to customers across multiple channels, whether that's your website, SMS text messages, or the messaging apps they already use.
Having the ability to use live chat software tools on different marketing channels, all from one unified inbox, is a game-changer that only the best chatbot technology can deliver.
Here are some other great examples you can get started with today to generate leads using live chat:
Adding Customers.ai to your digital marketing tools is guaranteed to generate tons of quality leads for your small business, and fast.
#2. Landing Page Builder Lead Generation Tools: Unbounce
Unbounce is one of the most popular landing page builders for digital marketers because there are no coding skills required, and they have some of the best lead generation tools.
Its 'Conversion Intelligence' and 'Smart Traffic' features help to set Unbounce apart from the competition.
When you're running highly-targeted campaigns, such as account-based marketing campaigns, you need your entire funnel to be tailored to its audience. This is why custom-built landing pages are so important.
Think about it…
If you click on an ad that's promoting chatbots for marketing agencies and you landed on a homepage that isn't marketing agency-specific, the chances of converting that traffic drops. However, if you were redirected to a landing page that says in big bold letters, "The Best Chatbot Platform For Marketing Agencies", you've found exactly what you were looking for.
So, when you build your marketing funnels, use a tool like Unbounce to quickly create multiple, campaigns specific landing pages. Conversion rates are guaranteed to go up, and search engines will reward you for it.
With Unbounce, you can duplicate your most successful landing pages to save time and build high converting pages in bulk. Furthermore, you can A/B test variations of landing pages to see which messaging and designs perform best.
#3. Lead Generation Tools for Data Collection: Leadfeeder
Leadfeeder is a site visitor identification tool designed for digital marketers and sales teams to generate leads. Its tools tell you which companies visit your website, even if they never fill out a form or otherwise contact you.
All you need to do is install the Leadfeeder Tracker to your site and connect your account to Google Analytics. Once installed, you'll get the following details on your site traffic:
Company details including industry, employee count, and contact information
Which pages visitors looked at and how long they spent there
Where visitors came from before landing on your site
Being able to generate leads from web traffic that doesn't convert or fill out a form is a no-brainer. As long as the cost per lead is below your existing cost per lead, tools like Leadfeeder are worth testing out.
#4. Lead Generation Tools to Build Email Lists: FindThatLead
FindThatLead is a great lead generation tool for building lead lists and capturing emails on different platforms.
Companies that need to build lead lists fast commonly use FindThatLead to:
Perform targeted prospect searches and get their contact information.
Build segmented cold email lists and schedule drip campaigns.
Continuously feed your sales team leads to reach out to.
For more growth marketing strategies to build email lists, check out these 50 different ways to build an email list fast!
#5. Lead Forms for Lead Generation: Leadformly
With Leadformly you can embed lead forms just about anywhere. Its lead forms work on any CMS, from WordPress and Squarespace to Magento.
Leadformly has many lead generation tools and features, such as:
58+ lead form templates
Customize the look and feel to match your branding
Multi-step forms and conditional logic to create conversational lead forms
Data segmentation to qualify, and convert leads into customers
Lead forms can be embedded on your website and linked to your CRM. Then, you can use Leadformly's analytics & A/B testing tools to increase your conversion rates.
#6. Lead Generation Tools for Building Mailing Lists: Thrive Leads
Thrive Leads is a lead generation plugin for WordPress. It combines many different types of opt-in forms into one plugin and gives you a simple drag-and-drop editor to create great designs.
Furthermore, you can get a conversion boost by showing relevant offers to your visitors based on posts, categories, tags, and more.
ThriveLeads is a sophisticated plugin, not your old-school list building plugin. It commonly updates with new conversion tactics and growth hacking strategies that are proven to grow contact lists quickly.
If you're not using WordPress, consider using a tool such as HelloBar or Leadformly.
#7. Prospecting Lead Generation Tools: LinkedIn Sales Navigator
Designed for sales professionals, LinkedIn Sales Navigator helps you focus on the right people and companies, stay up-to-date on what's happening with your accounts, and build trust with your prospects and customers.
I highly recommend combining LinkedIn Sales Navigator with the #8 lead generation tool on this list – LinkedHelper.
Key features of LinkedIn Sales Navigator include:
Advanced lead search to zero in on decision-makers with filters such as geography and seniority level.
Lead recommendations and saved leads to discover the right people, save them, and keep contact info up-to-date.
Alerts and insights to help take the right action at the right time with real-time updates on leads and accounts, such as job changes and recent company growth.
#8. Lead Generation Tools for LinkedIn Automation: LinkedHelper
Put your LinkedIn Sales Navigator account on steroids with LinkedHelper's many automation tools to build connections, send 'Inmails', and generate leads.
By combining LinkedIn Sales Navigator with LinkedHelper, you can:
Acquire thousands of targeted contacts by sending personalized invitations to 2nd & 3rd contacts.
Create an auto-mailing system, auto-responders, and sequenced messages to 1st connections or LinkedIn Group Members.
Automate profile visits & export lead lists to CSV for Google Sheets and MS Excel.
Build targeted mailing lists.
Boost your profile by automating the endorsement of targeted profiles, and receive endorsements in return.
Invite 1st connections to join a LinkedIn Group.
Automatically add your signature to messages, follow or unfollow LinkedIn connections, and withdraw sent pending invitations.
Lastly, LinkedHelper has a great lists manager that allows you to build a lead generation funnel and avoid intersections between campaigns.
#9. Webinar Lead Generation Tools: EverWebinar
EverWebinar is a great 'set it and forget it' solution that allows you to create evergreen webinars.
Similar to evergreen content, which we normally associate with blog posts, EverWebinar facilitates the sharing of webinars as many times as you'd like.
The best part of the EverWebinar platform is that the audience always feels like they're watching a live recording. After you've recorded a webinar, there are many features you can use to create what looks like a real-time and engaged audience.
For example, you can add comments, questions, and live polls that appear to happen in real-time to the viewer.
Additionally, to send traffic to your EverWebinar's, you can add countdown timers to your website that makes it look like a brand new webinar is about to start in (for example) 10 minutes. So, even though it's a recording that you could have made a year ago, interested site visitors will sign-up with urgency thinking they got there just in time.
Although EverWebinar is somewhat deceitful, once you get good at using the platform, you'll be able to generate tons of leads over time with one recording.
If you're already running webinars on Zoom, take a look at how to use chatbots to invite more people to your Zoom webinars.
#10. Social Media Forums for Generating Leads: Quora
If you're having trouble generating enough SEO traffic, Quora is a great option. I've personally received over 335,000 views of my answers over the years, and traffic has always converted at a high rate.
Here's a big part of my Quora strategy that you'll want to take note of: Find questions that have a high follow-to-answer ratio.
What does that mean? It means you should look for questions that a lot of people have added to their followed questions, but have only a few answers. A ratio of 5:1 or better is ideal.
Additionally, after you create a piece of content, find five or more Quora questions that are relevant to your content, and provide a short version of the answer that links back to your content. For example, at the end of your answer, add some anchor text linking back to your content that offers a more in-depth answer to the question.
The results over time will build, and you'll be rewarded by search engines as well as much more traffic to your content and website.
#11. Lead Generation Tools for Text Message Marketing: Customers.ai
Text message marketing is one of the most popular lead generation tools you can have in your tech stack. And that's because SMS has by far the highest open and engagement rates of any kind of media.
Take a look at these SMS marketing statistics which prove my point.
Using Customers.ai OmniChatⓇ technology, you can engage with your audience with chat blasts in real-time via:
SMS text message marketing is incredibly effective in both generating new leads and converting existing leads.
In fact, the average response time to business text messages is just 90 seconds. If you compare that to an average of 90 minutes for business email, then you'll understand why I'm emphasizing the importance to take note of these SMS marketing tips, and to add SMS to your marketing toolset.
Check out these 20 SMS marketing tools available on the Customers.ai platform.
Find Your Customers with Customers.ai
See the new Customers.ai sales outreach automation platform. With X-Ray Website Visitor Detection and automated email and SMS outreach to help mid-market companies find their perfect customers. Request a call to learn more about sales outreach automation today!
#12. Lead Generation Tools to Grow Your Contact List: HubSpot Forms
HubSpot is a full-stack CRM platform that has all the tools to attract leads and convert them into long-term customers. All of HubSpot's tools are powered by the HubSpot CRM which helps you follow your leads along their buyer's journey so you can make their experiences as unique as possible.
HubSpot's online form builder is easy to use but also deeply powerful. Whether it's an embedded form, a standalone page, or a popup box, the tool easily integrates with your website. The popup and slide-in boxes also come with exit-intent and scroll triggers so you can get your visitors' attention at just the right time.
The drag-and-drop editor allows you to add all sorts of form fields to collect any information you're looking for. Once the form is live on your website, HubSpot will automatically add these new contacts to your CRM. The CRM then automatically keeps track of their information and activity on your website, giving you the ammunition you need to better tailor your marketing campaigns. This includes intricate list segmentation and deeply personalized emails.
Here are the main features to consider:
Free CRM.
Unlimited forms.
Unlimited form fields.
Customizable lead form templates, each tailored to a specific goal.
Multi-step forms and conditional logic.
Advanced lead management.
Comes with more lead generation tools: landing page builder, email marketing, live chat, an ad builder, and more.
HubSpot's form builder integrates with the most popular business tools like Mailchimp or Salesforce. If you're using WordPress, you can also install the HubSpot WordPress plugin.
#13. Lead Generation Tools for Email Lookup: Prospect.io
Prospect.io has email lookup tools to build lists and automate your outbound lead generation campaigns.
Building your lists is the very first step in sales prospecting. Prospect.io has tools to speed up the process while ensuring you build high-quality lists.
Additionally, with Prospect.io, you can combine personal emails, follow-up calls, social touches, and tasks into a multichannel campaign to reach your prospects wherever they are.
Prospect.io also has analytics and productivity tools that generate a list of tasks for you every day within campaigns. These tools help to make the most out of your sales efforts and to track your team's performance over time.
#14. Cold Email Lead Generation Tools: Woodpecker
When it comes to cold email software, I've had the best results with Woodpecker.
Woodpecker is the best tool for companies who need to contact prospects with automated, personalized email drip campaigns.
The platform is specifically designed for cold emails and follow-ups that you can send directly from your Gmail and other major email clients.
One of the most common issues with cold emails is being blacklisted or ending up in spam folders. I've found Woodpecker to be the most secure email client for automated campaigns to mass email lists.
Furthermore, Woodpecker is a great marketing agency tool for sending bulk emails because it's easy for agencies to switch between client accounts and track results.
#15. Email finder and outreach automation tool – Reply.io
If you are looking to take your outreach to the next level and engage your audience on other channels as well, try Reply.io.
Reply.io orchestrates your inbound and outbound campaigns using emails, calls, LinkedIn interactions, SMS, and even WhatsApp messages. You can employ a mix of automated, semi-automated, and manual touchpoints across the listed channels to build personal connections with your prospects at scale.
There's also a handy email finder add-on that helps you discover prospects on LinkedIn, both in-bulk and one by one, to build targeted mailing lists.
Some other noteworthy features in Reply.io include:
AI-powered inbox sorting and email quality check
Team collaboration
Zapier actions as a step in the sequence
Advanced email personalization
#16. Lead Generation Tools for Scheduling Meetings: Calendly
Calendly is a great tool to avoid all the back and forth emails trying to set a meeting with prospective customers.
Setting up your account is fairly simple. All you have to do is let Calendly know your availability preferences and it'll do the work for you.
Then, share your link in emails, your website, and other correspondence to automate the scheduling of your meetings.
Prospects will pick a time and the event will then be added both of your calendars. Calendly integrates with all major calendars, such as Google, Outlook, and iCloud.
#17. Lead Generation Tools for Social Media: Phantombuster
With all the growth hacking strategies that have become popular in recent years, one marketing automation tool emerged as one of my favorites. And that's Phantombuster.
Phantombuster provides over 200 code-free automation and data extraction tools for LinkedIn, Twitter, Instagram, Facebook, Pinterest, Zapier, Medium, Quora, and others.
Each tool in Phantombuster can be used individually or combined with others to create full workflows.
For example, you can automate lead generation on LinkedIn, be noticed by Instagram users, hire developers from GitHub, receive follows from your competitor's Twitter followers, or acquire the Instagram accounts of all the restaurants in a neighborhood.
Use Phantombuster on your social media channels to automate the following:
Lead generation
Audience building
Increasing social reach and engagement
#18. Lead Generation Tools to Run an Online Contest: UpViral
UpViral is a sweepstake, rewards, and waitlist campaign platform that makes it simple for entrants to follow your brand on social media, visit your YouTube channel, subscribe to your newsletter, and more.
The platform is known for sweepstakes and comes with pre-built campaign templates, automated trigger emails, real-time fraud detection, and unlockable milestones to keep participants motivated.
UpViral does a few things that other contest platforms don't, such as verifying that actions have taken place.
The biggest problem with contest platforms is the number of people trying to cheat the system. So, by verifying the entries to social networks (where allowed). This reduces the number of steps required to enter, saves you time & drives higher quality entries into your campaign.
Additionally, UpViral has cool interactive leaderboards that use gamification, which can generate a lot of leads in a short period of time.
UpViral users can also access sales tools on the platform that help to increase ROI and lower ad costs.
#19. Lead Generation Tools to Run a Facebook Contest
Giveaways and contests naturally have the ability to go viral and generate a ton of leads fast. And the best way to run a Facebook contest is via Messenger, which is used by over 1.5 billion people daily.
Facebook contests are an effective tactic for generating new leads, getting more fans, and expanding your network reach.
But contests using a chatbot to do the heavy lifting have even more upside:
Instant lead capture
Low-friction user participation
Automated follow-up and management
Furthermore, running a Facebook contest is an opportunity for lots of innovative ideas. That's because you can get creative with the rewards, prizes, and incentives you decide to offer.
Keep in mind that it's important to focus on aligning rewards with your brand and the giveaway you're running. Giving away an Amazon gift card only provides an incentive to get a gift card, which has nothing to do with your brand. Instead, the prizes you giveaway should be things that your target audience would like to receive.
Interesting in learning how to do a giveaway on Facebook? Check out these 10 Facebook Messenger bot contest examples for more ideas!
#20. Lead Generation Tool for LinkedIn- GetProspect
GetProspect email finder tool extracts emails from LinkedIn via Google Chrome extension. This service is ideal for marketers and other sales professionals who regularly search for leads and contacts.
With GetProspect, users can effectively collect information about their customers and connect with them directly through emails. This allows you to quickly and efficiently find and contact potential customers, increasing your chances of business success.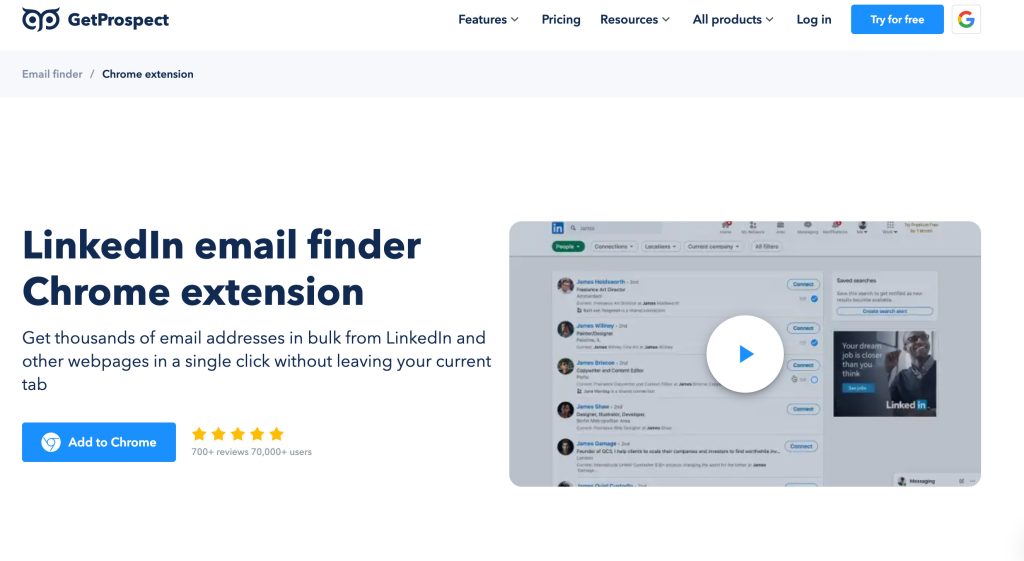 You can install GetProspect in just three steps and get a number of benefits:
Work with different Linkedin accounts;
Automatic extraction of multiple profiles;
Integration with Pipedrive, Hubspot, SalesForce, MailChimp, and 2000+ other services;
Built-in CRM;
Simple and intuitive interface, data security, and all this for a small budget!
Looking for an effective B2B and marketing solution? GetProspect is that powerful tool for anyone involved in sales or marketing on LinkedIn. By using this extension, you can find and contact your prospects much faster and more efficiently, which can have a positive impact on your business. Download GetProspect today and see how effective it is in action!
#21. Free Facebook Lead Generator by Customers.ai
What if you could capture the contact information of every visitor to your Facebook business Page?
Surprise! There's a super-easy way to generate leads from your Facebook Page, and it's called the Free Facebook Lead Generator.
The Free Facebook Lead Generator by Customers.ai is a free tool that turns your Facebook Page fans into leads. All you need to do is add the lead generator tool to your business page and posts one time.
The Free Lead Generator will then capture the people who follow and like your company's page on Facebook.
And you capture their names, emails, and phone numbers – automatically!
Here's how the free Facebook Lead Generator works:
Fans and prospects message your Facebook Page and comment on Posts.
Customers.ai auto-replies in Messenger to collect emails and phone numbers.
Then Customers.ai sends you a daily email report containing all your new leads.
Use Customers.ai to re-engage your leads at any time.
So, don't let hot leads on Facebook fall through the cracks. And find out who your Facebook Page visitors are!
Add a free, automated answering service to your Facebook Page and Posts to capture critical contact info so you can follow-up with prospects fast using the Free Facebook Lead Generator.
Check out the top 7 chat marketing tactics of 2020 to learn how to use live chat, SMS, and Messenger for marketing, sales, and customer support!
Need More Marketing Software?
If you're in need of even more marketing tools, look no further. Browse through hundreds of more marketing tools in the following lists:
Join Today's Webinar with Larry Kim!
Or Register for the Free Replay
Learn all about NEW 100% Meta-Approved Automation Tools from Customers.ai with a spotlight on features to 10X Instagram & Facebook Engagement and turn social media into a revenue driver for your business.
Important Next Steps
Ready to get rolling with chatbot marketing lead generation tools?
See all the tools in Customers.ai's multi-channel chatbot platform by signing-up for a free Customers.ai account.