As a former startup founder that's spent years working with multiple bootstrapped companies, I can honestly say that I've used all of the free marketing software tools on this list.
So, I can guarantee you that all the tools on our list come highly recommended for entrepreneurs, startups, and companies looking to save on budget.
In order to make the list easier to navigate, we've broken down the 27 best free marketing software tools into ten categories:
Grade Your Website Lead Conversion Rate Instantly
Get an instant website audit and 50 leads for free
Marketing Automation Software
Free Marketing Software #1: Phantombuster
Phantombuster provides over 200 code-free automation and data extraction tools for LinkedIn, Twitter, Instagram, Facebook, Pinterest, Zapier, Medium, Quora, and others.
Each tool can be used individually or combined with others to create full workflows.
For example, here's a workflow that uses three different automation tools for lead generation on LinkedIn.
Use Phantombuster on your social media channels to:
Generate leads
Save time
Build audiences
Increase reach and engagement
Free Marketing Software #2: Zapier
Zapier is a great tool for marketers on a low budget because you can create automated workflows across tools in your mar-tech stack. Zapier is compatible with thousands of tools, and you can easily chain commands together with an "If X happens, do Y" structure.
For example, the Customers.ai Zapier integration allows you to easily send information that's stored to customer profiles in Customers.ai to other applications.
Here are just some of the more popular "Zaps" for Customers.ai users:
Add all new leads to your CRM, such as Salesforce
Send SMS messages or Slack notifications to new contacts
Subscribe new Customers.ai contacts to MailChimp
Zapier automation allows you to combine multiple actions and apps together in a single Zap.
Zapier will save you lots of time by automating repetitive tasks and please your clients when you're able to work with their tech stack.
Free Marketing Software #3: Customers.ai
Customers.ai enables companies to proactively engage with audiences via live web chat across multiple channels in order to generate leads, re-engage customers, and offer real-time support.
Using OmniChatⓇ technology and chatbot marketing automation, Customers.ai instantly connects customers and prospects to brands through native web chat, SMS text messaging, Facebook Messenger, and other popular messaging apps, all from one platform.
Customers.ai has a free forever edition that comes with marketing automation tools such as:
Free Marketing Software #4: HubSpot
HubSpot's Marketing software is part of a CRM platform that gives you all the free tools you need to get a solid foundation to grow your marketing strategy.
HubSpot's marketing software has all the tools you need to attract, engage, and retain customers.
And as far as pricing goes, HubSpot Marketing Software starts with a free-forever plan that includes all the basic tools to get your business off the ground: email marketing, live chat, landing pages, forms — all integrated with HubSpot's free CRM.
Then, as your business grows, HubSpot is designed to scale with you and has paid plans that cover any business size, from SMB to Enterprise.
You can use HubSpot in many different ways to help support your marketing strategy:
Set up custom signup forms and popups to capture new leads.
Build high-converting landing pages with the drag-and-drop builder and customizable pre-built templates.
Send personalized emails to your contact list.
Manage your digital ad campaigns from within HubSpot and tie your efforts back to the rest of your marketing strategy.
Track your contacts' interactions with your business in the HubSpot CRM.
Free Business Name Generator #5: Renderforest
Renderforest's free business name generator is an online solution that helps businesses come up with unique and creative names for their brands. Just enter one or more keywords related to your business and the tool will generate hundreds of potential business names based on the topics and keywords you provide. This is a powerful solution that makes the process of naming your business much easier and saves you time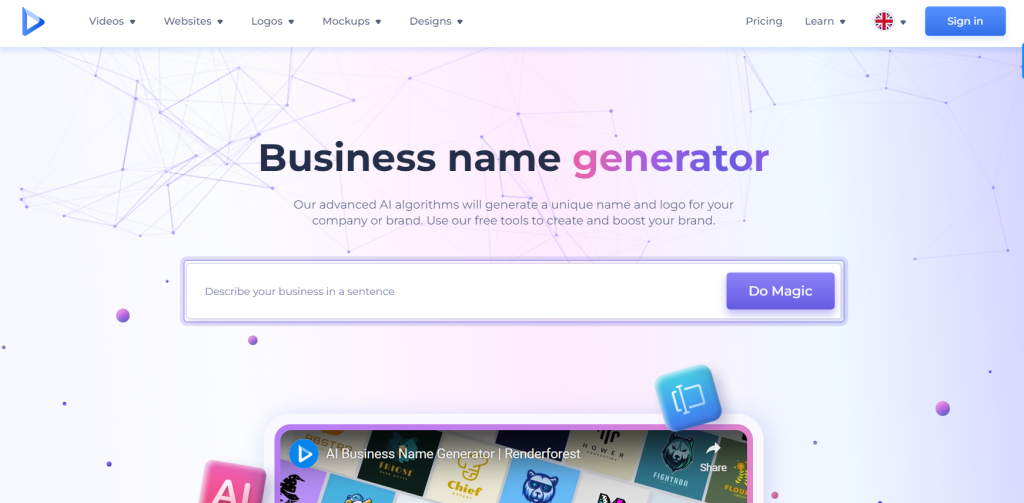 Social Media Software
Free Marketing Software #6: MeetEdgar
Okay, so MeetEdgar is the only tool on the list that isn't free. However, it's really cheap and the first 30 days are free. I've added it for a reason…
The time MeetEdgar will save you and the results it will deliver makes this tool as good as free.
MeetEdgar is a content recycler which you can use to automate the sharing of all your evergreen content across most major social media channels.
Unlike content schedulers such as Hootsuite and Buffer, you can create the posts that are most important to your content strategy one time, and then have them post on a recurring schedule over time.
This ensures that your followers and page visitors are most likely to find the content that converts and attracts a wider audience.
You can use MeetEdgar across your social channels to do the following:
Promote your best content, on repeat.
Save time scheduling the same content over and over again.
Auto-generate and test variations of posts linking to the same content.
Schedule how many times per day you want your evergreen content posted to each channel, and at what times.
Free Marketing Software #7: LinkGallery by Rebrandly
Both Rebrandly and their tool LinkGallery have free versions available. Rebrandly is a URL shortener with custom domains that you can use to brand and track URLs with its link management platform.
LinkGallery by Rebrandly lets you seamlessly manage one bio link for all your social media platforms. It enables you to direct your audience to all the different articles, events, sites, and shops that matter to them most.
You can use Rebrandly's LinkGallery tool to do the following:
Create a unique bio link and add new content to the gallery over time.
Get detailed click stats from your audience to understand what they interact with the most.
Enhance your users' experience by directing them to specific destinations based on their browser.
Free Marketing Software #8: Customers.ai
Customers.ai is an omnichannel chatbot that enables companies to proactively engage with audiences across Facebook Messenger, live chat on your website, SMS text messaging, and other popular messaging apps.
This year they're introducing bots for WhatsApp, Instagram, and iMessage as well.
Even on the Customers.ai free forever plan, you can run unlimited Facebook Messenger campaigns. Some popular social media strategies with Customers.ai chatbots are:
GET
NEW 100% META APPROVED AUTOMATION TOOLS TO GROW YOUR AUDIENCE IN INSTAGRAM & FACEBOOK

FROM CUSTOMERS.AI

Increase social media ROI through instant engagement, audience monetization, and time saving tools for creators, coaches, influencers and social media managers. Activate InstaChamp superpowers for Instagram and Facebook for free this week!
SEO Software
Free Marketing Software #9: Ubersuggest
Ubersuggest has a great free version for SEO research and management. The tool was launched recently by Neil Patel, one of the most recognized digital marketers globally.
Ubersuggest allows you to get insight into the strategies that are working for others in your market so you can adopt them, improve them, and gain an edge.
When it comes to keyword research, from head terms to long-tail phrases you'll get hundreds of suggestions from Ubersuggest's free keyword tool. You'll also see volume, the competition, and seasonal trends for each keyword.
And to make things easier it also generates a list of keywords for you based on what is working for your competitors and what people are typing into Google.
Using the Ubersuggest top SEO pages report, you can discover which of your competitor's pages are ranking for popular organic keyword phrases and which ones are getting attention from sites like Facebook.
This is great for content marketing, as you'll no longer waste time writing content that people don't want to read.
Free Marketing Software #10: SpyFu
Who doesn't want to steal traffic from their competitors? SpyFu is the best tool available for competitor keyword research.
With SpyFu you can search for any domain and see every place they've shown up on Google, every keyword they've bought on Adwords, every organic rank, and every ad variation in the last 13 years.
SpyFu has step-by-step guides on how to:
Find the keywords most valuable to your market
Increase your ranking for specific keywords
Plan a content marketing campaign
Research your competitors marketing strategies
Start a new AdWords campaign
Free Marketing Software #11: SEMrush
SEMrush is one of the best SEO tools to make your brand visible online.
Use SEMrush to master content marketing, improve SEO across your websites, create PPC campaigns, and manage your social media presence.
Some of the most popular tools to use on SEMrush:
Technical SEO audit
Social media tracker
Backlink audit
Ad builder
Keyword position tracking
On-page SEO checker
PPC keyword tool
Organic traffic insights
Free Marketing Software #12: BuzzSumo
Digital marketers use BuzzSumo to reveal what content works and what content doesn't perform once it's released into the wild.
The BuzzSumo platform has four key components:
Discovery tools help you explore high-performing content so you can get more likes, links, and shares.
Research tools analyze billions of data points to sharpen your marketing strategy.
Influencer tools help you identify influential people to power-up your brand or campaign.
Monitoring tools track comments and trends so you can respond quickly and capitalize on opportunities.
Free Marketing Software #13: Yoast SEO Plugin
Yoast is by far the best free plugin for content marketers. This is especially for content writers on WordPress sites. In my opinion, it's an absolute must-have tool for any blogger.
After installing the Yoast SEO plugin on your WordPress site, this free marketing software instantly analyzes the SEO of your content, the page, the URL, your headline, the meta description, your image alt-attributes and more.
Then, Yoast tells you exactly what to do in order to improve your SEO score, and as you make the improvements on the page, it instantly lets you know whether issues are fixed or if you can improve the page performance even more.
Use Yoast SEO to:
Get more visitors from Google and Bing
Attract more visitors from social media
Increase your readers' engagement with your content
Lead Generation Software
Free Marketing Software #14: Customers.ai
Adding Customers.ai web chat marketing tools to your $0 tech-stack is guaranteed to generate tons of quality leads, fast.
In fact, 48% of customers would rather connect with a business using web chat than they would email, phone, or any other means.
Here are some brilliant web chat examples you can get started with today to generate leads using Customers.ai:
Proactive live chat
Run click-to-Messenger ads on Facebook
Set up Facebook autoresponders on all your posts
Run chatbot drip marketing campaigns on your website, SMS text messaging, and multiple web chat apps
Run a giveaway or contest on Facebook
Boost your social media posts and other content
Free Marketing Software #15: FindThatLead
FindThatLead is great free marketing software for building lead lists and capturing emails on different platforms.
Startups that need to build lead lists fast commonly use FindThatLead to:
Build cold email lists
Feed their sales team leads to reach out to
Find targeted prospects contact information
Graphic Design Software
Free Marketing Software #16: Canva
Canva is a graphic design platform that allows users to create social media graphics, presentations, posters, and other visual content.
The visual content creator integrates millions of free PowerPoint templates, images, fonts, templates, and illustrations for marketers with little to no design skills to build awesome looking images quickly.
Canva has pre-built templates for all of the following and more:
Facebook posts
Instagram stories
Infographics
Presentations
YouTube thumbnails
Cards
Invitations
Logos
Even with unlimited resources, it can be challenging to design a presentation or create a great looking image last minute. High-pressure design deadlines are stressful for both designers and marketers, yet in most workplaces, this is a common occurrence.
Designing templates your clients or team can edit can help to solve this problem and free your agency up to work on the projects you most care about.
Free Marketing Software #17: PlaceIt
Using PlaceIt, you can create high-quality branding and marketing assets such as logos, mockups, videos and design templates.
The free tools on PlaceIt that I've used the most are for mockup images. Mockups are great to show your product or service on real mobile devices like iPhone, Android, MacBook, tablets, etc.
Public Relations (PR) Software
Free Marketing Software #18: Muck Rack
Muck Rack allows you to search for professional journalists that need experts in your field to write a story.
Muck Rack's search engine lets you discover and pitch relevant journalists in a targeted way. It enables you to build and share media lists that are automatically kept up-to-date in order to save you time maintaining old media contact lists.
Very similar to HARO, Muck Rack will send alerts to your email inbox to check for stories that journalists in notable publications need expert advice, quotes, and other resources for.
You can target the categories you're most interested in, reach out to journalists, and try to get published.
Free Marketing Software #19: HARO
HARO provides journalists with a robust database of sources for upcoming stories and daily opportunities for sources to secure valuable media coverage.
Three times per day, five days a week, HARO will send you an email with updated source requests that are relevant to you or your client's industry, expertise, or personal experience.
Then, if you find a story that matches your needs, you can pitch the masked email address listed in the source request by including answers to the journalist's questions, any specified requirements, and a bio with you or your client's contact information.
If the journalist is interested, they'll reach out to you.
Email Marketing Software
Free Marketing Software #20: MailChimp
MailChimp is the most recognizable email marketing platform, and they offer a free version of the software.
MailChimp is super easy to use for creating great-looking emails in their drag and drop email builder.
The free version of MailChimp allows up to 2K contacts, one audience dashboard, segmentation tools, basic email templates, and basic reporting.
One reason to consider using MailChimp as a free email tool is that the platform is scalable as you grow and can afford more of their features and services. Other free email tools may require you to consider upgrading to a more robust email platform in the future.
Free Marketing Software #21: Mailer Lite
Mailer Lite is another notable email marketing platform that any marketer can pick up and start using immediately. Furthermore, like MailChimp, Mailer Lite is scalable and can grow with your company.
In comparison to MailChimp's free plan, Mailer Lite allows up to 1K contacts, advanced segmentation tools, A/B testing, full email campaign reports, surveys, multi-user accounts, integrations, API, customizable templates, analytics, and more.
So, the difference between MailChimp and Mailer Lite is that you get more contacts in the free plan with MailChimp, but you get more features on the free plan with Mailer Lite.
Project Management Software
Free Marketing Software #22: Trello
For an individual marketer or even for a marketing team, Trello's free plan is as easy as it gets to neatly organize all of your tasks and projects in the most user-friendly drag and drop interface.
The main reason I've chosen Trello is that as a digital marketer, you need to spend more time executing, and less time planning. Trello makes that easy, whereas a tool like Asana or even more robust tools like Jira have too many bells and whistles that will have you spending more time updating and managing your projects than you do executing them.
Free Marketing Software #23: Traqq
Traqq is a game-changing software that empowers small businesses with efficient time tracking features. Traqq enables users to optimize their workflow and enhance productivity, all at no cost for individuals and small teams.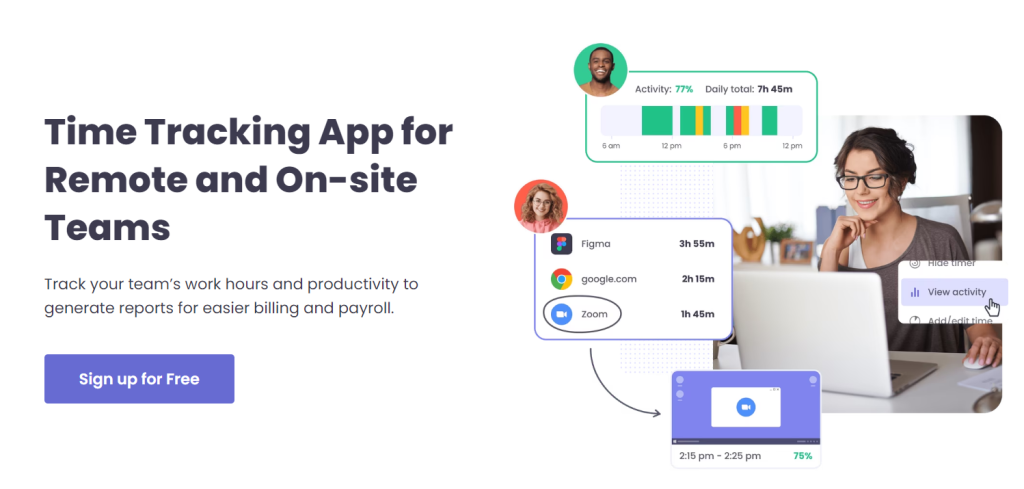 With Traqq, small business owners can effortlessly track the time spent on various marketing tasks, ensuring accurate billing and resource allocation. By providing an intuitive interface and automated time tracking features, the app eliminates the necessity for manual data entry. This ensures fewer errors and saves valuable time. Moreover, Traqq offers detailed insights and reports on team productivity, enabling you to make informed decisions and optimize your marketing strategies.
Conversion Rate Optimization (CRO) Software
Free Marketing Software #24: Customers.ai
Customers.ai chatbots allow you to proactively engage with customers and prospects in order to grow revenue, generate leads, and offer real-time support across multiple marketing channels.
Customers.ai live chat tools are great for increasing conversion rates on your website. In fact, studies have shown that live chat software increases conversions on websites by 45%.
Chatbots like Customers.ai can help to skyrocket your conversion rates with tools such as:
Automated lead generation and lead qualification bots
Live chat takeover and hot lead alerts for your live agents
Lead capture and opt-in tools to increase subscriber lists
Audience segmentation and targeting tools
For more ideas on how to improve conversion rates on your website, check out the top 7 chat marketing tactics of 2021 here.
Free Marketing Software #25: HotJar
If you want to find out exactly why your website visitors are not converting, use HotJar. By using heatmaps, video recordings of visitors on your website, and setting up conversion funnels, HotJar is great for improving conversion rates.
HotJar almost gives too much away for free, and it should be on everyone's list of the best free marketing software available.
Lastly, HotJar is easy to install. With one copy and paste of HTML script, you can start improving your marketing funnels and their conversion rates fast.
Free Marketing Software #26: Google Optimize
Google Optimize is a free marketing software that allows your data to guide your decisions. Optimize is natively integrated with Google Analytics, so you can quickly understand how to improve your website.
You should use Google Optimize for the following:
Run tests on your website's content to learn what works best for your visitors, including A/B, multivariate, and redirect tests.
Optimize your website experience to suit each type of audience.
Create custom landing pages for Google and Facebook Ads, and convert more visitors into paying customers.
Content Marketing Software
Free Marketing Software #27: Quuu
I've used Quuu multiple times to curate targeted content for social media and to promote my own company's content by getting relevant people to share that content with their audience.
What's great about Quuu's promotion software is that it gets real people and businesses on Facebook, Twitter, and LinkedIn to provide clicks and shares of your content.
Here's how I've personally used Quuu in the past. I would use analytics to determine which content was converting best from social media on our website. Then, I'd use Quuu to promote that content online, which would then get thousands of additional impressions than I would have received otherwise.
Use Quuu to curate content that your social media audiences will find value in, and then promote your company's best performing content to increase traffic to your blog.
Free Marketing Software #28: Workflow by GrowthHackers
GrowthHackers new tool Workflow helps businesses plan, create, distribute, and analyze content marketing at scale through intuitive and integrated software.
Companies can use Workflow to:
Brainstorm and approve their editorial lines
Create content for blogs, social media, and emails
Organize and publish through an integrated drag-and-drop editorial calendar
Keep track of their content production and workload
Analyze results from an SEO and social media perspective after publication
Workflow helps growth and content marketing teams guess less, learn more, and work together.
Free Marketing Software #29: Wistia
Wistia is a video marketing software that you can use for free to find, engage, and grow your audience.
The platform has powerful video SEO and tools for creating smarter ads on search and social media. Additionally, Wistia is great for marketers because it has marketing automation integrations, lead capture tools, and features that keep your audience engaged.
And Wistia has a free version that comes with all of its standard features. For free, you get up to 3 videos you can embed just about anywhere, up to 250 channel subscribers and A/B testing tools.
Free Marketing Software #30: Customers.ai
Chatbots are as good as it gets for content promotion because they have the extremely high open and click-through rates, as well as tools you can use to send bulk messages.
Customers.ai takes this a step further with multi-channel chat blasts. This means you can reach your audience instantly via social media, SMS text messaging, as well as website chat.
For example, instead of waiting for people to chat with you on your website or fill out a contact form, you can reach out to them proactively and engage with your audience in real-time. And two of the most powerful channels in 2020 are text message marketing and Facebook Messenger.
Use Customers.ai to send bulk text messages and Facebook Messenger chats that include your latest content to dramatically increase your website traffic.
As a result, you'll get more leads, conversions, and provide a better overall customer experience.
Check out how to send a text message blast in this step-by-step guide to growing an SMS contact list and sending mass text marketing messages.
Find Your Customers with Customers.ai
See the new Customers.ai sales outreach automation platform. With X-Ray Website Visitor Detection and automated email and SMS outreach to help mid-market companies find their perfect customers. Request a call to learn more about sales outreach automation today!
Important next steps
See all the tools in Customers.ai's multi-channel chatbot platform by getting started with Customers.ai for free.
FAQs for Free Marketing Software
Q: What is free marketing software?
A: Free marketing software refers to software tools and platforms that are available at no cost and designed to assist businesses and marketers with various aspects of their marketing activities, such as social media management, email marketing, content creation, SEO, analytics, and more.
Q: Are there any reliable free marketing software options available?
A: Yes, there are several reliable free marketing software options available in the market. While they may have some limitations compared to paid versions, these tools can still offer valuable features and functionality to help businesses with their marketing efforts.
Q: What are some examples of free marketing software?
A: Some popular examples of free marketing software include:
Hootsuite: A social media management platform that allows you to schedule posts, manage multiple social media accounts, and monitor your brand's presence.
Mailchimp: An email marketing tool that lets you create and send email campaigns, manage subscribers, and track performance.
Canva: A graphic design tool with pre-designed templates, fonts, and images, allowing you to create professional-looking visuals for social media, blog posts, and more.
Google Analytics: A website analytics tool that provides insights into website traffic, user behavior, and marketing campaign performance.
WordPress: A content management system (CMS) that enables you to create and manage a website or blog easily.
Q: Are free marketing software options suitable for all businesses?
A: Free marketing software can be suitable for businesses of all sizes and industries, especially those with limited budgets or just starting with their marketing efforts. However, the suitability of a particular tool depends on the specific needs and goals of your business.
Q: Are there any limitations to using free marketing software?
A: Yes, free marketing software often comes with certain limitations. These limitations may include restricted features, limited storage or usage, branding on content or emails, and less customer support compared to paid versions. It's important to assess these limitations and determine if they align with your business requirements.
Q: Can I upgrade from free to paid versions of marketing software?
A: Yes, many free marketing software options offer paid plans with additional features and enhanced functionality. If your business grows or requires advanced capabilities, upgrading to a paid version can provide you with more comprehensive tools and support.
Q: How do I choose the right free marketing software for my business?
A: When choosing free marketing software, consider your specific marketing needs, evaluate the features and limitations of each tool, read user reviews, and compare different options. It's also helpful to test the software yourself through free trials or demo versions to see if it fits your requirements and workflow.
Q: Are there any risks associated with using free marketing software?
A: While free marketing software can be beneficial, there are a few risks to be aware of. These may include potential security vulnerabilities, data privacy concerns, or the need to switch platforms if your business outgrows the free version. It's essential to review the software's terms of service, privacy policies, and security measures to make an informed decision.
Q: Can I rely solely on free marketing software for all my marketing needs?
A: While free marketing software can be valuable, it may not provide all the advanced features and integrations required for a comprehensive marketing strategy. Depending on your goals and budget, you may need to combine free software with paid tools or invest in a full-featured marketing platform to achieve optimal results.