Adding your products and services to free advertising sites is a quick, easy, and affordable way for your business to gain exposure. This is especially true for local businesses.
The majority of free advertising sites are built for local businesses in a classified ads layout and structure.
However, as you'll see, the beginning of our list is focused on other free advertising options that many marketers searching for free add space are much more interested in.
And thanks to free business advertising sites, you don't have to choose between reaching your target audience and spending all of your limited marketing budget for a single campaign. These sites are truly a game changer for local businesses and founder-led sales teams.
Here are the 16 best free advertising sites for entrepreneurs and digital marketers:
Convert Website Visitors into Real Contacts!
Identify who is visiting your site with name, email and more. Get 50 contacts for free!
#1. Best Free Advertising Sites: Messenger
Ready for the ultimate list of free advertising sites? Let's go!
If you're a digital marketer, chances are that one of your main channels is Facebook.
But did you know that you can use Facebook Messenger for business? And more than 1.5 billion people actively use Messenger chat.
However, less than 1% of businesses are engaging with their audience on this proven channel.
To get the most out of Facebook Messenger marketing, you need a chat platform to connect with customers at scale.
And Customers.ai is most well recognized Facebook chat marketing platform, and you can use it to advertise to your entire audience on Facebook for free.
Customers.ai Facebook Messenger chatbots allow you to engage with your audience with marketing automation tools such as:
All the Messenger contacts captured by your Facebook Messenger bot can be added to other Customers.ai marketing channels. This includes SMS text messaging, native live chat for your website, and other web chat apps like Instagram and WhatsApp.
This way, you'll be able to build user profiles, see their entire history across channels, trigger messages based on their behavior, and opt them into other campaigns.
Check out the top 7 Facebook ad hacks of all time for more ad ideas!
#2. Best Free Advertising Sites: Google Business Profile
Google Business is an online directory that lets you connect with customers across Google Search and Google Maps for free. AI SEO solutions can help you optimize your Google Business profile listing for maximum visibility in Google Search and Maps.
To get started on Google's free advertising site, all you need to do is submit the URL of your professional website and some additional details about your business.
In turn, Google Business incorporates this information into their listings in order to ensure your site appears when users search relevant content categories.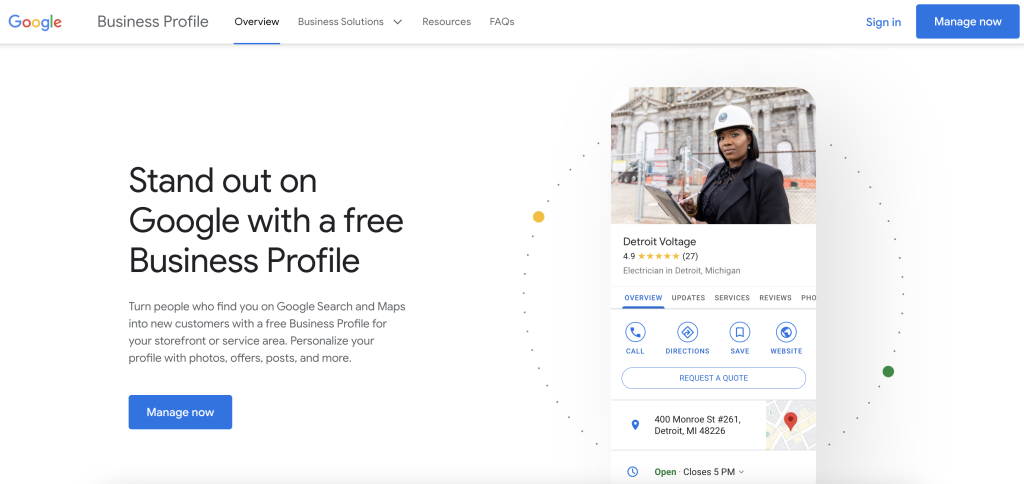 You can post photos and offers to your profile to show what makes your business unique, and give customers reasons to choose you every time.
Google Business gives your customers more ways to reach you – by calling, messaging, or leaving reviews. Additionally, you'll be able to see how customers are engaging with your business profile, whether that's clicks, calls, bookings, follows, etc.
#3. Best Free Advertising Sites: Meta Marketplace & Meta Shops
Meta's online Marketplace features advertisements that have a high potential of reaching your target market.
Roughly 800 million people use Marketplace every month.
Facebook Marketing is a dominant force in customer acquisition and has been upgrading its platform for a long period with a lot of emphasis on online shopping.
And we've already covered how you can use Messenger to facilitate the sale of your products online.
Since the advent of Marketplace and Shops business pages, the social media platform has provided functions that imitate those of the best classified ads sites.
Creating a Facebook Shop is free and only takes a few minutes to set up. Businesses can choose the products they want to feature from their catalog and then customize the look and feel of their shop with a cover image and accent colors that showcase their brand.
Now that Meta Shops are live in the US, the implications of this entirely new sales channel are enormous, especially for D2C brands.
The platform has proved to be an especially effective tool for selling cars, real estate, furniture, and retail products. Whether you want to sell t-shirts or get cash for a used company vehicle, Facebook can help you make money.
#4. Best Free Advertising Sites: eBay
eBay is still one of the best free high-traffic advertising sites you can post on if you want to reach a large number of potential clients.
With more than 30 international sites and a wider presence in over 100 countries worldwide, eBay is a fantastic marketplace to sell on, particularly if you're looking to expand your business overseas.
Due to its size and status, as well as good search engine optimization (SEO) rankings, eBay listings result in more visibility than the majority of other websites.
Additionally, eBay has a good social media presence and follower base. And unlike many other free advertising sites, eBay has an interactive interface that makes it easier to publish free advertisements.
#5. Best Free Advertising Sites: Craigslist
Craigslist remains a popular destination for finding products and services to buy and sell, and is still one of the top 50 most frequented sites.
Business owners and marketers can advertise both B2C and B2B products or services on Craigslist.
Craigslist is a powerful ad platform that has many subcategories such as jobs, services, housing, events, and merchandise. Therefore, subcategories enable your ads to reach a wide range of audiences.
They have a good social presence and is quite popular in most of the countries.
Perhaps the most well-known classified site today, Craigslist is impressively ranked in the top 30 most visited websites in the U.S. This platform has a huge lineup of categories that allows you to sell just about any product or service.
These categories are so diverse that they range from automotive and beauty services to computer parts and parking spots.
Currently, Craigslist allows users to post ads once per geographical area every 48 hours. Posting ads is free for almost all products, with the exception of vehicles and furniture ads that may require a small fee.
Posting ads for services will also require a small fee, but you're guaranteed a full 30 days when you pay for ads.
One downside to Craigslist is that the site has been used for illegal activity quite a bit over time. So, you need to make sure that your ads aren't too "spammy," especially if you're posting ads with a newly created profile.
Although Craigslist feels a bit outdated, Craigslist it's still among the leading classified free business advertisement sites and has considerably good engagement rates.
#6. Best Free Advertising Sites: Locanto
Locanto is a traditional free advertising site that's available in 60 countries.
Similar to Craigslist, you can use Locanto's online classifieds site to sell products and services, connect with job seekers, and find/list places to live.
One key difference, however, is that Locanto is great for businesses trying to build, or with an existing large community presence. And that's because Locanto has uniquely prominent categories for selling event tickets, leisure activities, classes, and community-based services.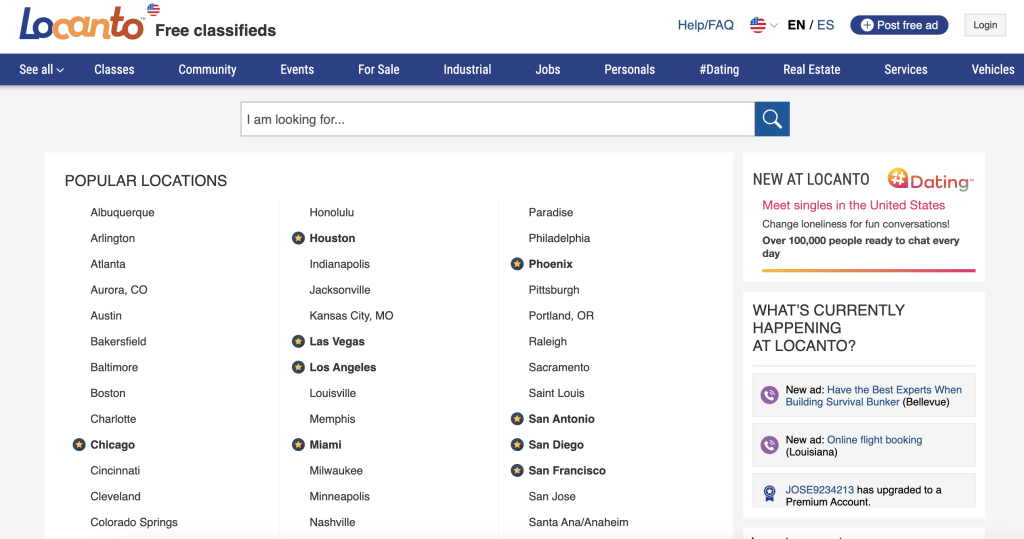 Although not common, some cities may require a premium account to post ads. However, Locanto is a truly free advertising website for the vast majority of users.
Another differentiator from Craigslist is that Locanto ads stay live on the site for 60 days, as opposed to 30.
Ads on the platform include options to include images, video, and hypertext mark-up language that link back to your website.
Lastly, another popular feature of Locanto is its analytics and social media buttons. Although limited, these features are a neat addition that allow you to better manage traffic to your ads.
#7. Best Free Advertising Sites: Oodle
Another top free advertising site to consider marketing a small business from is Oodle.
Oodle is one of the largest free ad networks in existence because you can connect your social media accounts, as well as local listings from sites like eBay, ForRent.com, newspapers, and more.
In fact, Oodle is actually powered Facebook's original Marketplace.
One advantage to Oodle is that the platform plays well with social media. For example, you can connect your Oodle account to your Facebook Business Page and post an update immediately when you run new Facebook ads.
Furthermore, Oodle has a partnership with Advertigo, which is also a free online advertising site. This allows you to also feature your Oodle listings on Advertigo, and vice-versa, which increases your ads reach.
The platform is especially good for advertising products and services aimed at consumers, such as moving and storage, landscaping, maintenance work, as well as pet sitting and grooming services.
Lastly, if you're really loving the business you generate from Oodle's free ads, you can upgrade to access additional features, such as the ability to include a link to your website.
#8. Best Free Advertising Sites: OLX
OLX is part of a well-recognized network of leading marketplaces present in 30+ countries with 20+ brands.
OLX claims to be the world's fastest-growing network of trading platforms and has 300 million people visit the site every month.
OLX unlocks value for customers by providing platforms where you can buy or sell a home or car, find a job, sell things you no longer need, or find a great deal.
Thousands of entrepreneurs and businesses find their customers on OLX every year with free user-genearted ads.
#9. Best Free Advertising Sites: ClassifiedAds
ClassifiedAds is a free ad listing website with as many categories to buy and sell services as any of the other free advertising sites on this list.
Unlike many of the other classified ads websites, such as Craigslist, ClassifiedAds.com is 100% free to use. Meaning it's free to post an ad, free to browse listings, free to contact sellers, etc.
ClassifiedAds does a good job of monitoring and filtering the content posted on the site, so you can be confident that your ads won't be drowned out by spam and disengaged site traffic.
It also features well-defined categories and strong search functions.
Lastly, ClassifiedAds provides the following three items for ad listings:
Hypertext Markup Language (HTML)
Adding a backlink to your website
Contact forms
#10. Best Free Advertising Sites: Adpost
Adpost is another free classified ads website that's similar to Craigslist.
The platform has a presence in over 1,000 cities in over 500 regions, as well as over 30 million views a month and thousands of daily replies to listings.
Apdpost has a freemium pricing model where you receive the following on the free plan:
Run basic classified ads for 30 days
Free ad renewal to max 90 days
Displays up to 100 photos and 1 video
If you wish to upgrade to paid ads, there are four enhancements to choose from, such as priority ranking and country-wide targeting options. Each of the four ad enhancements cost $9.99 and include the following:
Runs for 30 days, free renewal to max 180 days
Displays up to 100 Photos + 1 Video
Page Views / Replies Counter
Adpost claims that each ad enhancement option increases average daily views by at least 3X.
#11. Best Free Advertising Sites: Gumtree
Gumtree has slowly gained strong global recognition since its start in the United Kingdom. However, the site is still largely focused on its UK population.
This classified ads site offers free and paid advertisement opportunities for both business and consumers.
Gumtree has proven itself as an effective free advertising platform to generate more sales through enticing advertisements.
The site has 13.8 million unique visitors per month, as well as 10.1 million replies per month. This implies that Gumtree has significantly higher traffic than many of its competitors because they report their traffic in 'unique' visitors, as opposed to total pageviews.
Gumtree is especially useful for service businesses looking to reach new customers in their locale.
The platform includes the following features:
Advertisements stay live for 60 days to maximise opportunity to reach new customers.
Ability to include a detailed description and up to 9 pictures.
Freedom to update your advertisement at any time, free of charge.
Access to a dedicated account manager to assist you with posting ads.
Access to Pro Console to track performance of adverts.
Option to buy add-on opportunities to create more stand out for your advert.
Combined, these items make Gumtree one of the best free online advertising sites.
#12. Best Free Advertising Sites: Sales Spider
Adding Sales Spider to your free advertising sources is a way to mix up the reach of your other free advertising activities.
Sales Spider has approximately 2.2 million members and is growing by thousands a day.
Sales Spider helps SMB owners and executives grow their businesses and is completely free to register. The company has multiple technology patents pending.
Unlike other free classified ad sites, Sales Spider is notable for its collaboration with retail giants such as Walmart, Macy's, and Amazon.
Sales Spider is one of the largest free social networks where business owners can find free sales leads and prospect lists, as well as free business directories and free business forums.
The platform's self-serve ad campaigns include the following:
Advertise for as little as $5 a day.
Manage your own campaign.
Perfect for limited budgets.
Advertise to business owners by location and specific industries.
#13. Best Free Advertising Sites: PennySaver
If your business is focused on selling locally, then PennySaver USA is the kind of free high-traffic advertising site worth considering.
PennySaver claims that it is the "largest direct mail shopping publication in the U.S." and reaches more than 11 million Americans every week.
When you land on PennySaver's site, you'll see the "Place Free Ads" option on the top-right of the homepage. Placing an ad is as easy as clicking that option, using their ad builder, and publishing.
To officially place your ad, you of course will need to provide your contact information, but other than that, placing an ad on PennySaver is completely free.
After signing up, your ads get exposure on PennySaver's various affiliate and subsidiary sites in the appropriate categories.
#14. Best Free Advertising Sites: Geebo
Geebo prides itself as a "safe community classifieds" option. One of the largest issues with free advertising sites, especially classifieds, is the amount of scams and spam on the platform.
Geebo goes the extra mile to help build, protect, and connect communities. They've even developed a unique automated system to scan ads for potential unsafe and illegal activity. And Geebo is continually updating to keep current with the criminal activity trends occurring on other sites.
While assuring that your own ads are legitimate and follow guidelines may increase the time it takes for your ad to be included on the site, the benefits are clear.
Your ads will be trusted by visitors.
Ads will not be diluted by thousands of fake or bot generated ads.
Measuring ad performance is much more accurate and predictable.
Another great part of posting on Geebo is the fact that your product listing may be shared on Geebo's social media channels, which have over 60,000 followers combined.
If having the safest platform possible is your priority, Geebo counters Craigslist by taking precautionary measures to keep users safe. Before a classified ad goes live on Geebo, the company will review your listing.
In fact, in 17 years of operation, Geebo claims to have never had any problems with illegal activity.
So if you're concerned about quality and want a free/low-cost advertising option, consider placing ads on Geebo.
#15. Best Free Advertising Sites: Hoobly
Hoobly is similar to Geebo in that it's a classified ads site that takes above average SaaS security measures.
Again, the point of additional security measures on free ad sites is to minimize criminal activities and spam. This makes for a much better user experience.
And the reason why security is especially appreciated on Hoobly, is that the platform has shifted its main focus on the pet and animal market.
You don't want to buy a cute puppy for x-dollars, just to find out that you've been scammed.
Hoobly is a no-frills free advertising site that is available for over 30 countries, with its most prominent presence in the United States.
You can also take advantage of Hoobly to sell your own products, too, especially if your product can fall under one of the website's major categories. This includes categories specific to art, clothing, jewelry, real estate, and vehicles.
Posting an ad does require you to create an account and complete your email verification. This adds a layer of safety to the platform that many other free advertising sites don't have.
#16. Best Free Advertising Sites: Flipsnack
Flipsnack is a flipbook maker that helps users to create catalogs to promote their products in a creative way. These catalogs can be used for ads or other marketing materials.
This software is a good fit for marketers, designers, or small business owners. It allows collaboration and it offers advanced security & compliance.
Flipsnack allows you to create the visuals and text for the ads or send newsletters with the flipbooks you have created.
Over 10 million users worldwide choose Flipsnack for their businesses because you can do many things with this tool. You can add images, links, videos, and buttons and share the flipbooks on social media or send the link to your collaborators.
Besides the interactivity, which gives it a big plus compared to other platforms that allow the promotion of products only through images and text, Flipsnack also guides you in creating your ads and newsletters.
If you have design skills, you can start from scratch and create your own materials. However, there are many templates that you can choose from, whether you are a designer, marketer, or any person who wants to make advertisements or newsletters.
Looking for More Marketing Tools?
If you're looking for even more marketing tools, look no further. Browse through hundreds of marketing tools in the following lists:
Join Today's Webinar with Larry Kim!
Or Register for the Free Replay
Learn all about NEW 100% Meta-Approved Automation Tools from Customers.ai with a spotlight on features to 10X Instagram & Facebook Engagement and turn social media into a revenue driver for your business.
Important Next Steps
Frequently asked questions about free advertising sites for business owners and marketers in 2023
Q: What are some of the best advertising sites in 2023?
A: Facebook Messenger, Google Business, Meta Marketplace and Shops, eBay, Craigslist, Locanto, Oodle, OLX, ClassifiedAds, Adpost, Gumtree, Sales Spider, PennySaver, Geebo and Hoobly.
These are the best free advertising sites for entrepreneurs and marketers in 2023 and we hope you'll check out more about how to take advantage of them for your business in this article.
Q: What are the benefits of using free advertising sites?
A: There are many benefits to using free advertising sites, including:
Increased visibility for your brand or product
Increased reach to potential customers
Increased traffic to your website or physical location
Q: Are there any risks associated with using free advertising sites?
A: There can be some risks associated with using free advertising sites, including the potential for spam or criminal activities. However, many of these risks can be minimized by taking precautionary measures, such as verifying email addresses and using secure passwords.
Q: What are some tips for using free advertising sites safely and effectively?
Some tips for using free advertising sites safely and effectively include:
Verifying email addresses before posting any ads
Using strong passwords
Being aware of the potential for spam or criminal activities
Minimizing your personal information online
Taking other precautionary measures, such as using a malware blocker or adblock.
Q: How do I advertise for free on Facebook Messenger?
A: To advertise for free on Facebook Messenger, you will need to create a Messenger account and verify your email address.
You need a chat platform to connect with customers at scale.
Did you know that more than 1.5 billion people actively use Facebook Messenger chat. But, less than 1% of businesses engage with their audience on this channel.
It's time to step up and use Messenger!
Q: How do I advertise on Google Business for free?
A: Create a Google Business profile. Google will ask you specific questions about your business like your company name, address, URL, etc.
Google will then add your business to their directory and when consumers or clients are shopping for a specified service/product/good that you specialize in, your company will appear!
Add photos, business hours, and a phone number to get even more from Google My Business.
Bonus tip: Create a directory listing with all the search engines to garner more free advertising (Bing, Yahoo, Yelp, etc.).
Q: What are other common directories that consumers use?
A: Take a look at some of our top directory choices to help get your brand out there:
Yext
City Search
Manta (dedicated to small businesses)
Yelp
Bing
Yahoo
Angie's List
Local.com
While there are many directories to choose from, starting with these listed above (don't forget Google My Business) will help get your company on a great start with free advertising.
Q: What are online directories?
A: An online directory is a website that features a list of businesses in a specific area, industry or niche.
The listing will include basic information including your business name, address, phone number, website URL, hours of operation, etc.
Online directories are a great free advertising site because they allow you to build brand awareness, they help you garner more site traffic and they have the potential to get high-quality backlinks to your site
Q: Is there one platform that can manage multiple directory listings for my business?
A: Yes, Data Axle local listings give you one central place to add and update information about your business and have it automatically updated across websites, navigation applications, and virtual assistants, so your customers can always get up-to-date information about you.
Q: What are some of the best free sites to post classified ads?
A: Some of the best free sites to post classified ads include:
Craigslist
Kijiji
Backpage
Hoobly
Oodle.com
Facebook Marketplace
Google My Business
Amazon Marketplace
eBay Classifieds
Gumtree.com
locanto.com
4walls.com
Adoos.com
Andclassifieds.com
Q: Are Google Ads Free?
A: No, Google Ads are not free. However, there are a variety of options available for businesses of all sizes, and Google Ads can be customized to fit your budget.
Q: Are Google reviews free?
A: Yes, Google reviews are free. There's nothing better than word-of-mouth advertising (which is free in this instance). In fact, getting your customers to post Google reviews about your business is another way to push free advertising.
You can request a review from your customers using these tips:
Use a receipt template to include a link to Google reviews on a receipt
Log in with your account, and select reviews. Share the link directly with your customers who've completed a purchase via email
Send an SMS message to your customer a few days after they've received their product or service
These are just a few examples of ways to collect Google reviews.
When people are looking for a service or product that you offer, they'll see your great Google reviews and might give you a try!
Q: What are unique ways can I advertise my business for free?
A: Coming up with unique ways to help get your business out there for free can be time-consuming and tricky, but these are some great ways to use social media.
1. Start a blog and push your blog posts on Instagram, Social Media, Pinterest, LinkedIn, Twitter and YouTube.
LinkedIn: Create a free company profile, post updates, and articles, optimize your LinkedIn campaigns with demographic and behavioral data and reach out to potential customers through LinkedIn Ads
Twitter: Share news and updates, run ads, and use Twitter Polls to engage with customers.
You'll see your engagements and followers increase, thus creating more traffic volume to your blog and site.
2. Create press releases around important announcements (news-worthy items, not just silly updates).
You never know which news outlet will pick up your article! News outlets have a ton of authority to help generate publicity.
3. Get involved in an online community and engage with group followers alike to create buzz around your brand.
Continuously posting in these groups will help you build rapport.
4. SEO is a must. This is the organic traffic that you bring to your site based on search engine results.
Not only is it important to write relative content to help Google understand what you're writing about matches the SERPs but you'll also want to ensure you are doing a site speed test, check if your mobile site is mobile-friendly, and make sure your website is secure with an SSL certificate.
5. Attend networking events and meetups with like-minded people. You'll spark some new ideas just speaking with them all while getting your business name out there as well.
6. Infographics! To create effective Infographics make sure your infographic isn't cluttered, cite data, be accurate, and ensure visuals are intrinsically tied to data.
7. Offer free trial periods on products or services for your business to real potential customers.
Once you've hooked them with your free trial, send them relevant information via email, SMS, social media… The point is to stay connected to them now that you've got them.
8. Partner with an influencer. While it may cost you to partner with the influencer, the amount of advertising an influencer can bring to your business is huge in 2022.
In fact, over 94% find influencer marketing effective for driving sales.
9. Encourage user-generated content. User-generated content is any content—images, video, text, reviews, etc.—created by people and not brands.
This alone can help build consumer trust. The more your customers tout your product or service, consumers gain trust and therefore become loyal to your brand.
10. Support your local community by doing charity work, supporting youth organizations, volunteering at your local food kitchen, or donating food.
Not only does this show your support for the community, but you are getting your brand out there as well and building 1:1 relationships with future customers.
Q: Should I create a free YouTube account for my business?
A: 1,000% YES! YouTube business accounts are free, so why would you not use the top search engines in the world?
Did you know that the total daily hours of video watched on YouTube is 1 billion hours? 🤯
Create helpful how-to videos, behind-the-scenes footage of your business, and more to help engage with customers and get them coming back for more.
Q: Is eBay a great place to advertise for free?
A: Yes, eBay is a great place to advertise for free. You can post ads for free on eBay Classifieds and reach millions of potential buyers.
In addition, eBay offers a number of marketing tools to help you get the most out of your advertising, including:
eBay Shopfronts: A customizable online storefront that helps you create a professional shopping experience for buyers.
eBay Promotional Tools: A suite of tools that helps you run marketing campaigns, track their success, and reach new buyers.
eBay Advertising: A self-service platform that lets you place ads on eBay and target them to specific shoppers.
Take advantage of these tools to help increase the traffic to your eBay listings and drive more sales.
Q: How can I get free advertising on PennySaver?
A: PennySaver is a great resource for free advertising. You can post your ad for free on their website, and they also offer a number of marketing tools to help you get the most out of your advertising.
PennySaver Advertising: A self-service platform that lets you place ads on PennySaver and target them to specific shoppers.
PennySaver Email Marketing: A tool that lets you create and send email marketing campaigns to reach new and existing customers.
PennySaver Coupons: A tool that helps you create and distribute digital coupons to drive traffic to your business.
Take advantage of these tools to help increase the traffic to your PennySaver listings and drive more sales.
We hope this FAQ guide on free advertising sites will help you on your journey to gaining new customers on low cost budgets.